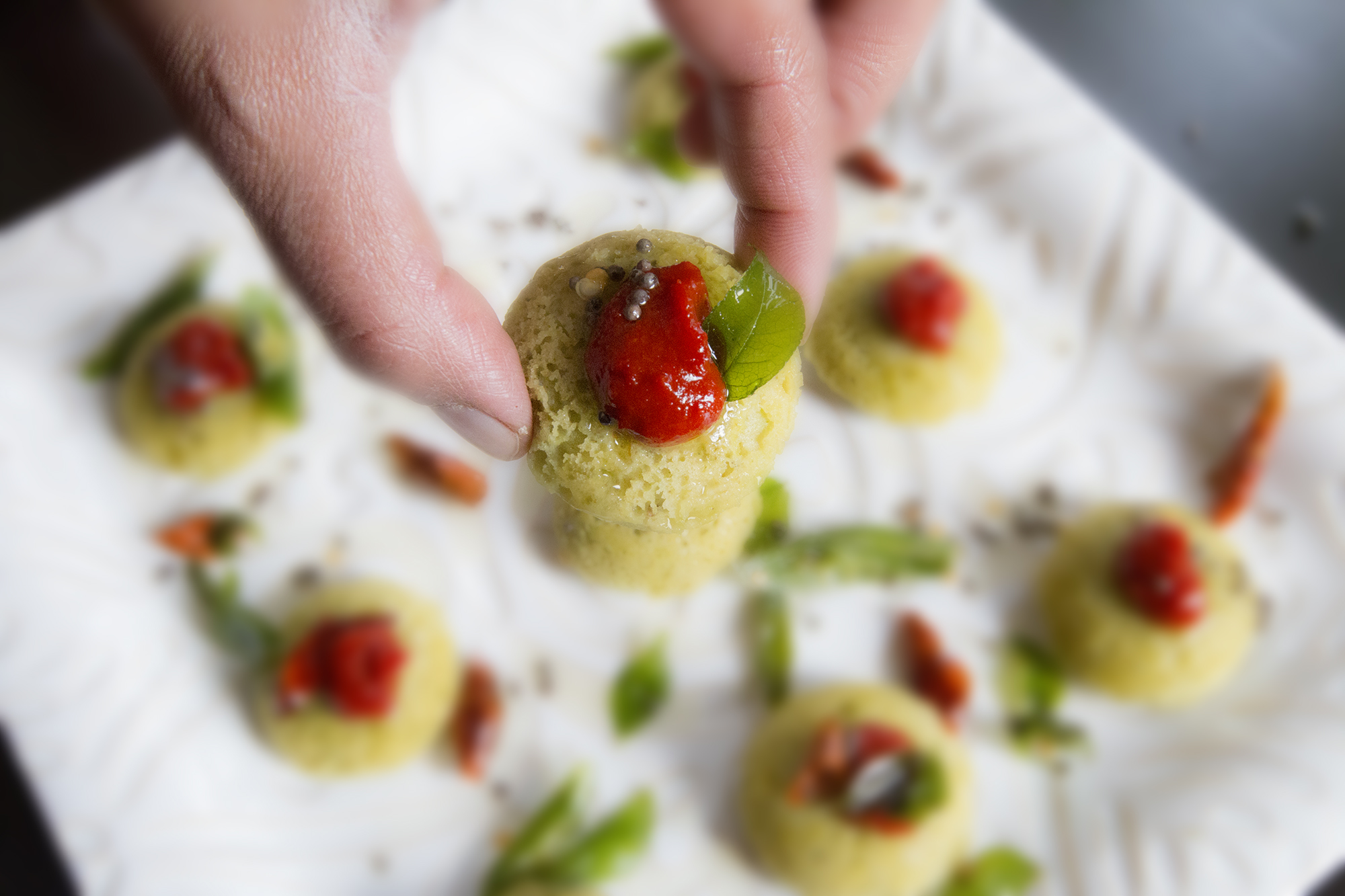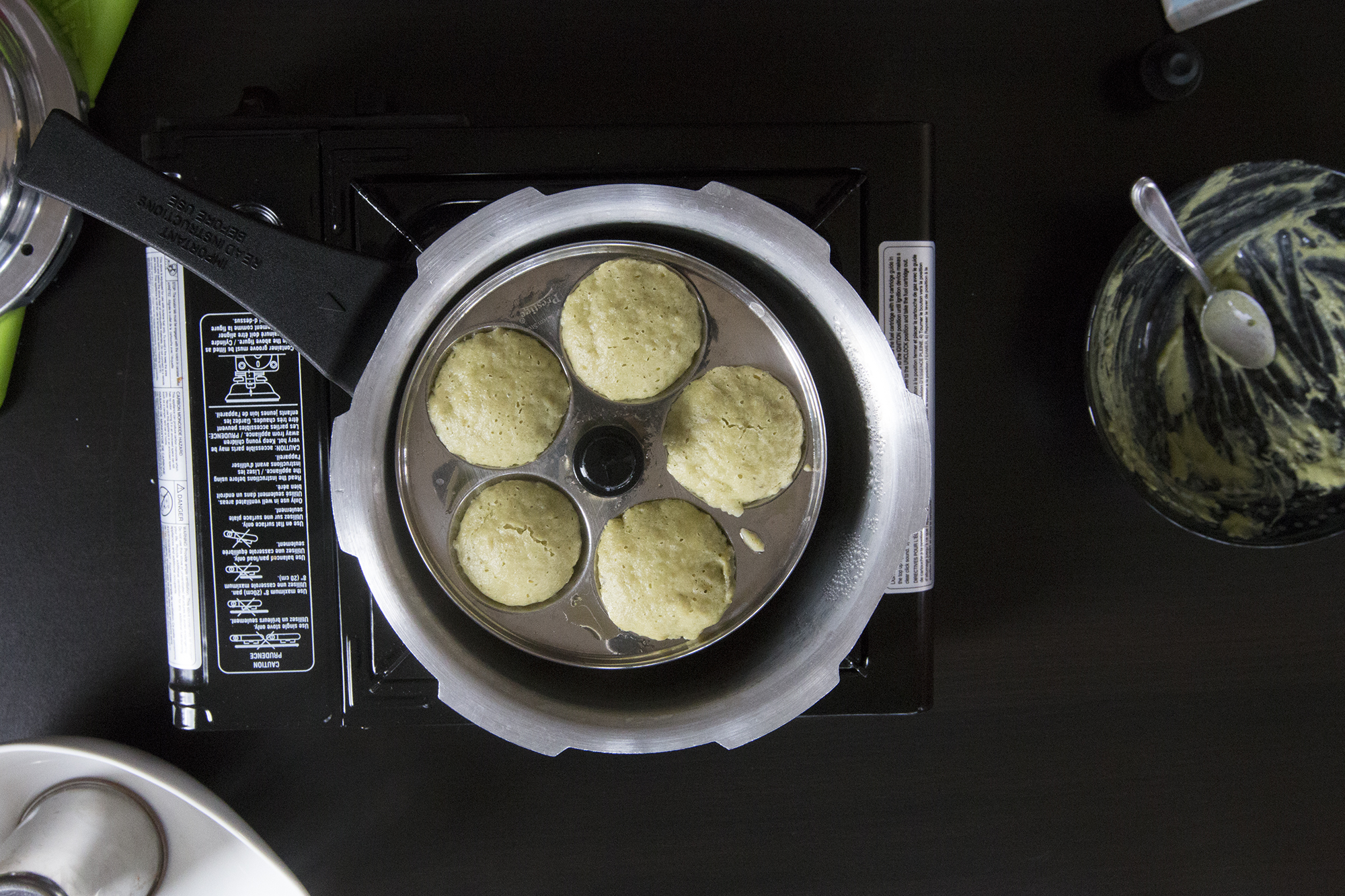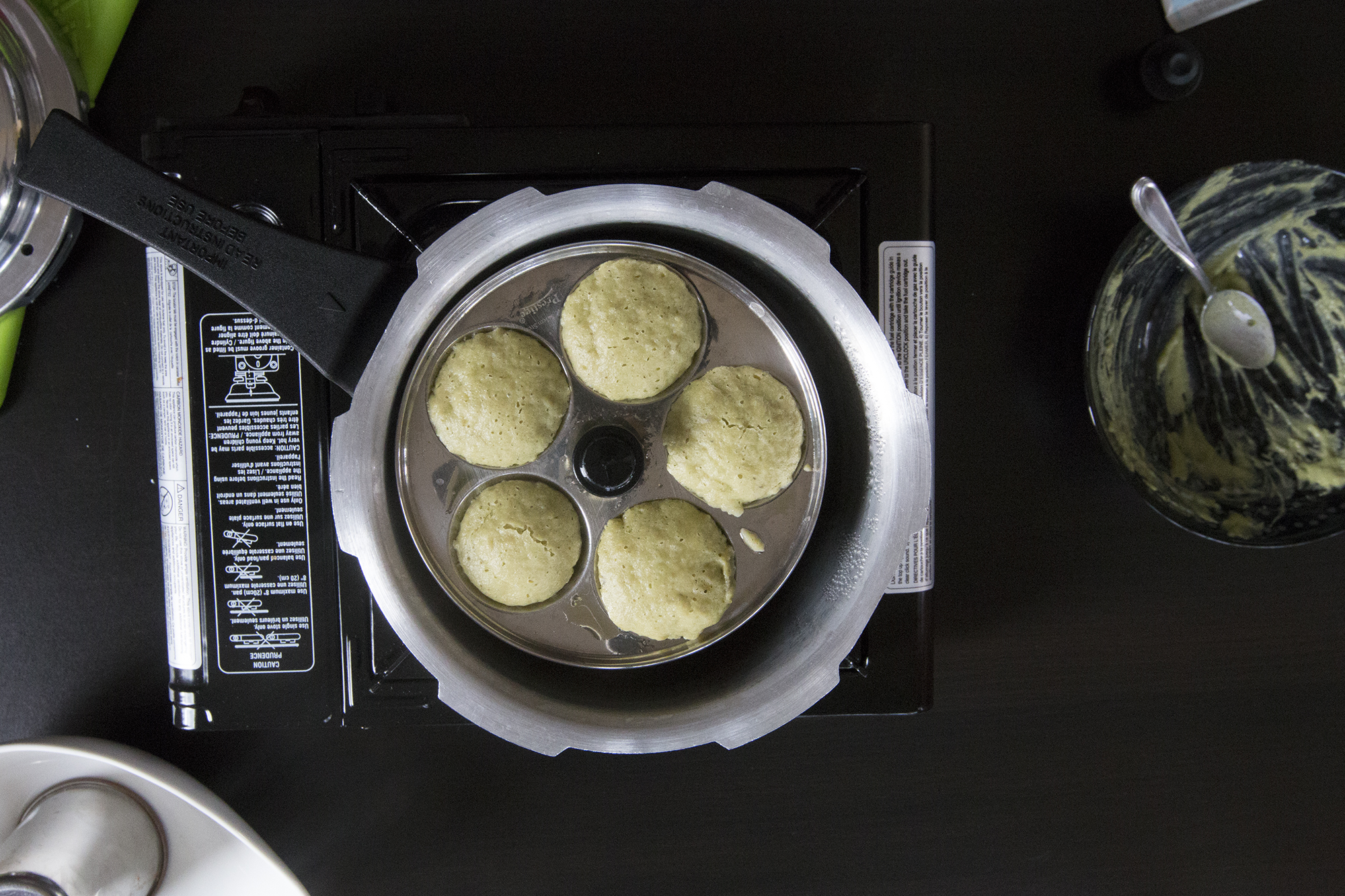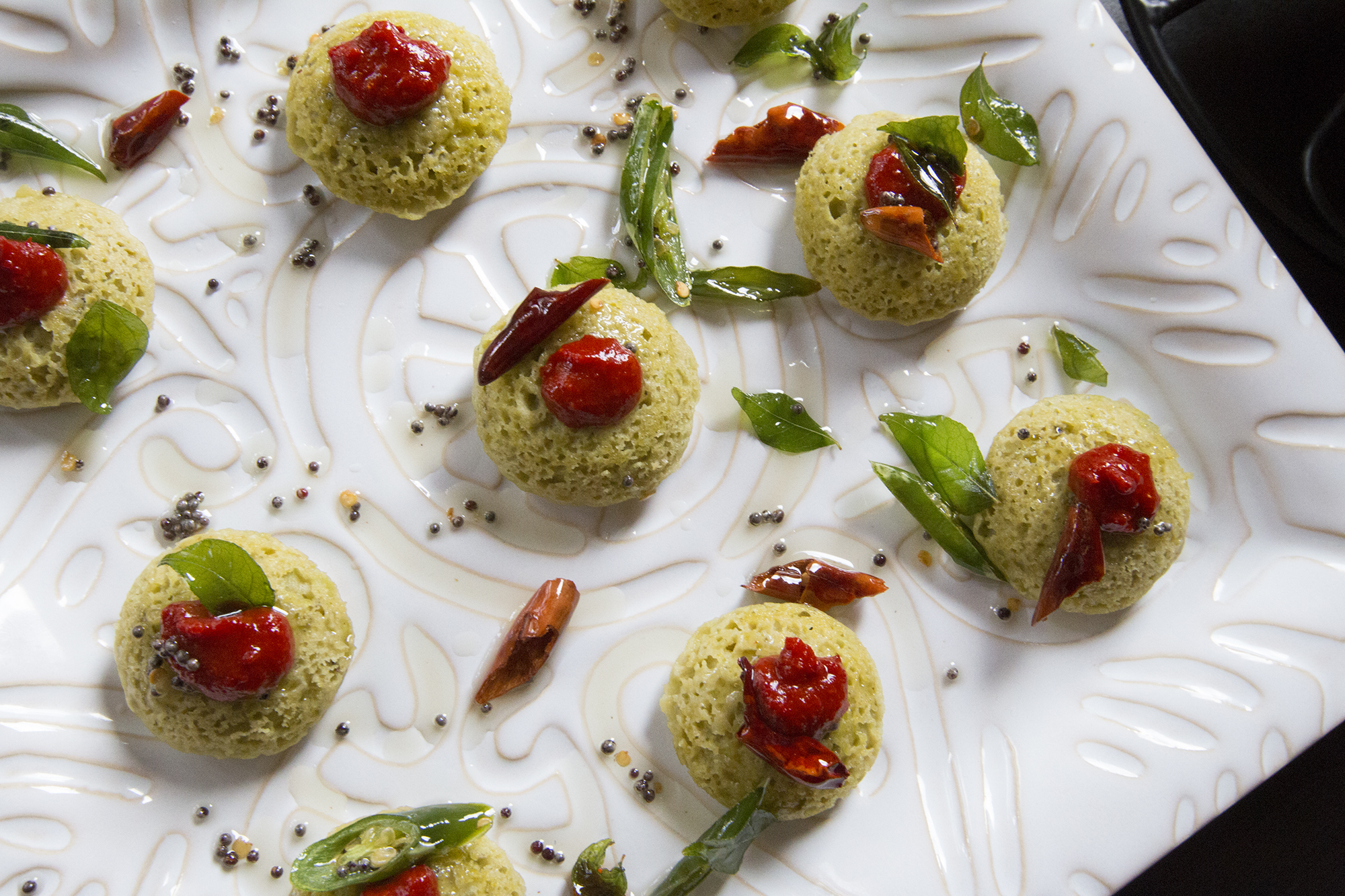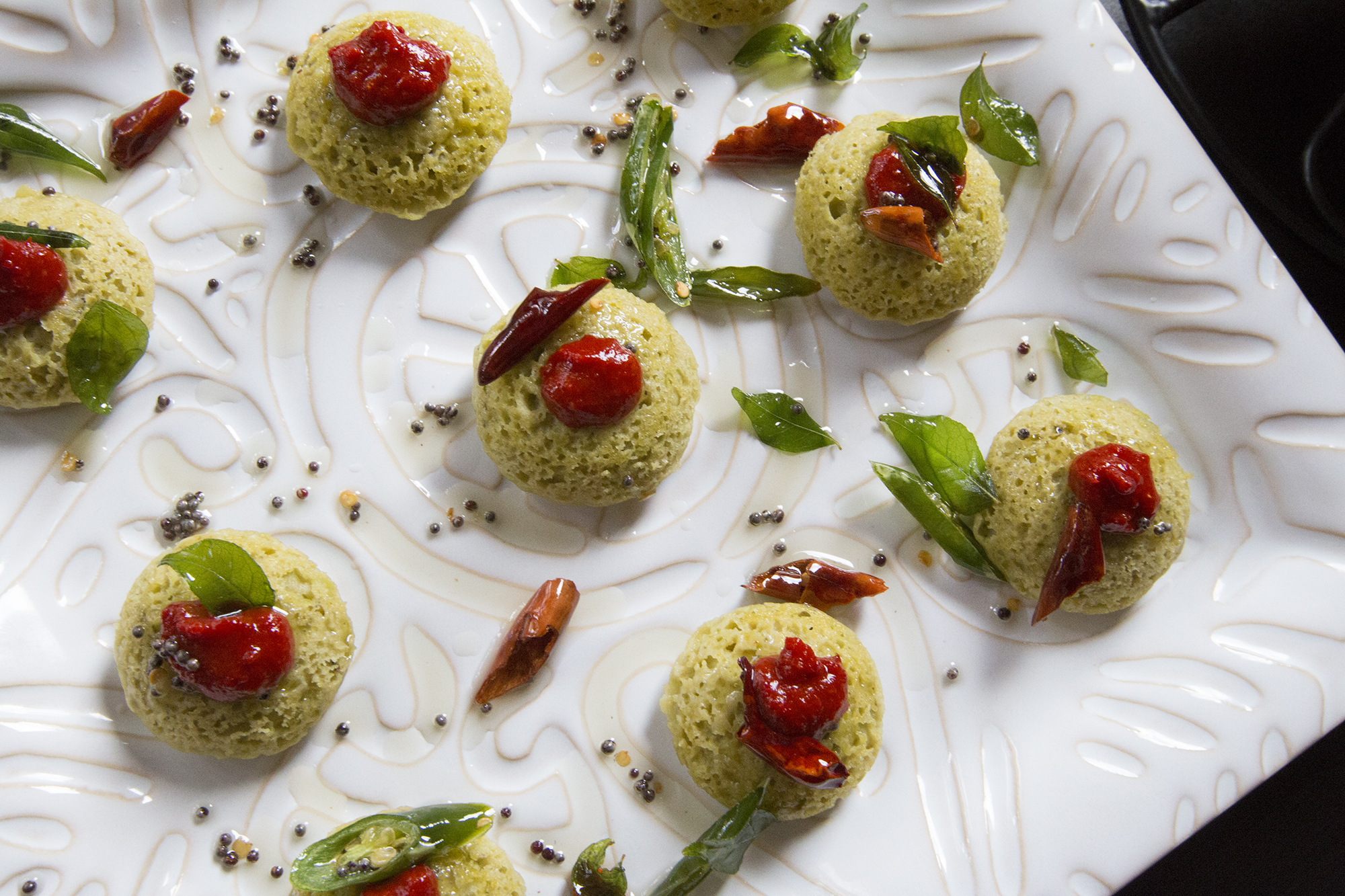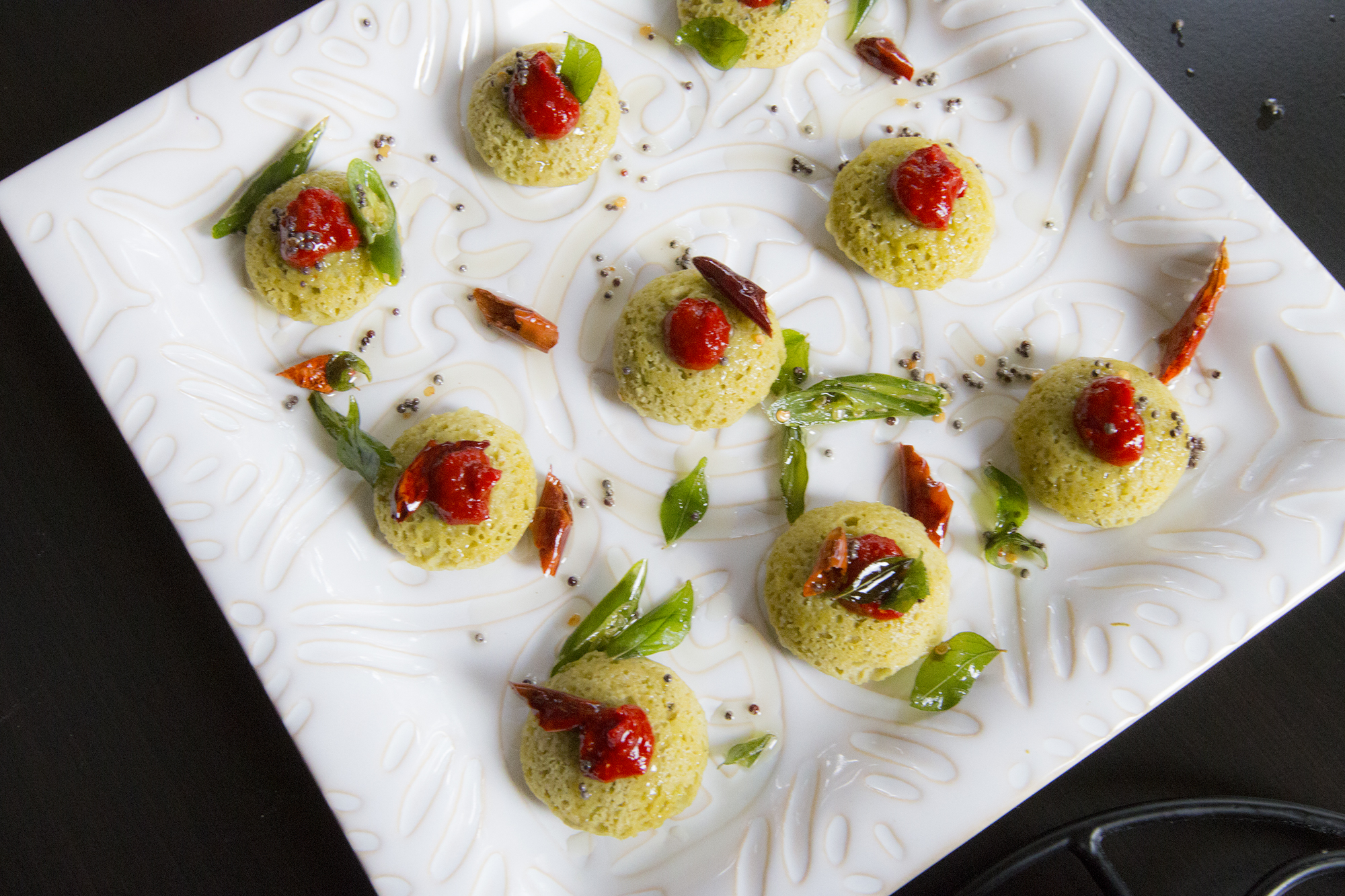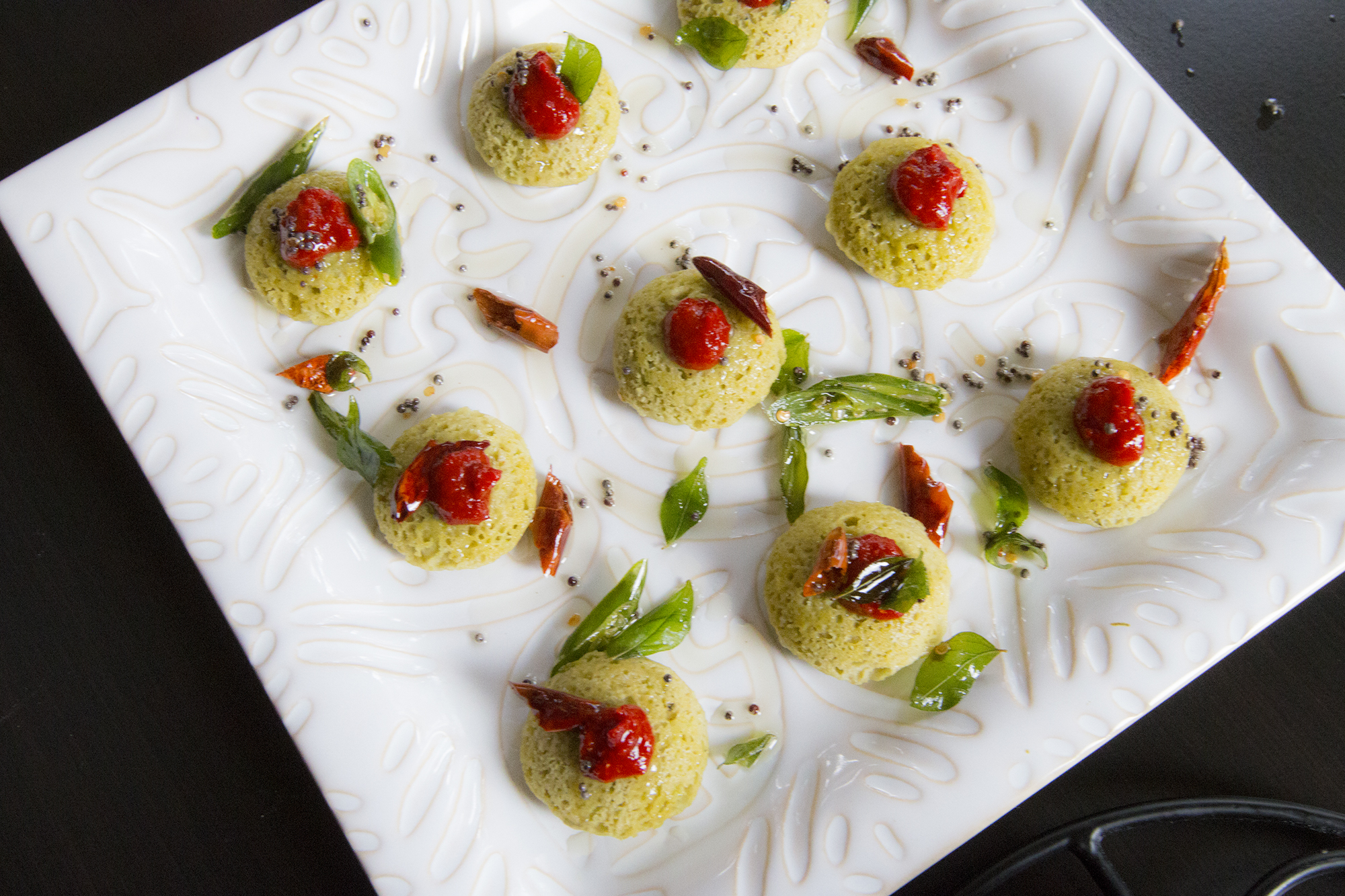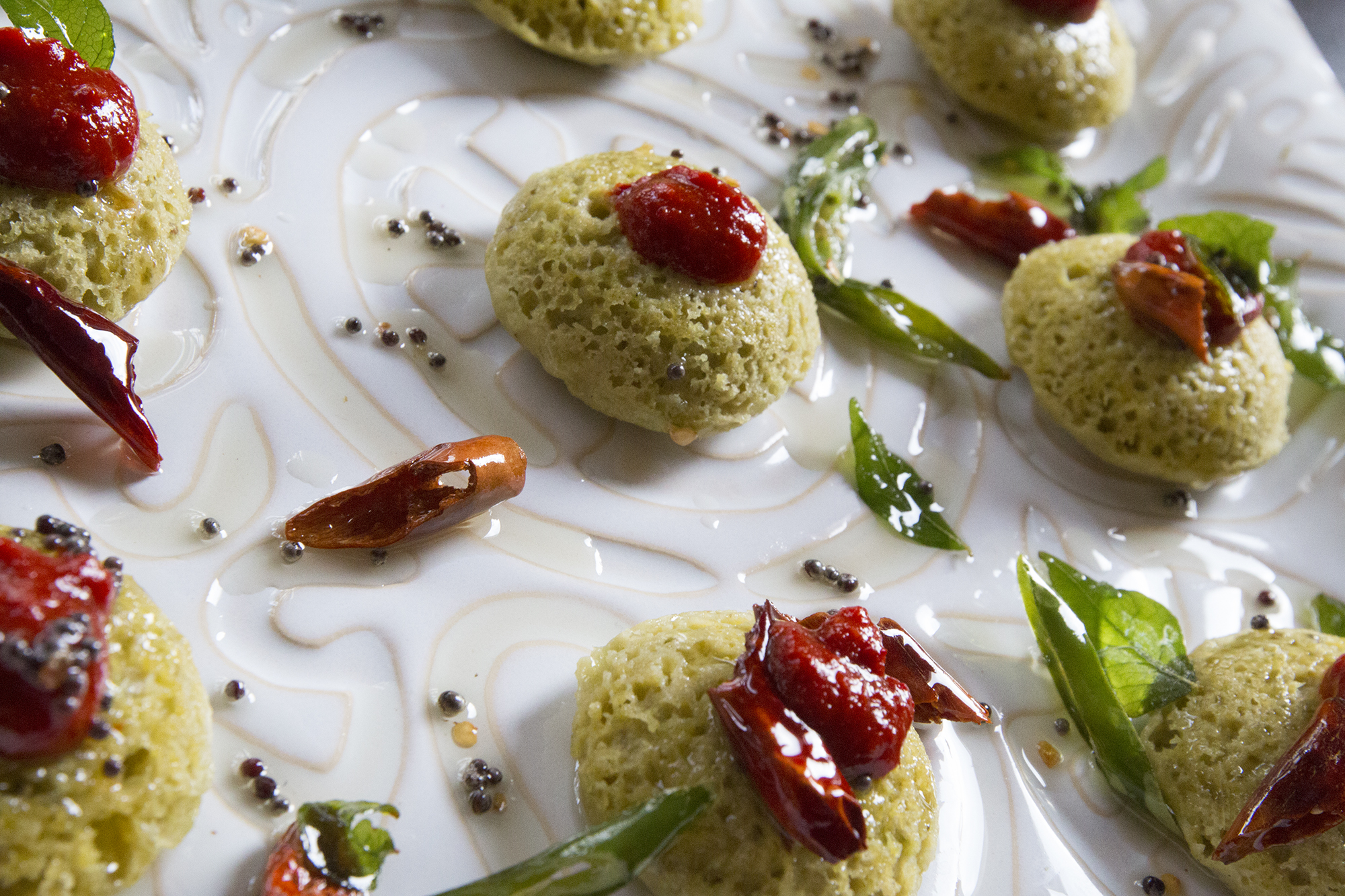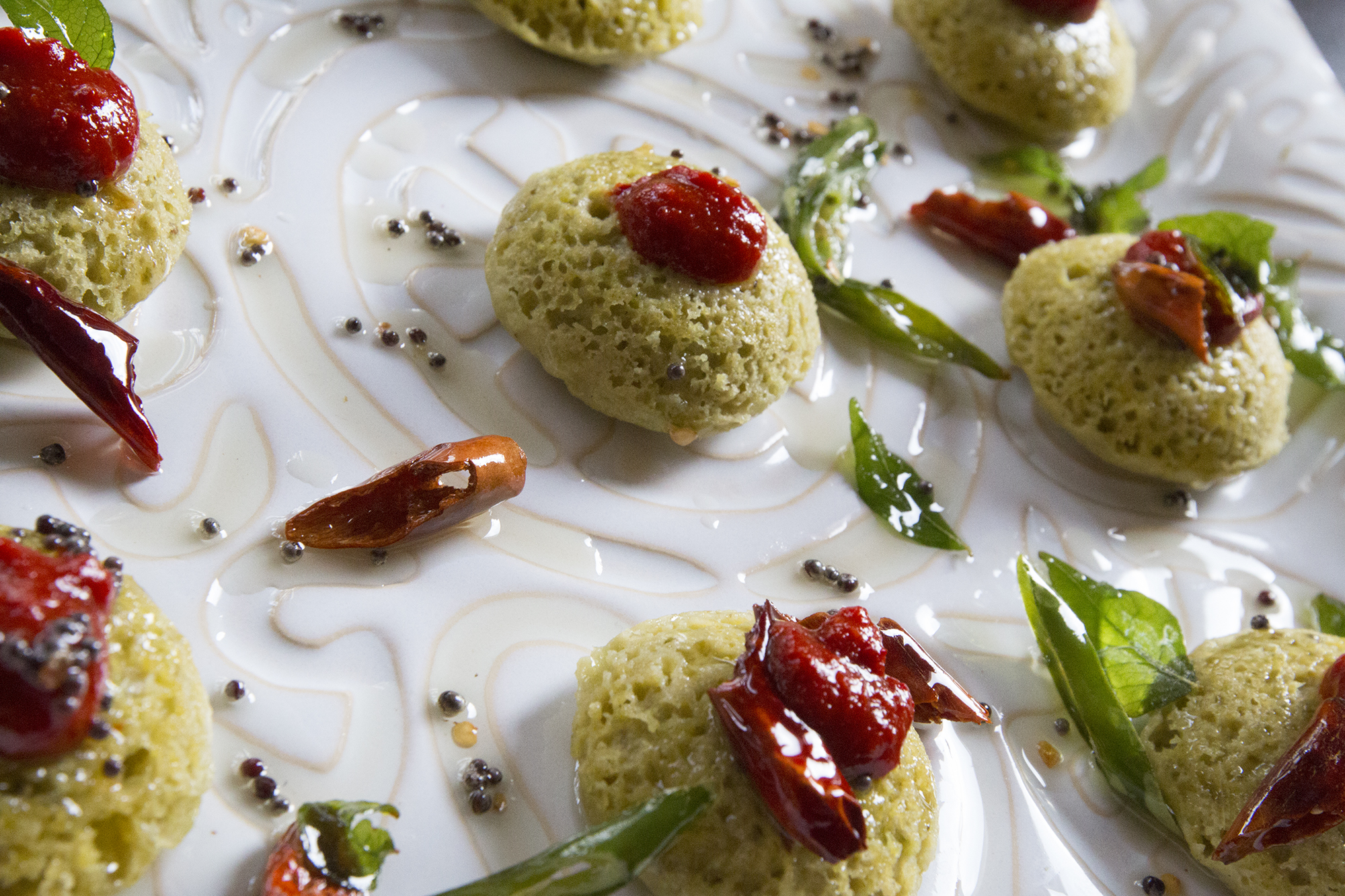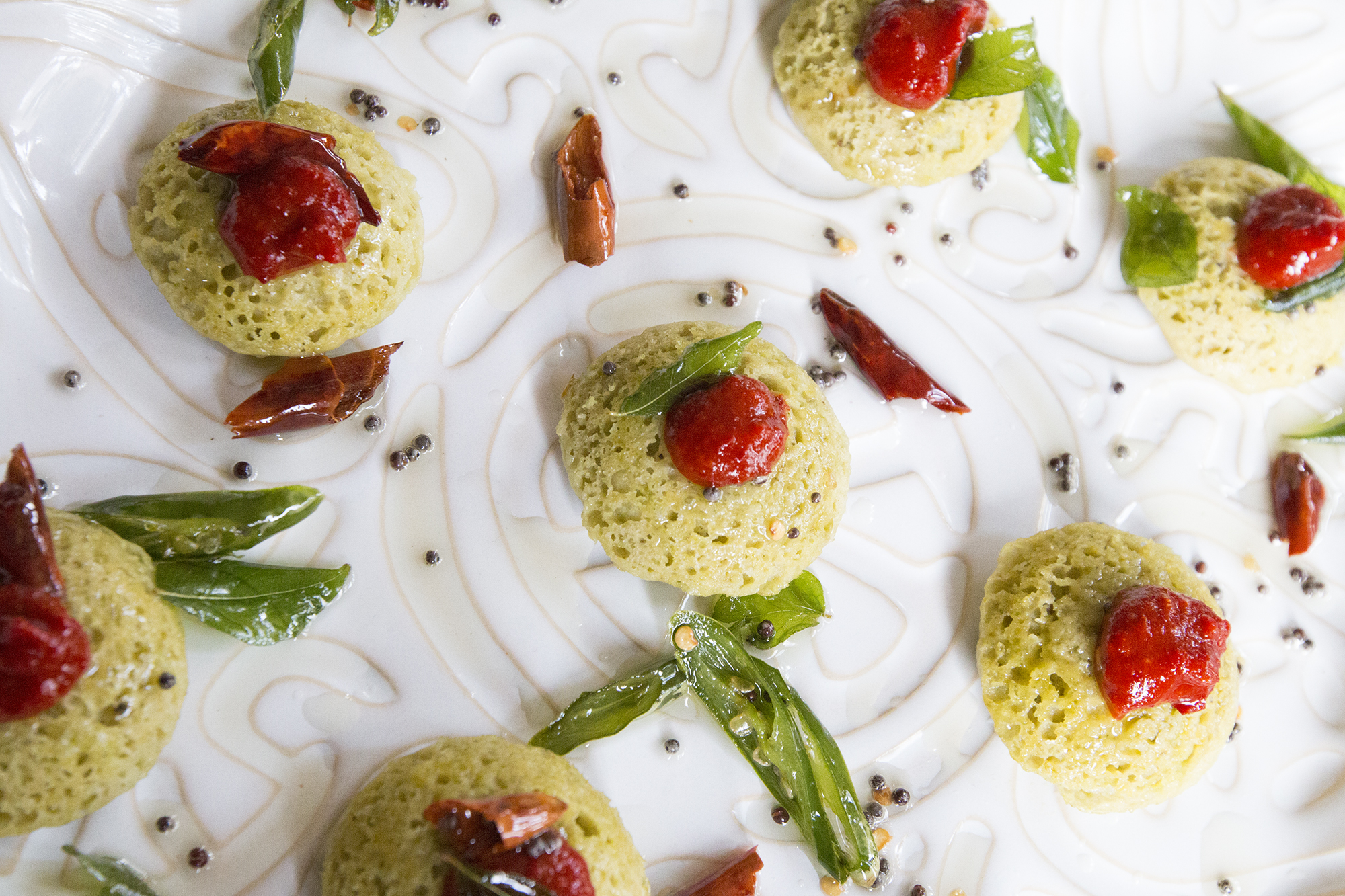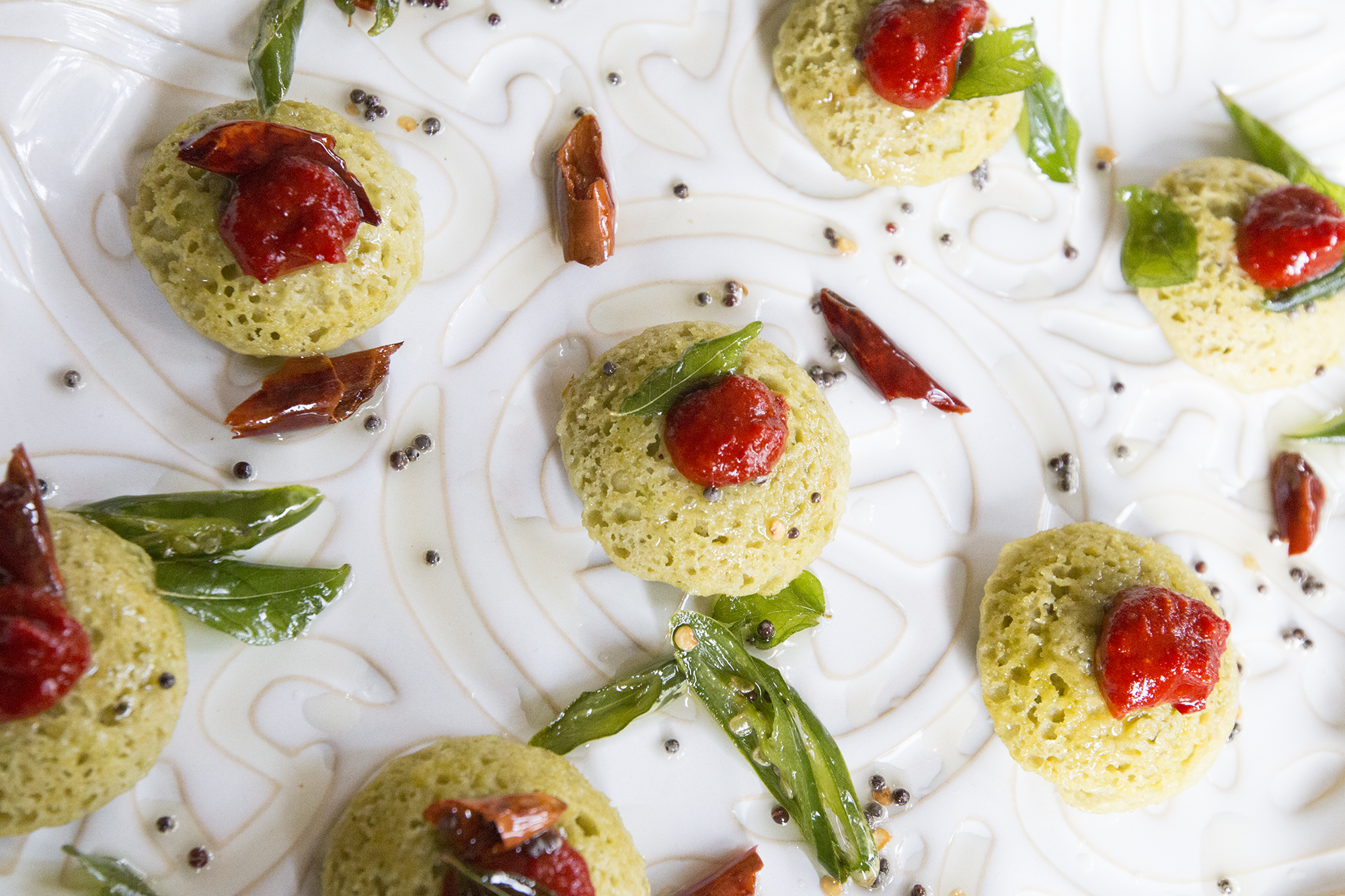 The holidays are here and I wanted to kick things up a notch by throwing a Red & Green Party. I've asked my friends to dress up in Red & Green and it's only fair that I serve them themed appetizers as well. We're going to be serving Green Spinach Chilli Mini Idlis with Red Chilli Garlic Sauce, Red Chicken 65 in Cucumber cups & Green Chilli Shrimp Lollipops. Be sure to check out these recipes as well.
The Green Spinach Chilli Mini Idlis have a wonderful flavour and is served with Red Chilli Garlic Sauce. If you've never had idlis before, these are delicious gluten free streamed rice and lentil cakes. Typically Idlis are eaten with a gravy called Sambhar in the south for breakfast and other meals. Idlis also can be used like a bread to sop up a curry. Typically an Idli is pure white, soft and fluffy and is made is a special idli steamer. But I'm changing things up by adding some ground spinach and green chillies to this idli to make a wonderful green snack. Steamers and the idli stands come in 2 sizes, a regular and a mini version.You know how cupcakes were cute, and then mini cupcakes were just cuter, this is the same thing.  What I love about this recipe, besides that fact that it's packed with spinach is that it's also gluten free. There are so many heavy and rich appetizers that we will consume this season, why not also offer choices that are actually good for you.
This recipe uses the instant idli method, and by this I mean instead of soaking rice and lentils separately, grinding them to a smooth batter and leaving it overnight to ferment, I'm going to use rice and lentil flour and a magic ingredient – something you're probably always had in your medicine cabinet – Eno or Fruit Salt. With the help of this, I will aerate the batter just before I steam it.
Once my beautiful little mini idlis and puffed and perfect, I will dress it with a tempering of mustard seeds, curry leaves, green and red chillies and dot it with a Chilli & Garlic sauce. It's too die for.
[youtube-subscriber nickname=kravingsblog]
Green Spinach Chilli Mini Idlis
Ingredients
2 cups of fresh Spinach
3 green chillies
1 inch piece of ginger
Juice of 1 Lime
Water
1 cup Rice flour

/2 cup Urad flour

3 tsps Eno or fruit salt
2 tsps oil
1 tsp blacksalt
Mustard oil
Tadka - black mustard seeds, curry leaves, slit green fresh chillies and slit dried red chillies in a little bit of oil.
Red Chilli Garlic sauce
Instructions
Grind 2 cups of fresh Spinach with 3 green chillies and a 1 inch piece of ginger together with the juice of 1 Lime
Add a tiny bit of water to help it come to a smooth paste
Add 1 cup of rice flour to a bowl with half a cup of Urad flour. You can find this lentil flour at most Indian or ethnic stores, it's made for black dehusked lentils that are dried and ground to a powder
Mix these together with one tsp of Eno fruit salt
Add all of the Spinach Chilli paste
Add a little water into the food processor and add this as well and stir to form a smooth batter
Add 2 tsps oil and 1 tsp blacksalt & let this sit in a warm place for 30 mins
Prepare the idli stands by brushing them with some mustard oil.
Divide the batter into 2 bowls as only half the batter will fit the molds.
Add 1 tsp Eno or fruit salt to half the batter and fold it in. The batter gets all fizzy, this is exactly what you want. Quickly spoon this into the idli moulds and add to the pressure cooker
Pressure cookers usually come with a stopper that keeps all of the pressure in. If I use this for the idlis, the pressure built will not allow the idlis to cook properly. Instead the steam will press against the idli giving it too mush moisture and will not allow it to rise
I'm going to cook it without the stopper allowing the steam to escape, but ever so often I will cover it with a stainless steel cup just to make sure we don't lose all the water in the pressure cooker
Cook for 10 mins. Once this is done, take the stand out, allow it to cool and free the idlis with a spoon
To serve I'm going to make a quick tadka, this is a tempering of black mustard seeds, curry leaves, slit green fresh chillies and slit dried red chillies in a little bit of oil
Pour these over your idlis and add a little dollop of festive Red Chilli Garlic sauce.
https://kravingsfoodadventures.com/green-spinach-idlis-mustard-tadka-chilli-garlic-sauce/
Save
Save
Save
Save