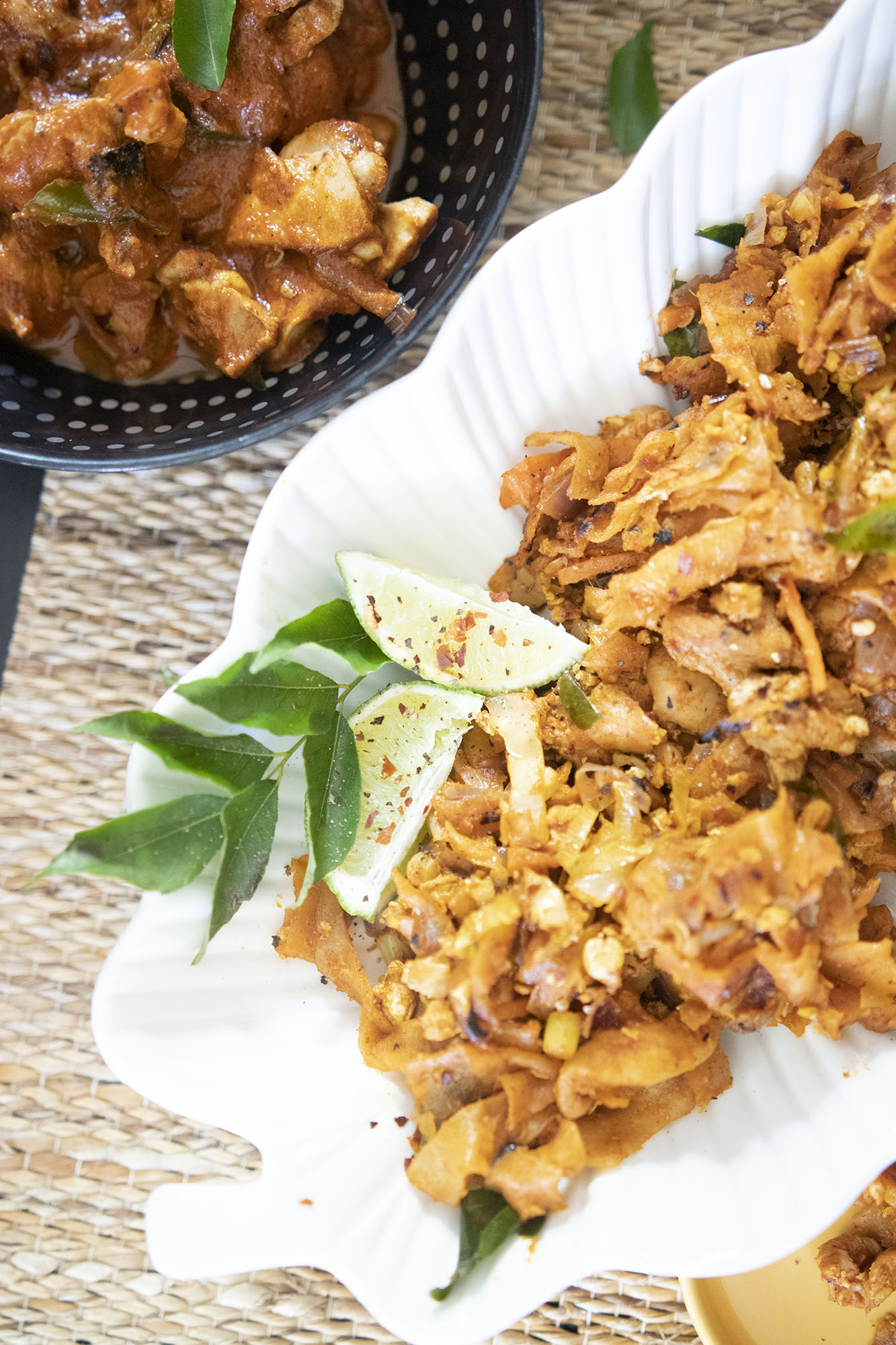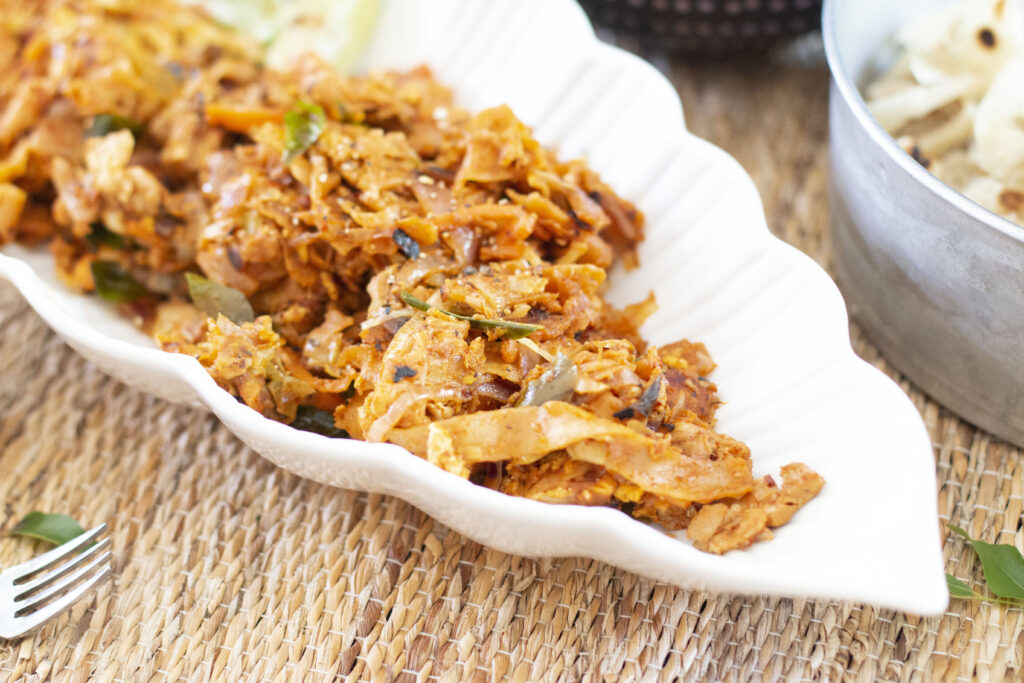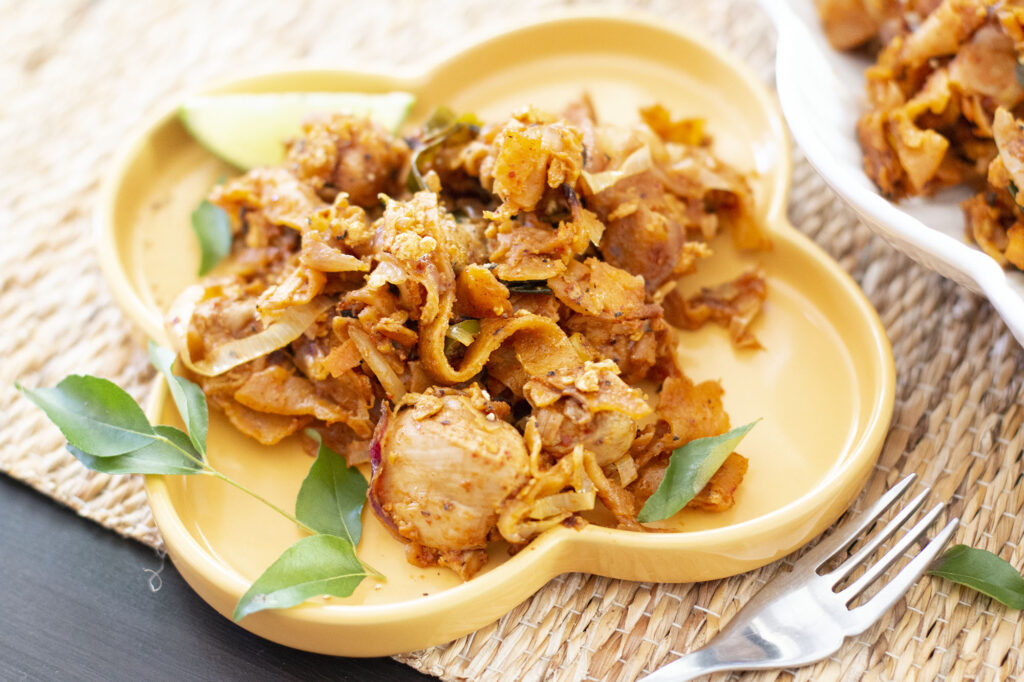 Kothu roti is literally one of my new favorites! I ordered it last year from a take away restaurant as I had heard one of my friends refer to this dish often and fell instantly in love. Through my research and development with this recipe, I learned that although this is a very easy dish to put together, there are definitely tips and tricks to getting a Kothu roti with an authentic taste.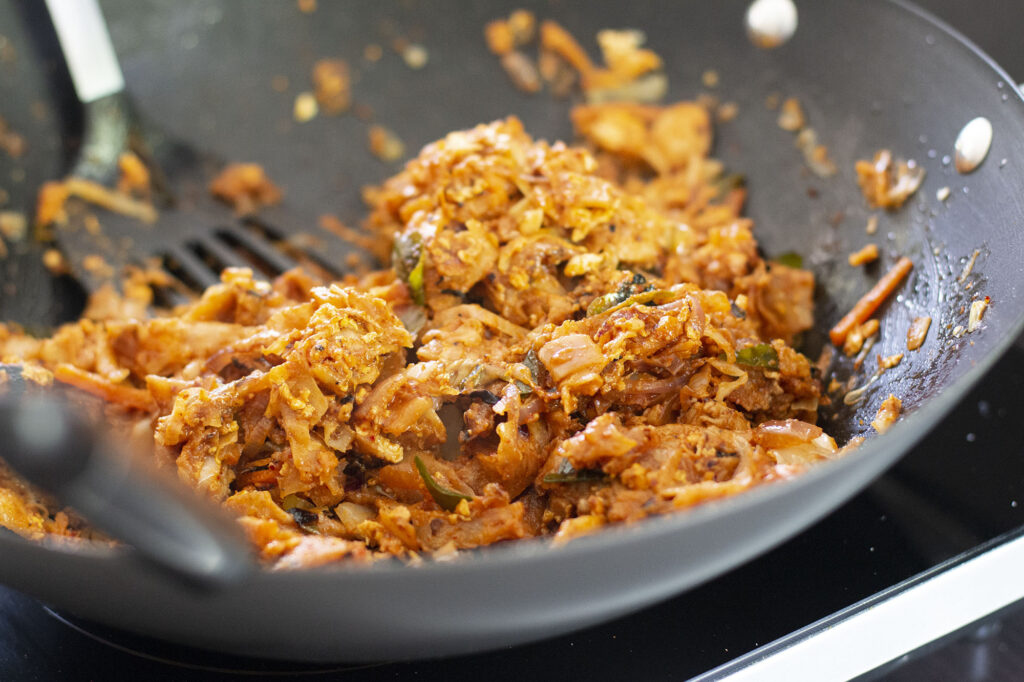 The concept is to cook together leftover roti with leftover gravy together with vegetables and make a filling 'poor man's dish'. In India and Sri Lanka, vendors make this to order and the dish is cooked on large skillets and is mixed together using two metal scrapers. Today you can get all sorts of Kothu ot Kuthu roti – Chicken, Mutton & Shrimp to name a few.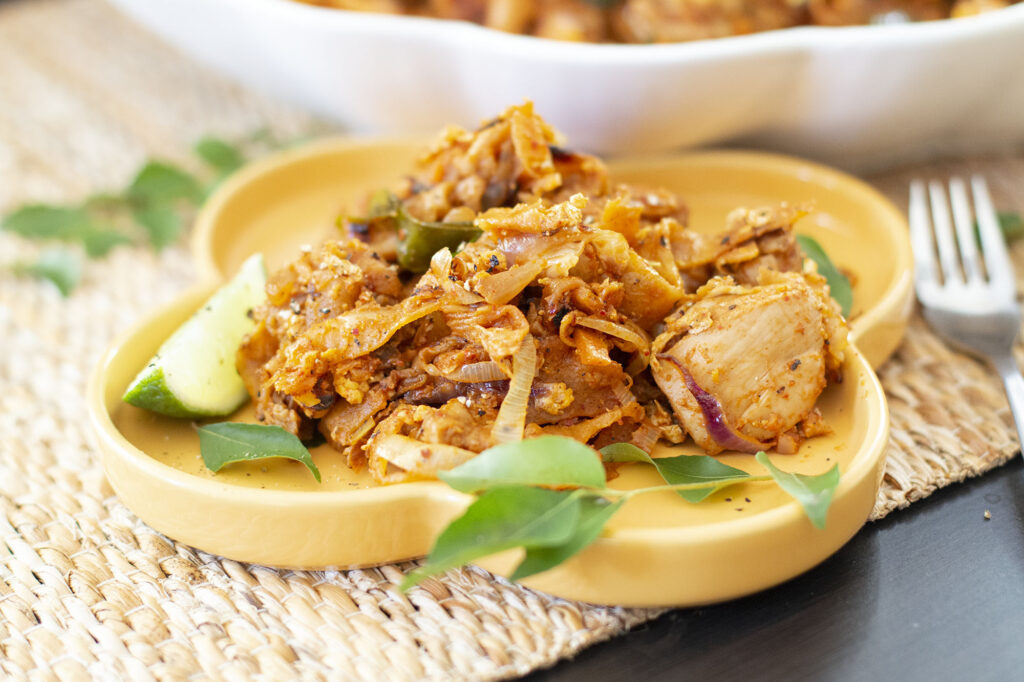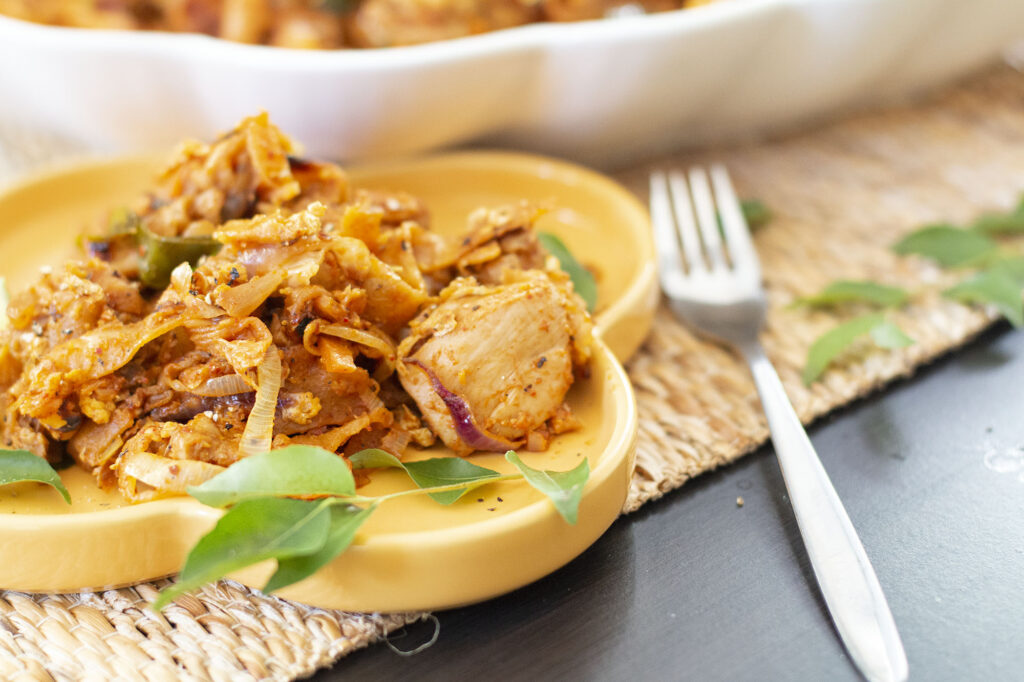 In South India, this is called Kothu Paratha and is made with leftover paratha, a roti cooked with many layers with oil or butter in between.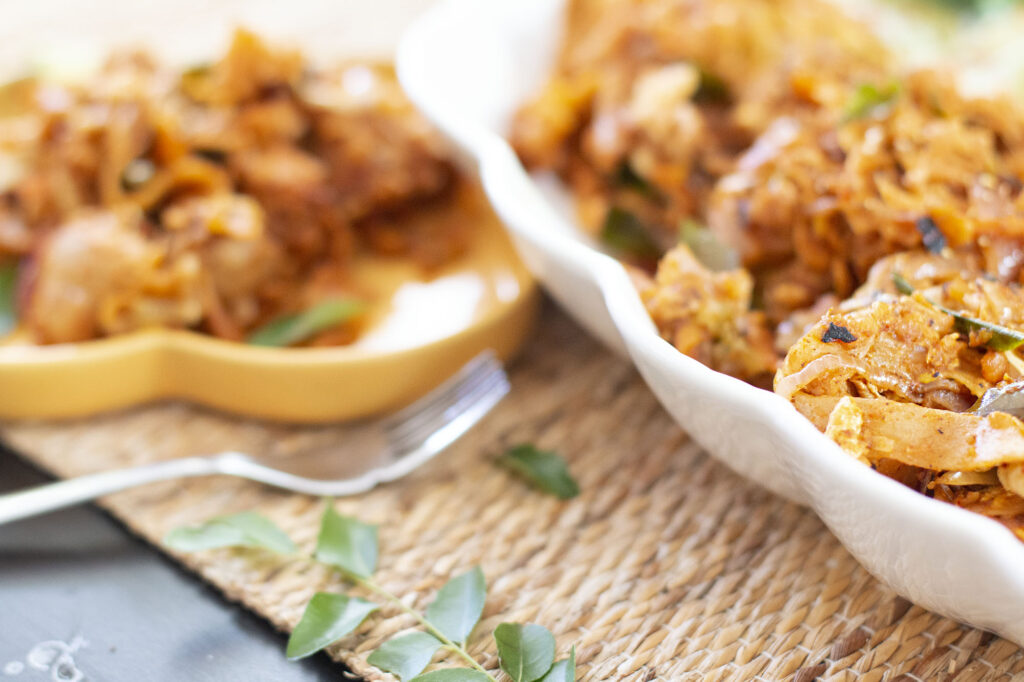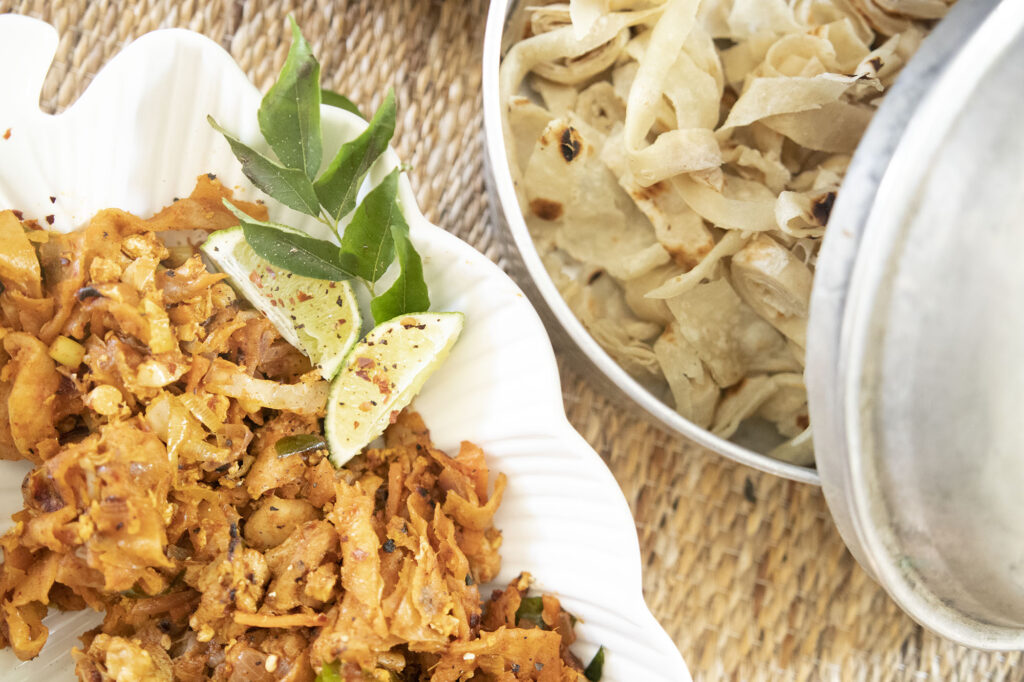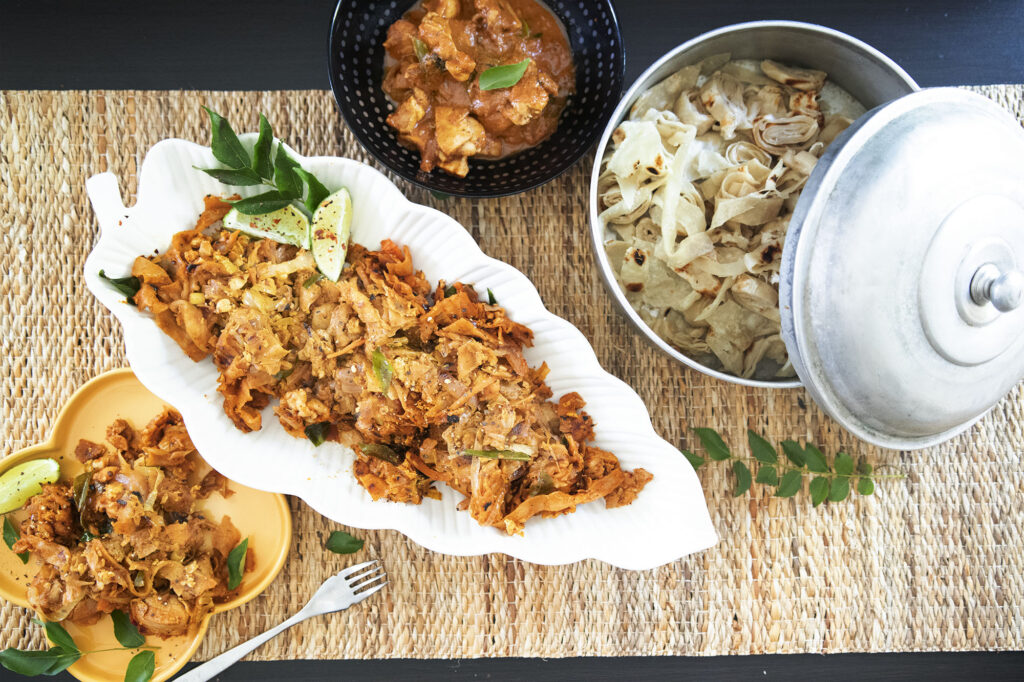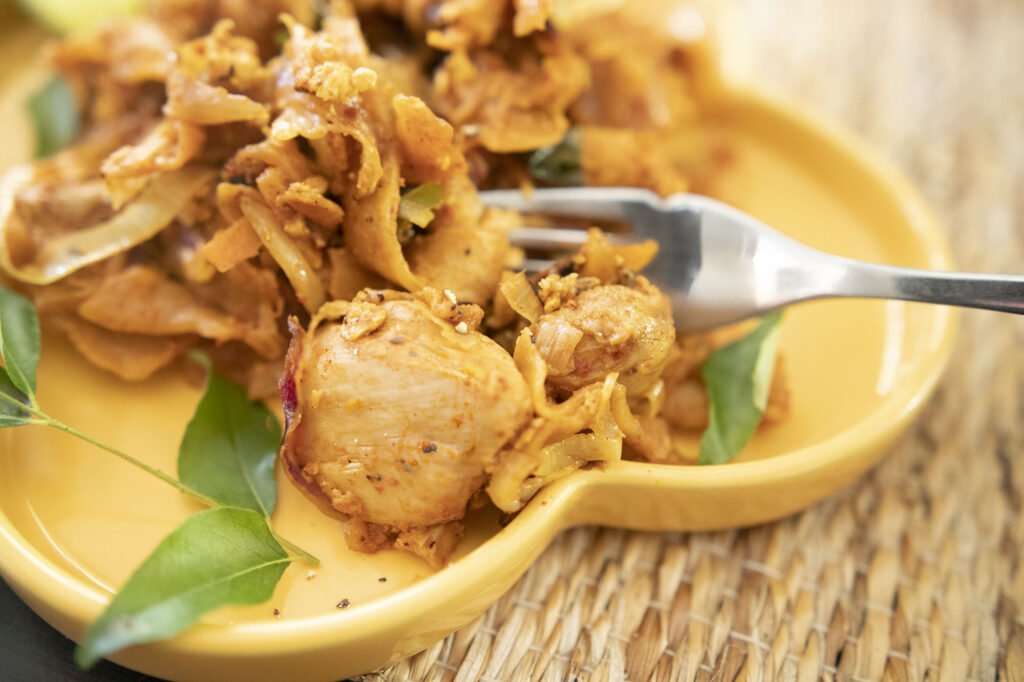 When I started developing this dish, I prepared it with regular rotis of phulkas. I soon realized that the best roti for this dish is the light Godamba roti. Made from white flour, this roti is soaked in oil to give the dough elasticity. It's then stretched and cooked and then shredded for this dish. If you can't buy Godamba roti, learn how to make it by following my tips and tricks here.
I also prepared a spicy Sri Lankan curry for this. Although you can use any leftover curry to make Kothu roti, I preferred to use one that would give my end result the most authentic result. You can check out that recipe here.
And finally when you're ready to put it all together you're ready to make Kothu roti!
The recipe is below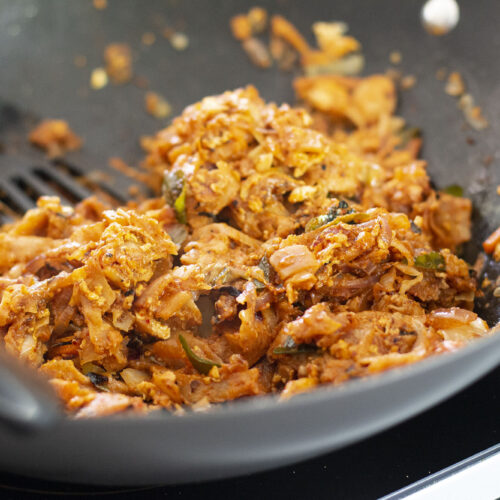 Chicken Kothu Roti
Ingredients
1/2

cup

Butter

3

tbsps

Oil

1/2

cup

sliced Onion

1/4

cup

Curry leaves

1

cup

sliced Leeks

bulb only

1

cup

shredded Cabbage

1/4

cup

julienne of Carrots

1

tsp

red Chilli powder

1

tsp

red Chilli flakes

2

whole Eggs

Add Salt to taste

200 – 300

gms cooked Roti

1

cup

leftover Chicken gravy

1

cup

Chicken pieces
Instructions
This dish is made with leftovers. Please see the recipes for both the Godamba Roti and the Chicken curry

In a large kadai or wok, heat the butter and oil till the butter melts

Saute the onion followed by the curry leaves, leeks, cabbage and carrots and allow these to slightly caramelize

Add the chilli powder and chilli flakes

Push everything to one side, add the two eggs and scramble it

Add salt to taste

Mix everything together

Add the roti, followed by the chicken gravy and mix

Add the chicken pieces

Pound everything together using two spatulas

This can also be made with mutton or shrimp