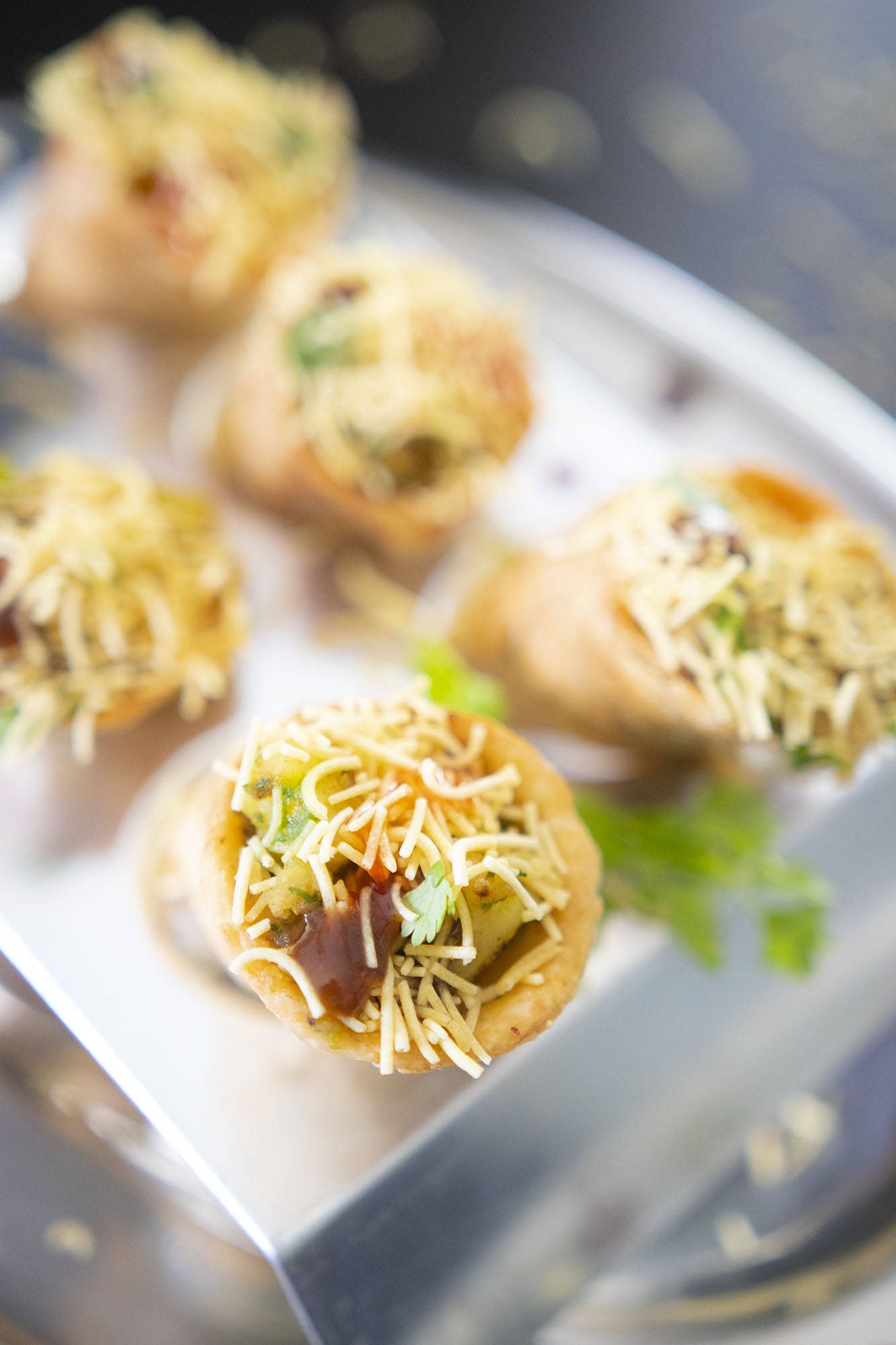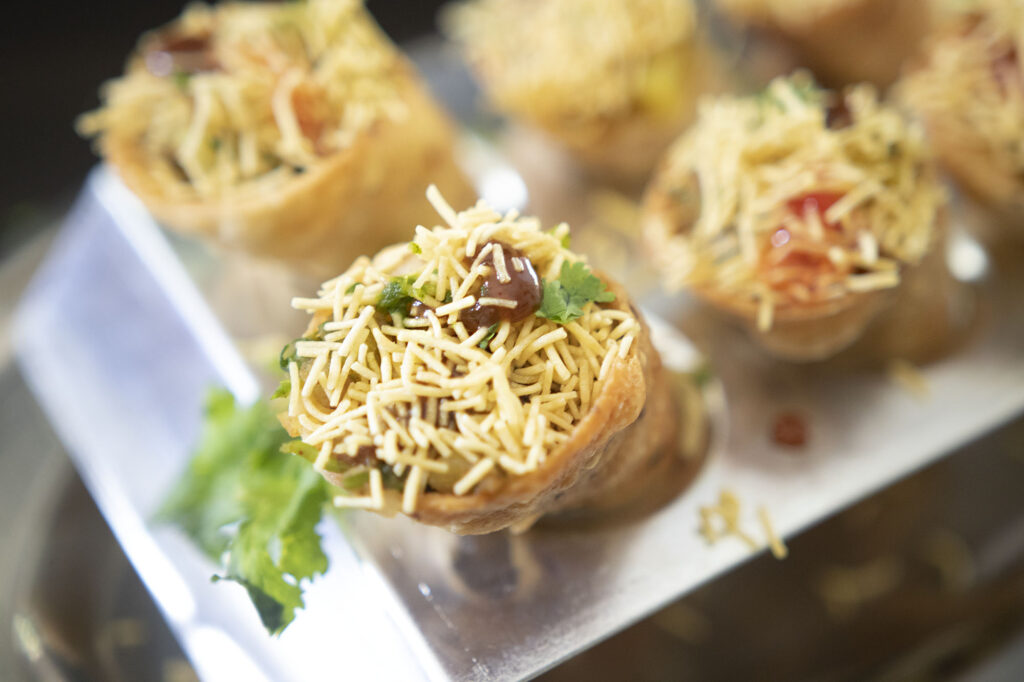 Your local chaatwalla bhaiya ji can move over. Sev Puri dough is wrapped onto cones and fried till crispy and then stuffed with a chatpata Potato filling, with Chutney and topped with crispy Sev.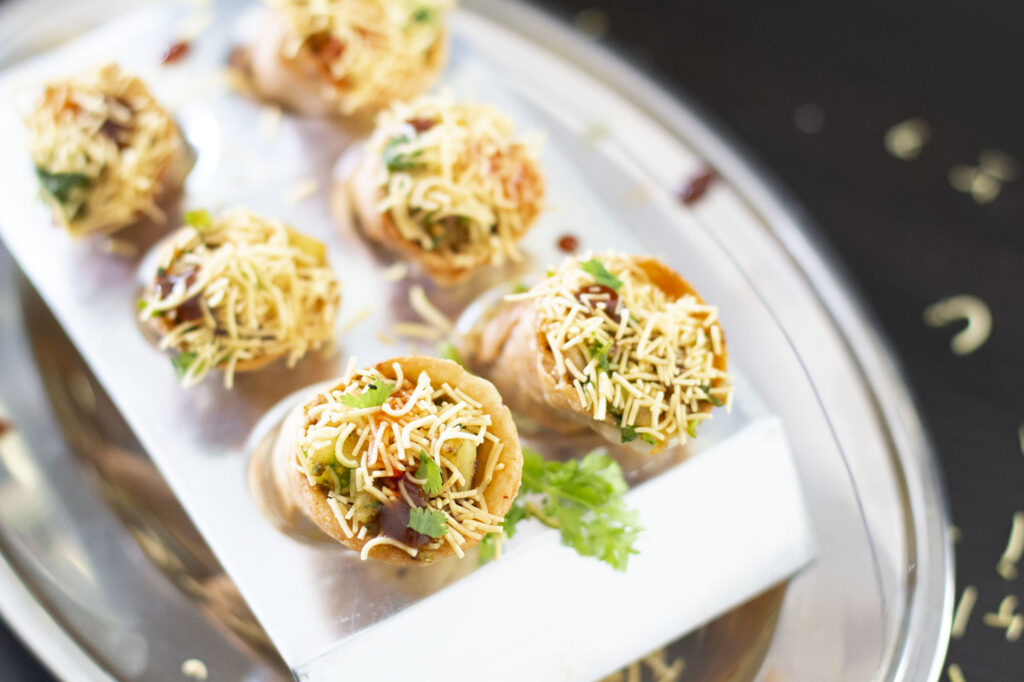 If you're familiar with Indian street food – Sev Puri is a crispy flour disk, topped with a spicy potato mixture and topped with Sev, a cripsy noodle made with lentil flour. Typically the bhaiyaji or street vendor will prepare about 6 of these and serve these to you on a plate. I've taken the same concept and instead of buying store bought puris, I've made the dough and rolled them out larger to make cones.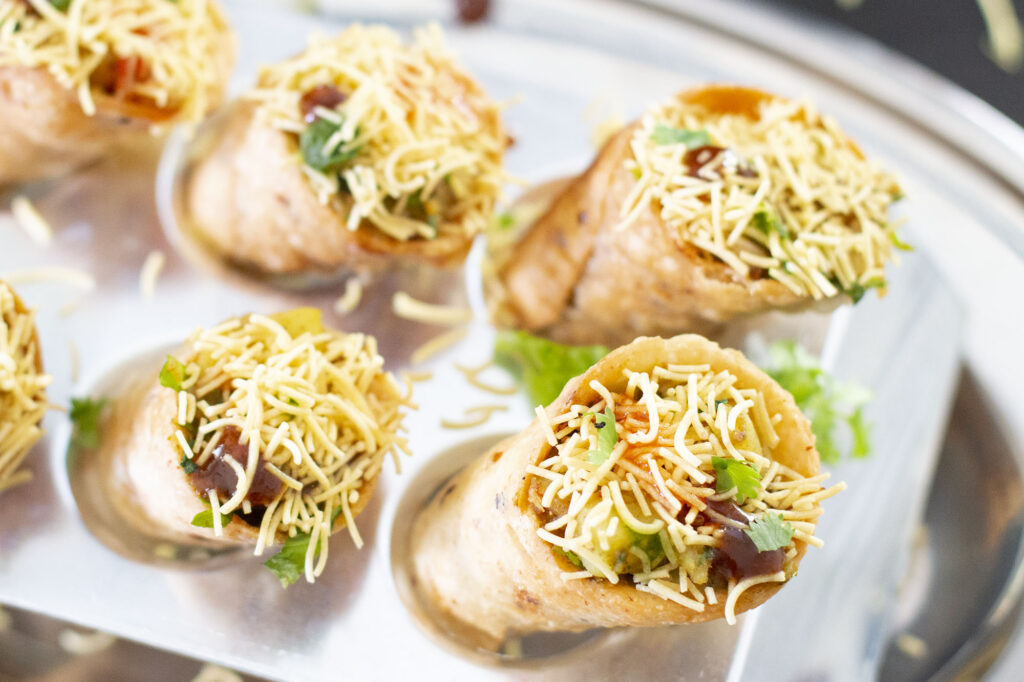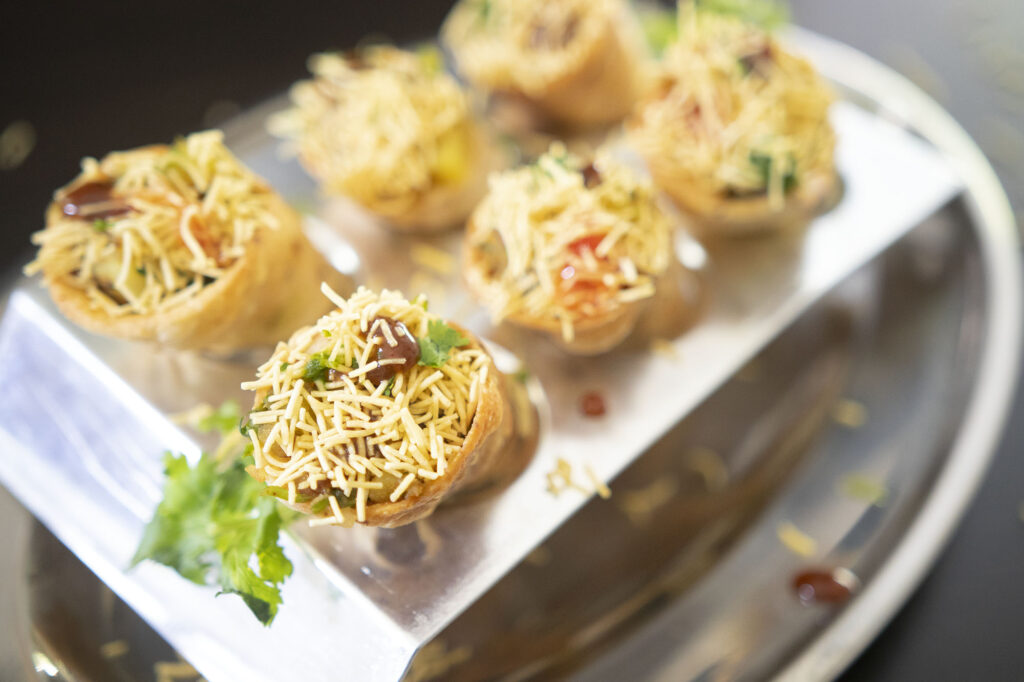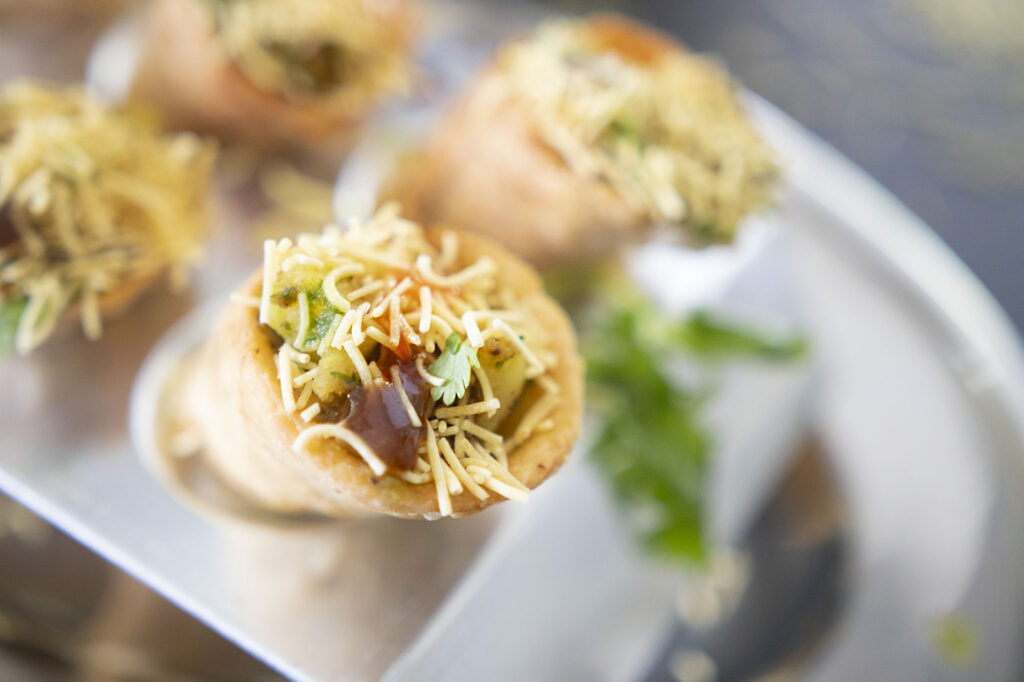 This elevated street food snack is perfect for picnics and parties. This recipe makes about 20 cones, you can make these ahead and store them in tins for maximum freshness.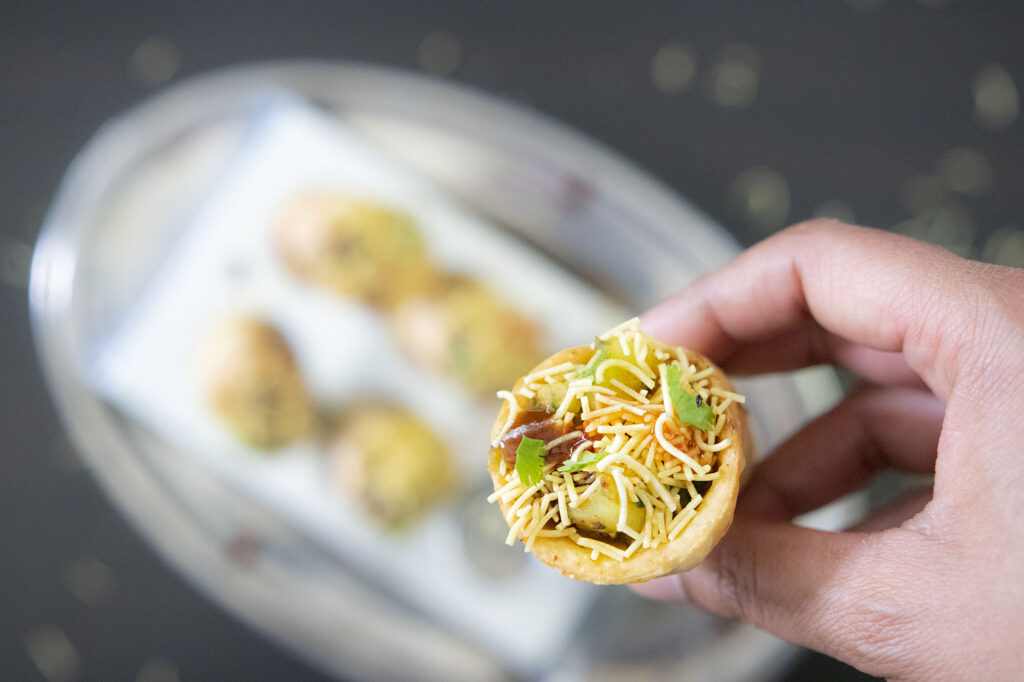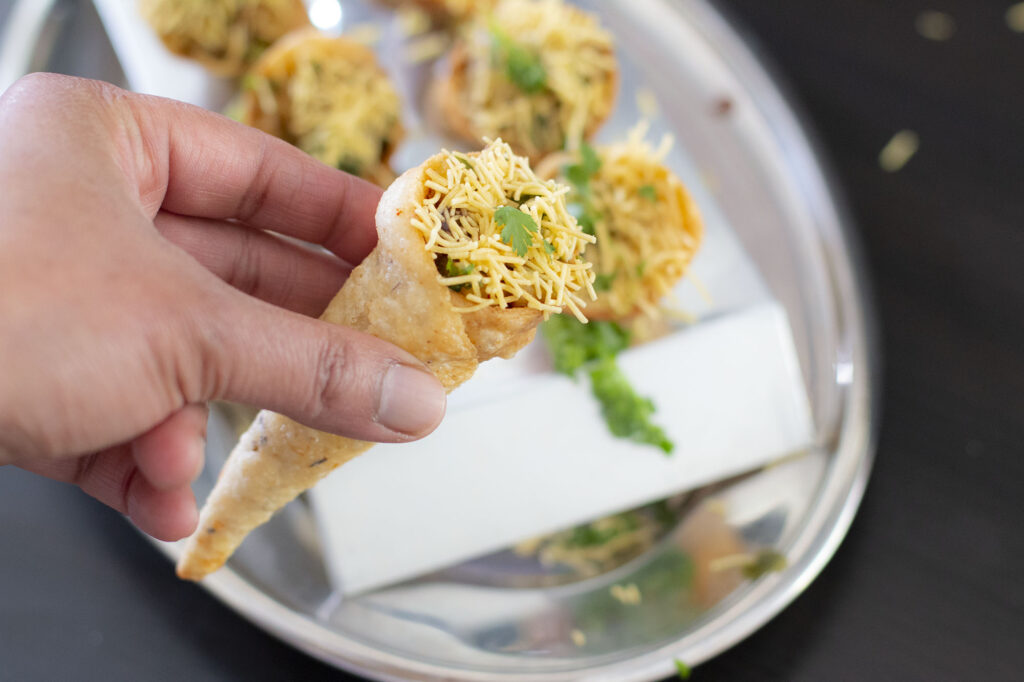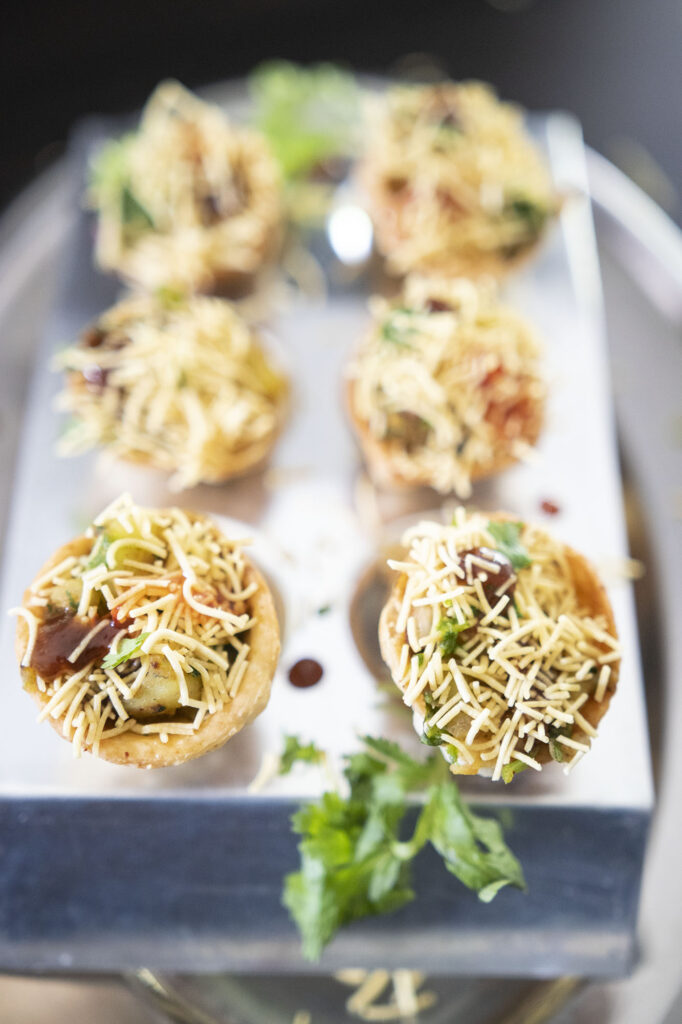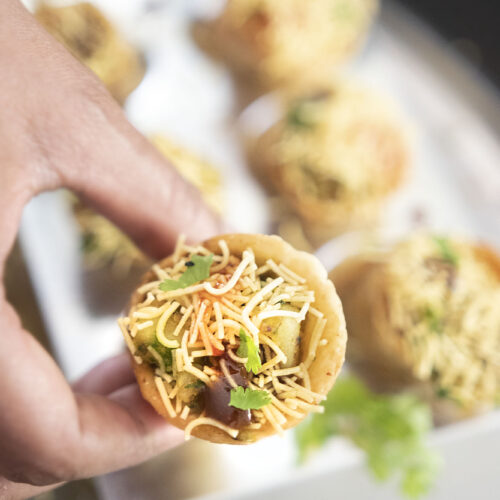 Sev Puri Cones
Ingredients
Dough – makes 20 cones
1

cup

all purpose Flour or Maida

1/2

cup

Semolina or Rava

2

tbsps

Ghee

Salt to taste

1/4

tsp

Ajwain or Carom seeds

1/4

tsp

Shah Jeera

1

tsp

Chilli flakes

1/2 – 3/4

cup

warm WaterIn boiling salted water

with a pinch of Turmeric, I'm goign to add
Filling – for 10 cones
2

cups

diced Potatoes

Salt to taste

Pinch

Turmeric

1/4

tsp

Chilli powder

1

tsp

Chaat masala

1/2

cup

finely diced Onion

1/2

cup

finely chopped Coriander

1

tbsp

Tamarind sauce

1

tbsp

red Chilli sauce

1

tbsp

green Chutney

1/2

cup

Sev

Extra sauces and chutney
Instructions
Prepare the dough by mixing the flour, semolina, salt, ajwain, shah jeera and chilli flakes together

Add the ghee and work it into the dough

Add water as needed and knead the dough and allow to rest for 30 mins

Boil the Potatoes in salted water with a pinch of turmeric

When cooked drain and cool

Prepare the dough cones by rolling out the dough and cutting circles about 9 cms

Re roll the circles so they are at least 11 cms in diameter

Wrap them around the metal cones and deep fry

Once fried, drain on kitchen towel, cool and store in a tin

Add the onion, coriander spices, sauces & chutney to the potato mixture

Using a muddler or spoon, lightly mash about half the potatoes

To assemble, fill the base of the cone with sev, add dollops of the sauces and chutney, add the potato mixture and top with more sauce, chutney and sev

Serve within the hour