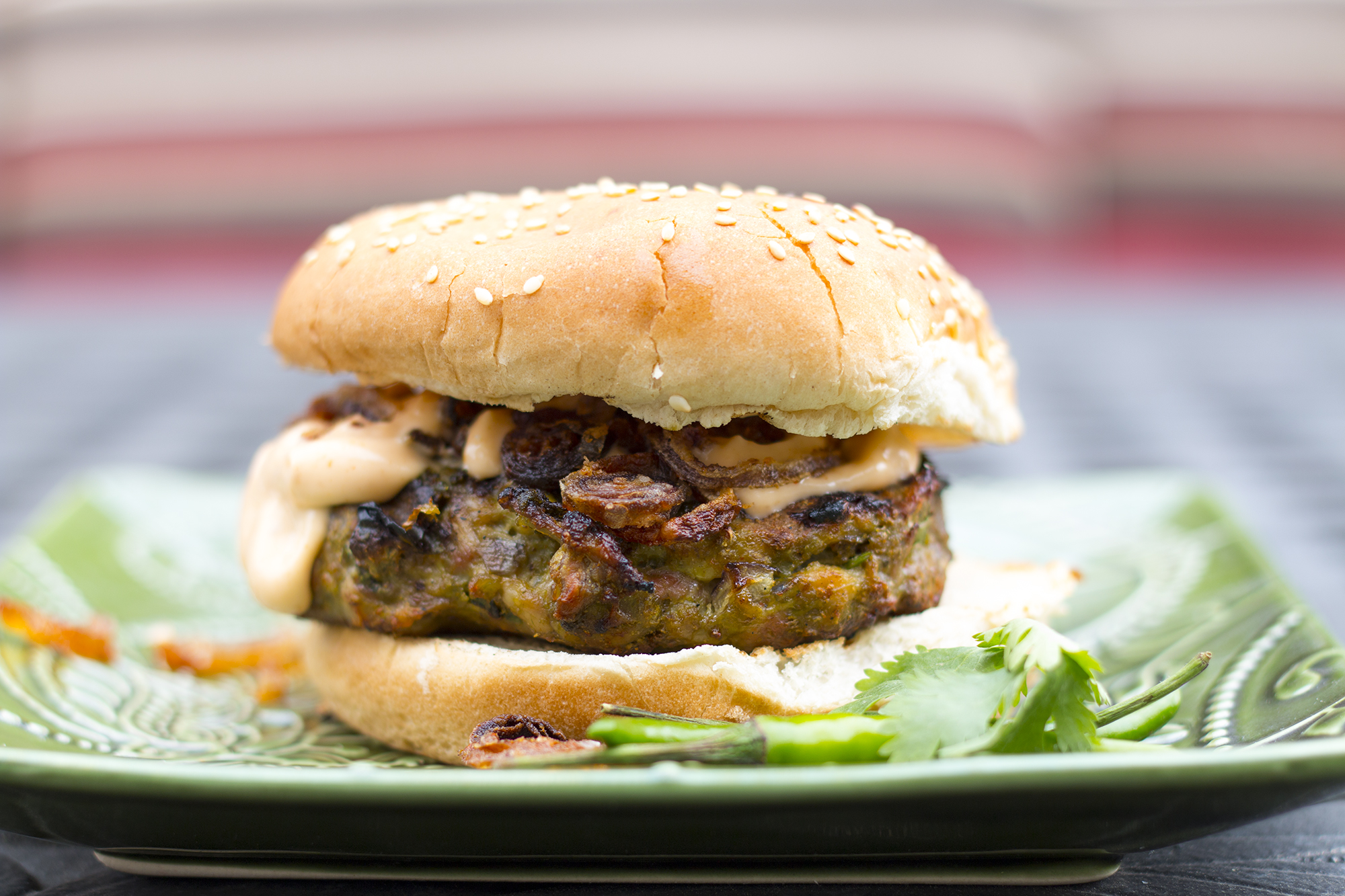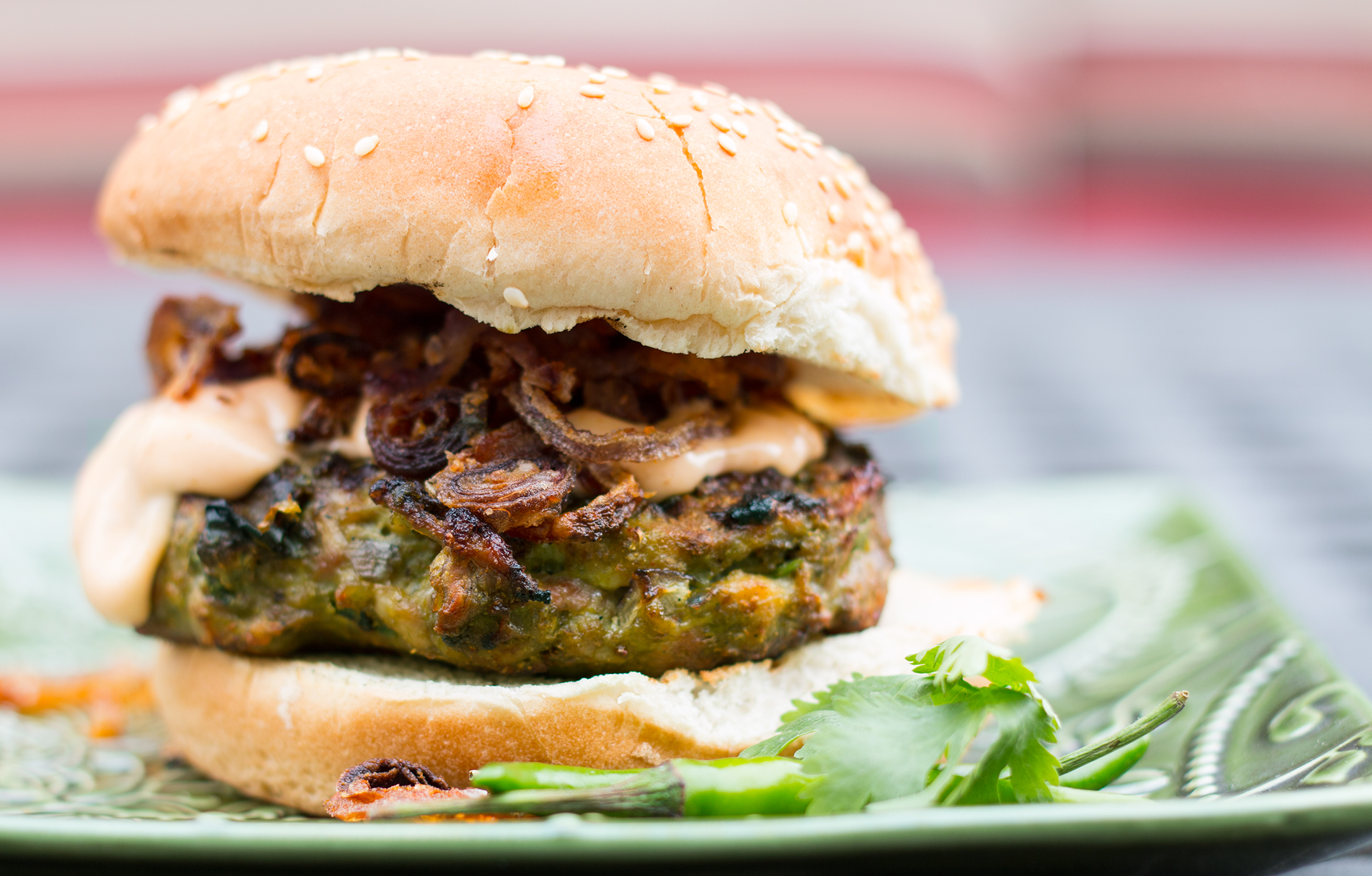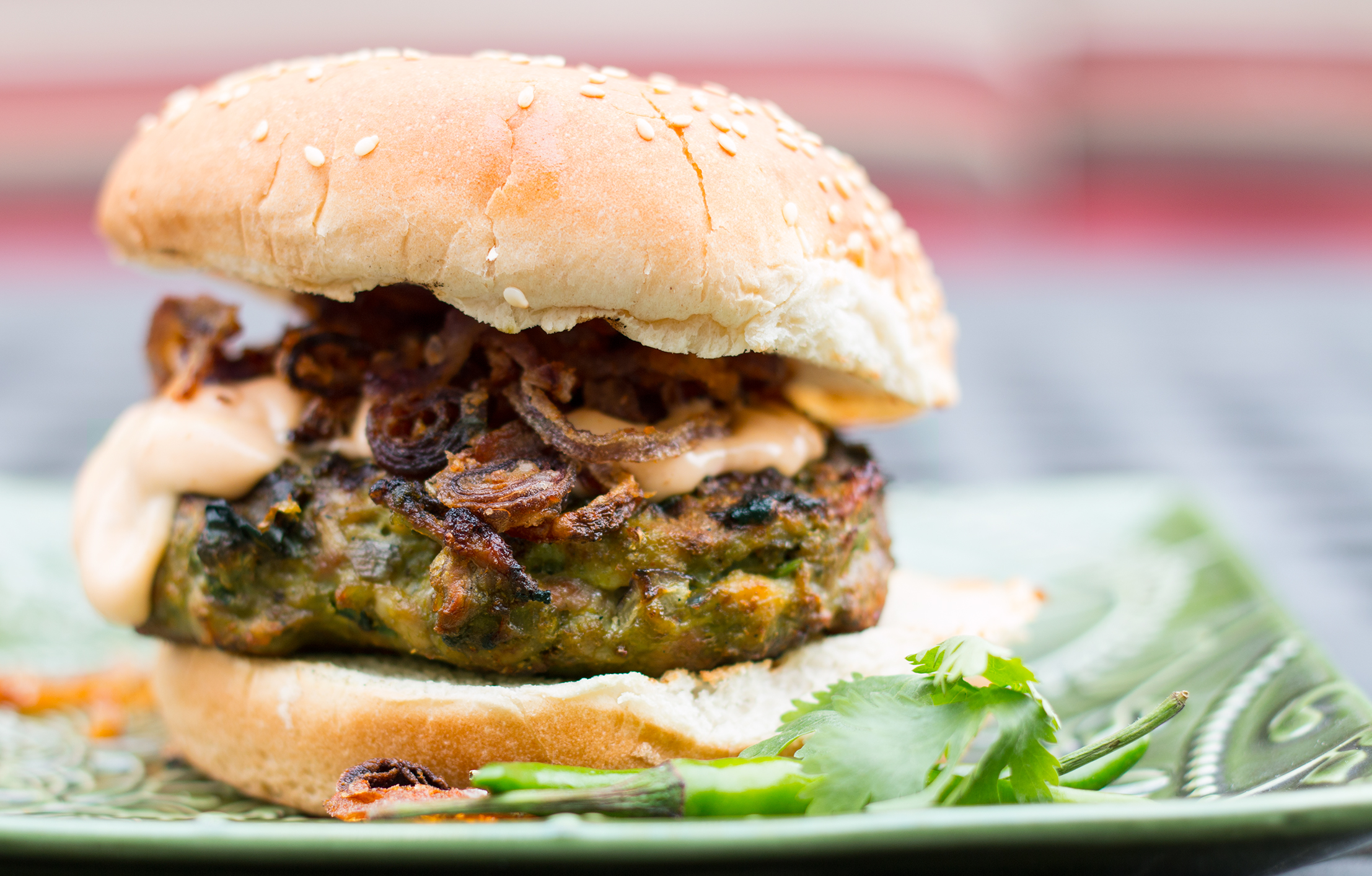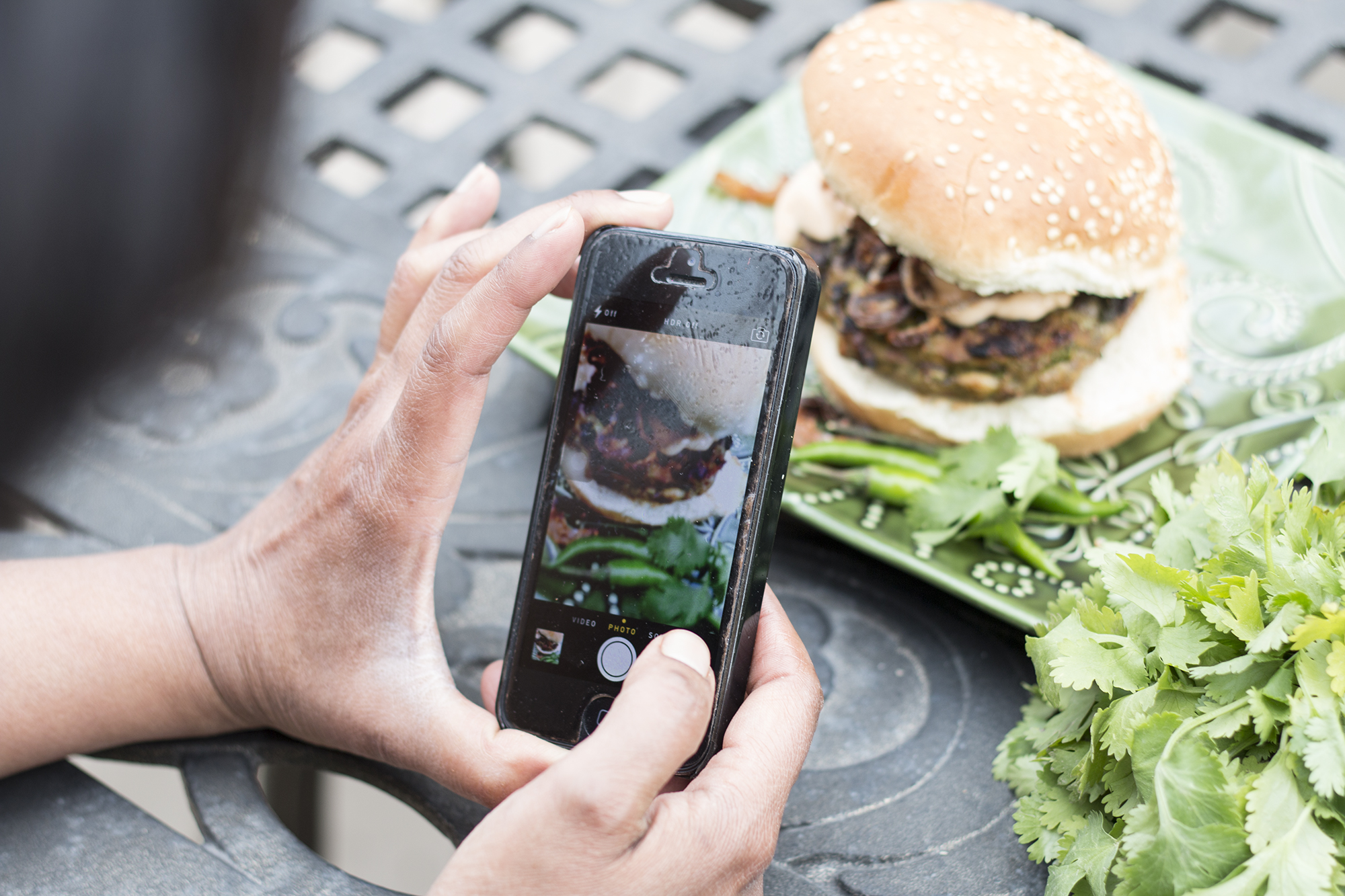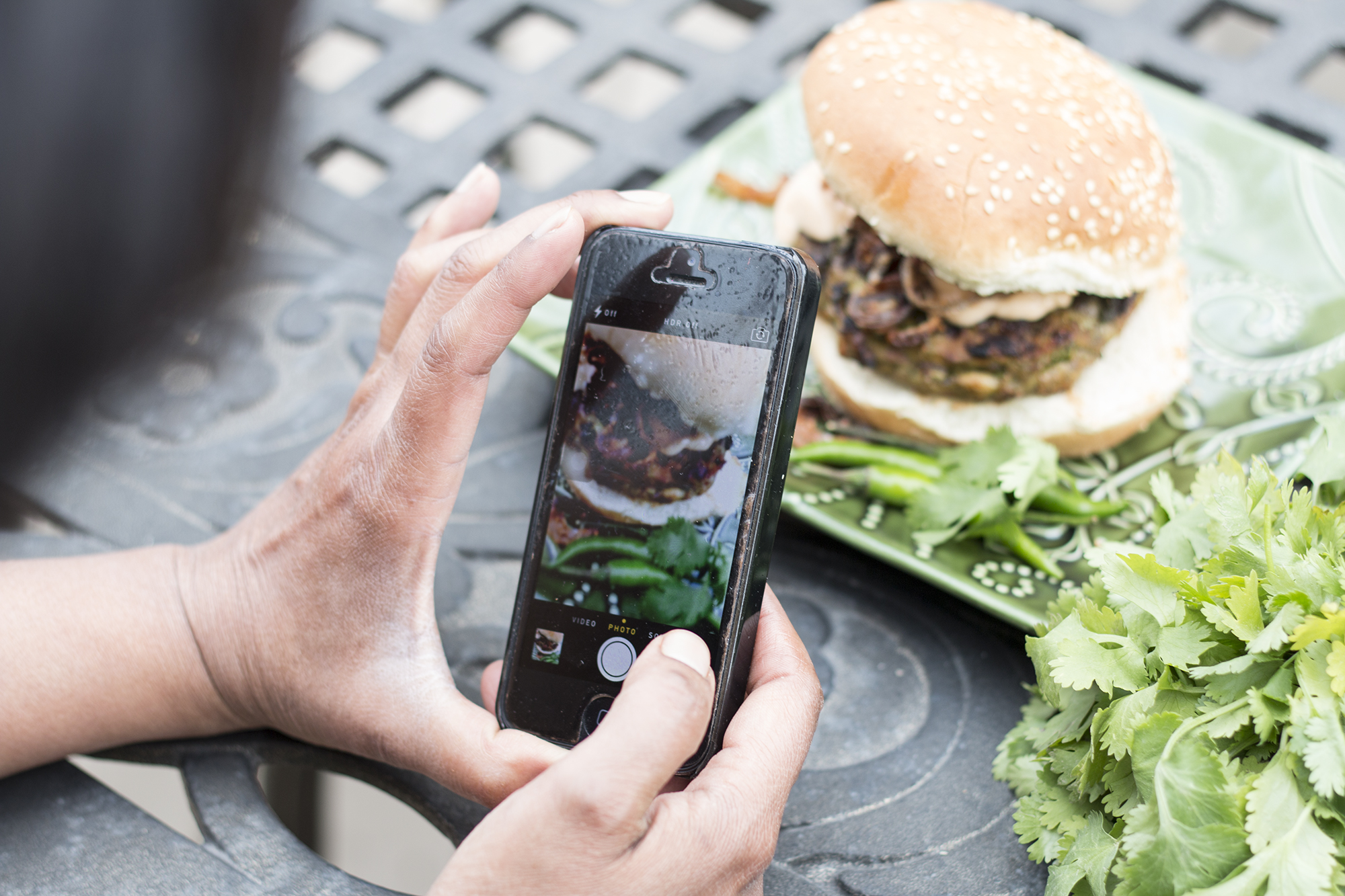 Every year to celebrate the summer and our backyard, I invent a new recipe for the grill. This year we've been trying to cut back on our red meat consumption and so I concocted this recipe that is so big on flavor, that you'd never miss the meat. These can be prepped ahead of time and frozen if desired, but please give additional time to the grilling process. Top these with crunchy spiced fried onions and you have a flavor bomb between your bun!
[youtube-subscriber channelname=kravingsblog]
Cilantro & Chilli Chicken Burger with Spiced Fried Onions
Ingredients
2 lbs ground chicken thigh
6 tsps prepared Green Masala paste(1/2 recipe) - reserve the remaining paste
2 slices of bread crumbled
1 tsp chopped green chillies
2 tsps coriander powder
2 tsps cumin powder
1 tsp red chilli powder
Salt to taste
Pepper
1 chopped red onion (roughly 1 cup)
1 handful chopped coriander(1/2 cup)
2 tbsps oil
1 large onion sliced in rings
1 tsp red chilli powder
1 tsp red chilli flakes
Salt
Pepper
2 tsps all purpose flour
Splash of oil
1 cup oil for frying
Instructions
Mix the chicken thigh meat all ingredients and half the quantity of the green Masala paste.
Form these into 6 oz patties.
Chill for a minimum of 2 hours.
While the patties are chilling, mix the chilli powder, chilli flakes, salt, pepper, flour, add to the onions and deep fry.
Place the onions on a baking sheet and crisp up in the oven.
Grease a hot grill and cook the patties for 4 - 5 mins on each side.
Brush the cooked side of the patties with a mixture of the remaining Green Masala paste and the 2 tbsps of oil. Flip and cook for another minute or so on each side.
Top with Spiced Fried Onions and serve.
https://kravingsfoodadventures.com/cilantro-chilli-chicken-burger-with-spiced-fried-onions/