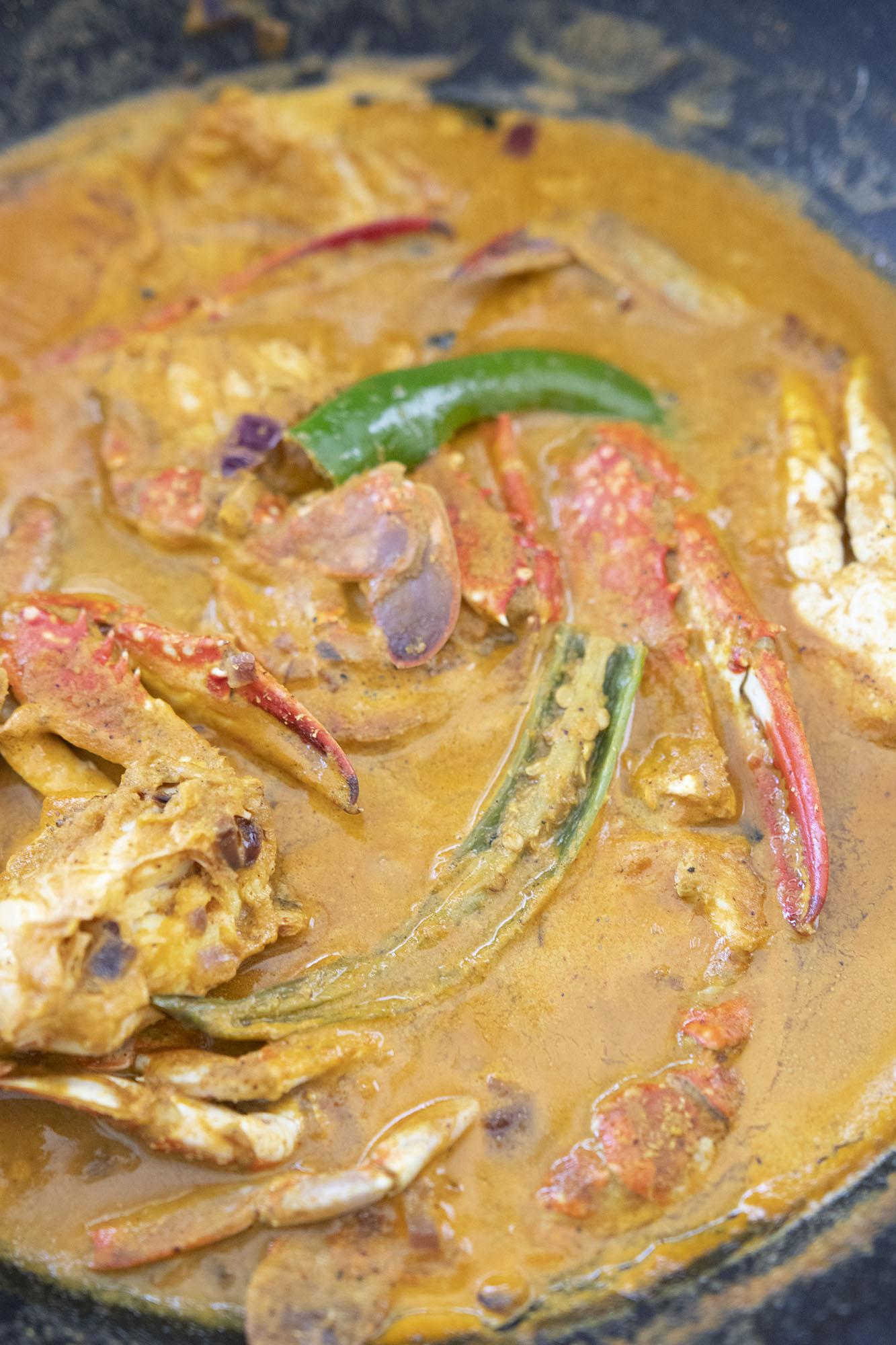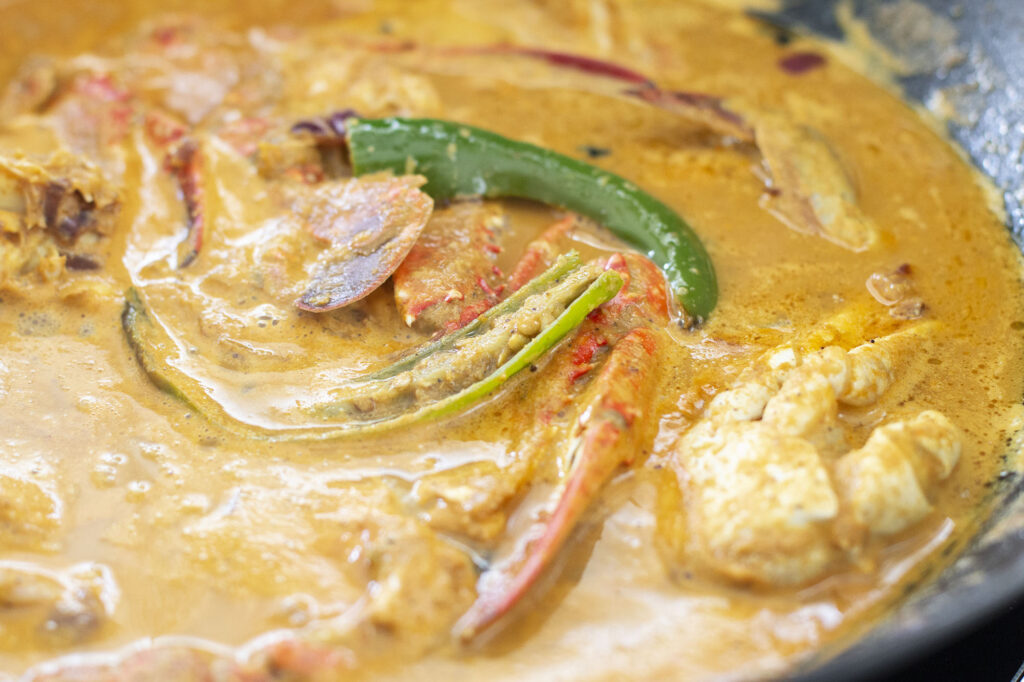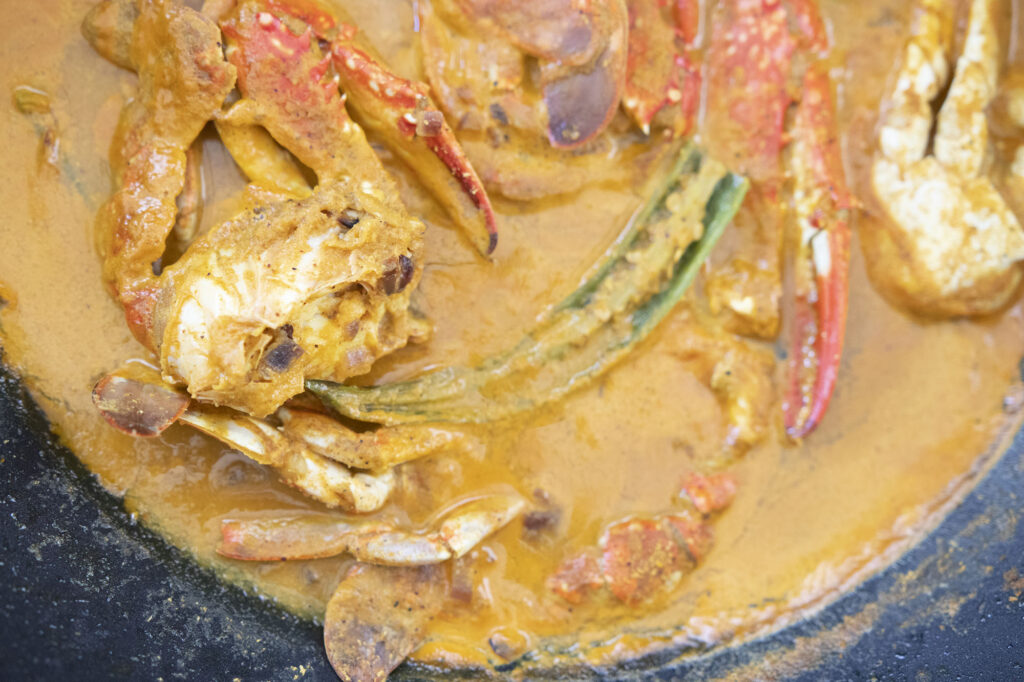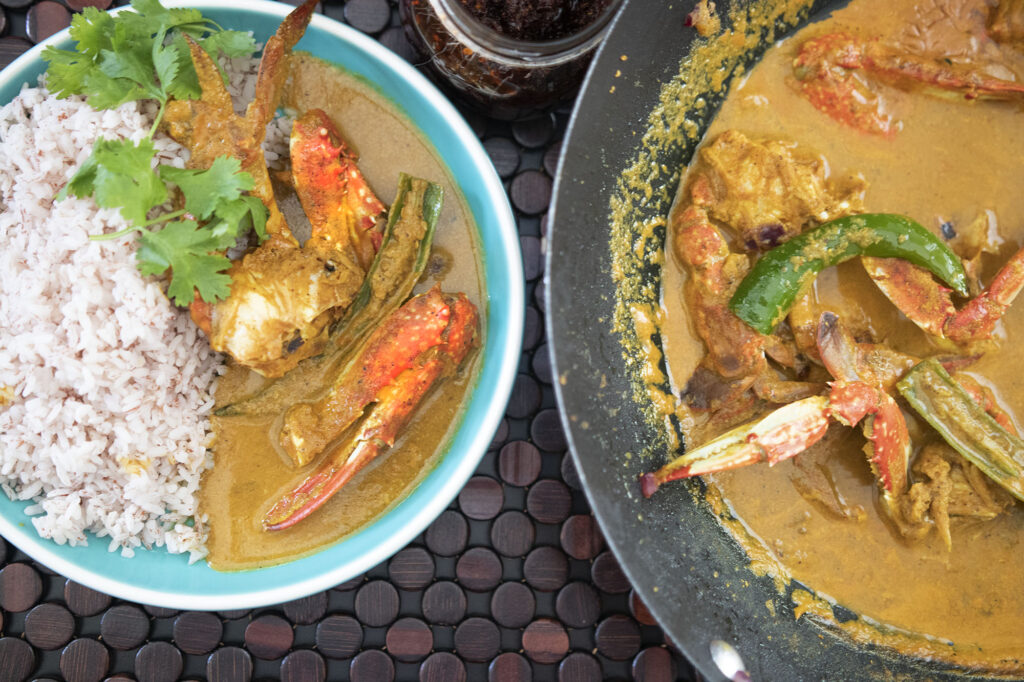 From all the Goan popular curries, this is one of my faves. It's mild and flavorful and is great with rice. I also love that it's a great make ahead, prepare the gravy and freeze it for a rainy day. Then just thaw and add to sauteed Shrimp, Fish or Crab – delicious!
I've also prepared this recipe with Kingfish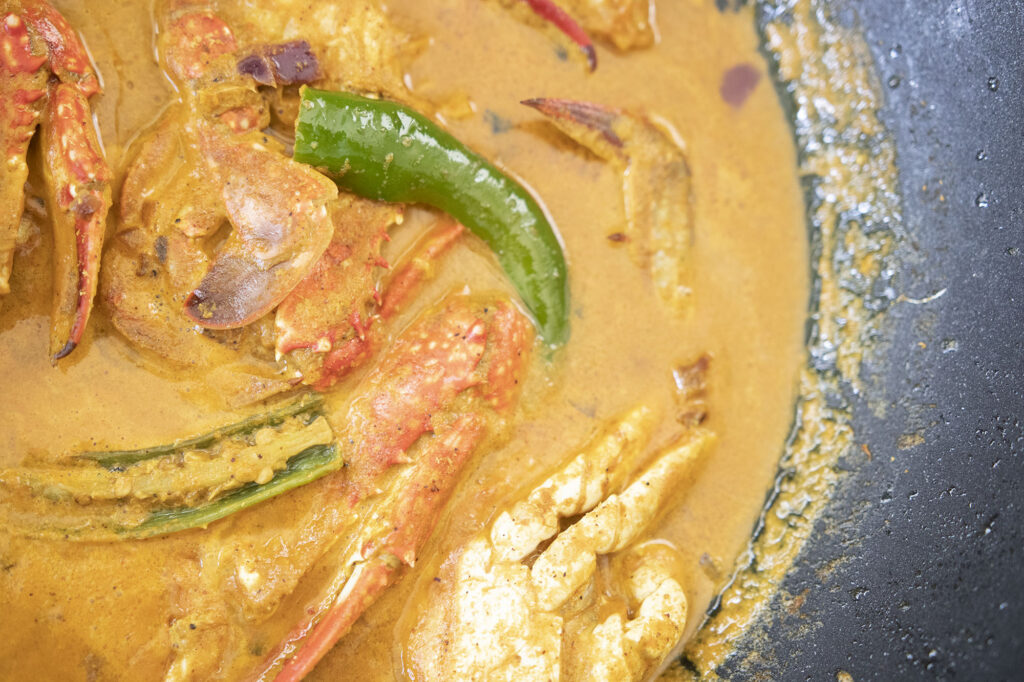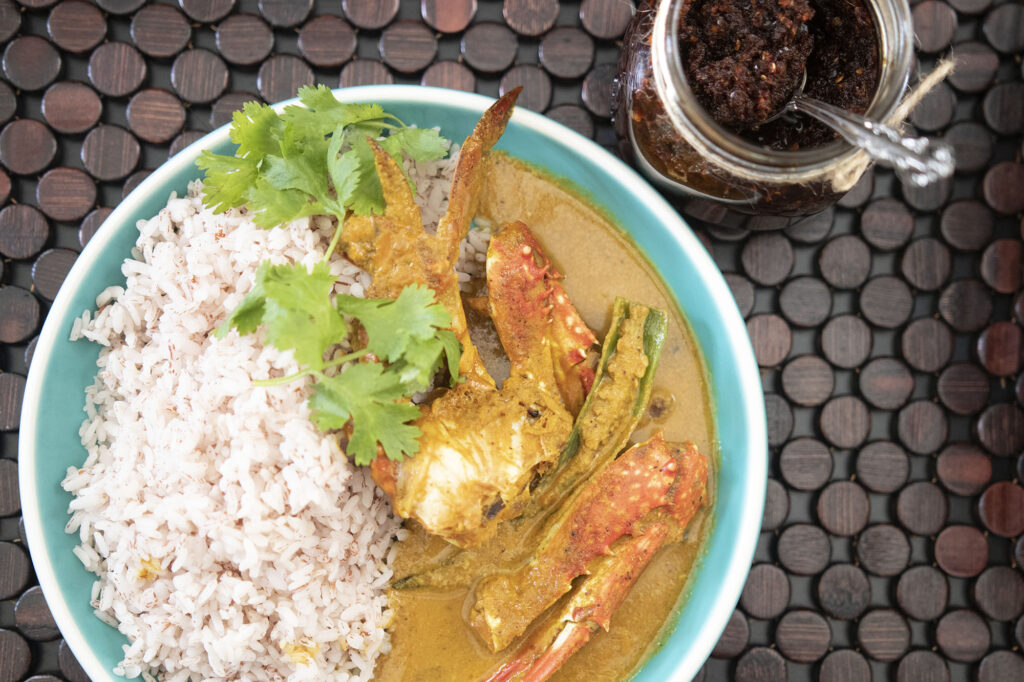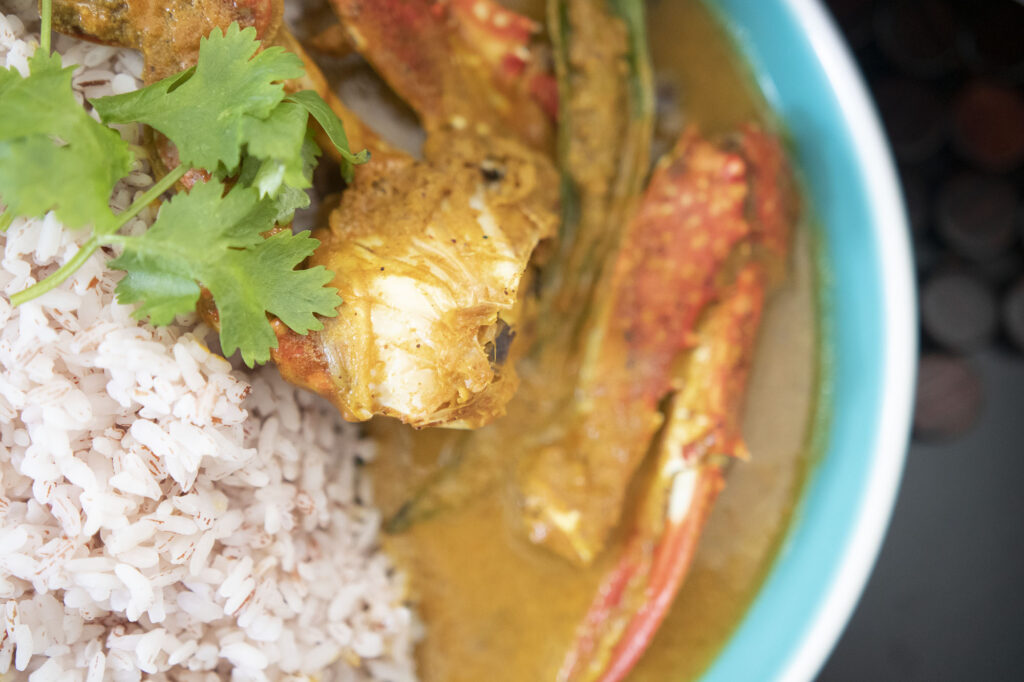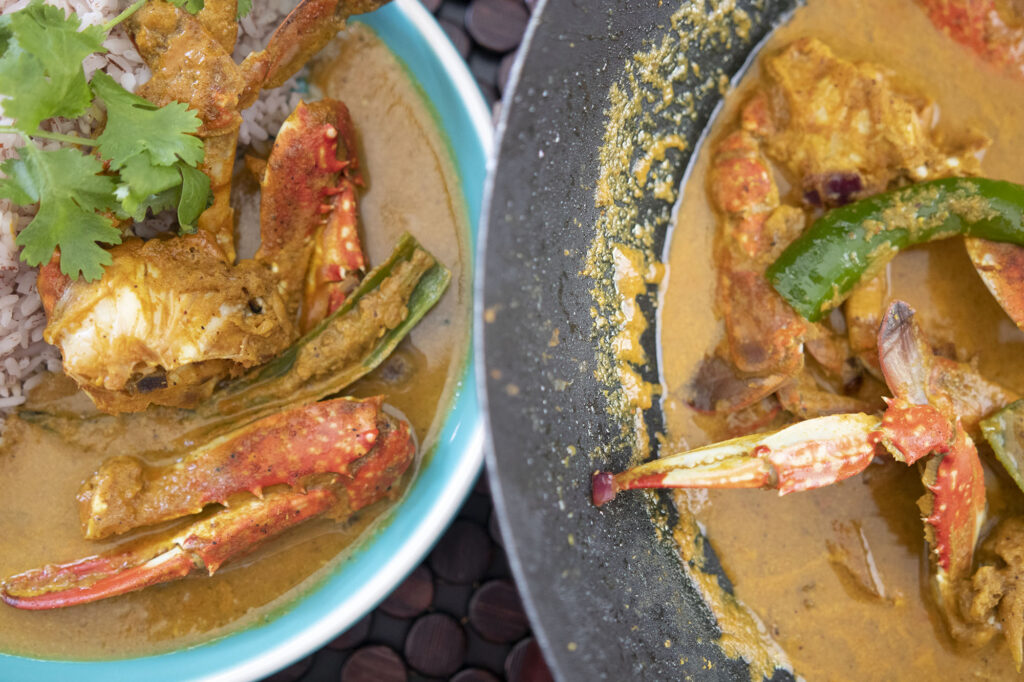 I am originally from Goa, so I love to make dishes that I've tasted growing up. This Fish Caldine or Caldinho as it's known to the Portuguese purists, can also be prepared with Shrimp or Veggies is a mild and mellow curry compared to many other more fiery Goan curries. Typically local fish like Pomfret or Surmai is used but any fish would be suitable. You can also use Crab as I am in this recipe.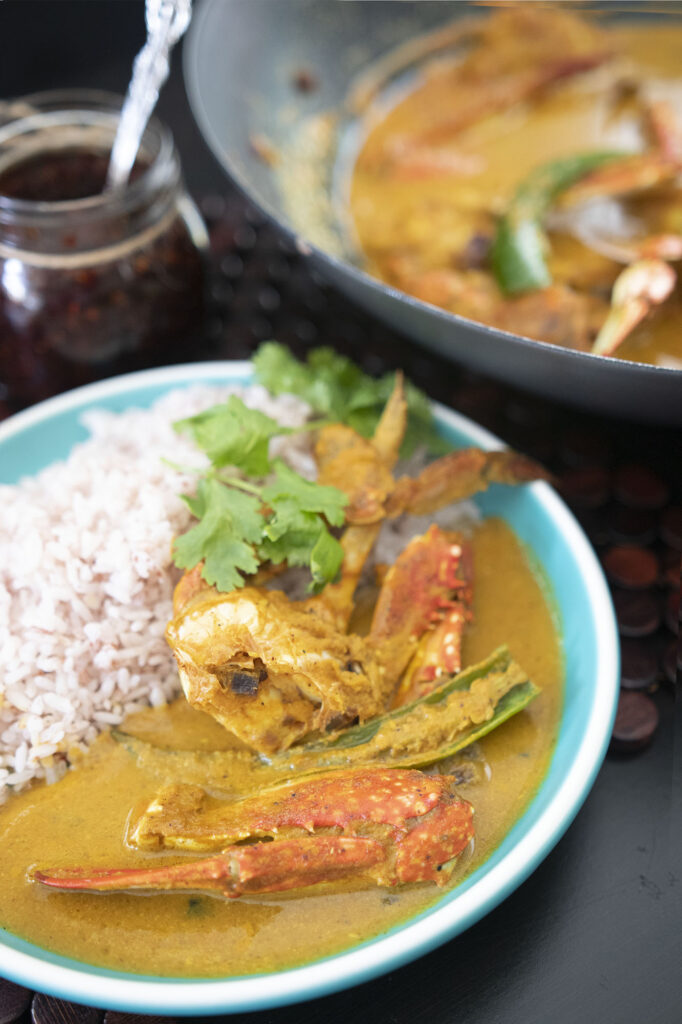 This gravy is stellar, made by grinding coriander seeds, cumin, peppercorns, onions, red chillies, tamarind and coconut are ground together to make a golden yellow curry paste, a beautiful gravy bath for the crab to cook in.
Crabs are sautéed with Onions and chillies and then immersed in a mildly spiced coconut gravy and cooked till delicious.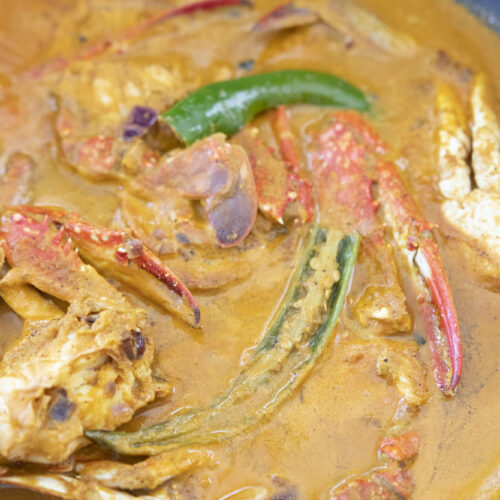 Crab Caldine
Ingredients
Crabs
1

lb

Crabs

500 gms

1/4

tsp

of Turmeric
Crab Masala
2

Kashmiri Chillies

1

tsp

Peppercorns

1

tsp

Coriander seeds

1

tsp

Cumin seeds

4

Garlic cloves – 1/4 cup

1/2

cup

Onions

1

cup

grated or shredded coconut

1

tsp

Turmeric powder

Walnut ball size of Tamarind

2 – 2.5

cups

Water
Gravy
1

tbsp

of Coconut Oil

1/2

cup

finely diced Onion

3

green Chillies slit in half

Salt to taste
Instructions
Wash and clean the crabs if required and add the Turmeric and rub this all over the crab

Lightly toast the dried chillies, cumin & coriander seeds and peppercorns, cool and then grind to a powder

In a food processor add the garlic, onions and coconut

Add the turmeric and the tamarind and start with 1/2 cup of water and process

Strain this separating the liquid from the solids

Process the solids adding more water 2 – 3 times till you get a nice bowl of silky gravy

In a large pot, melt the coconut oil and saute the diced onion and slit green chillies

Add the crab and allow it to roast for a minute and then pour the silken gravy over and allow the crabs to cook for 15 – 20 mins

Add salt to taste