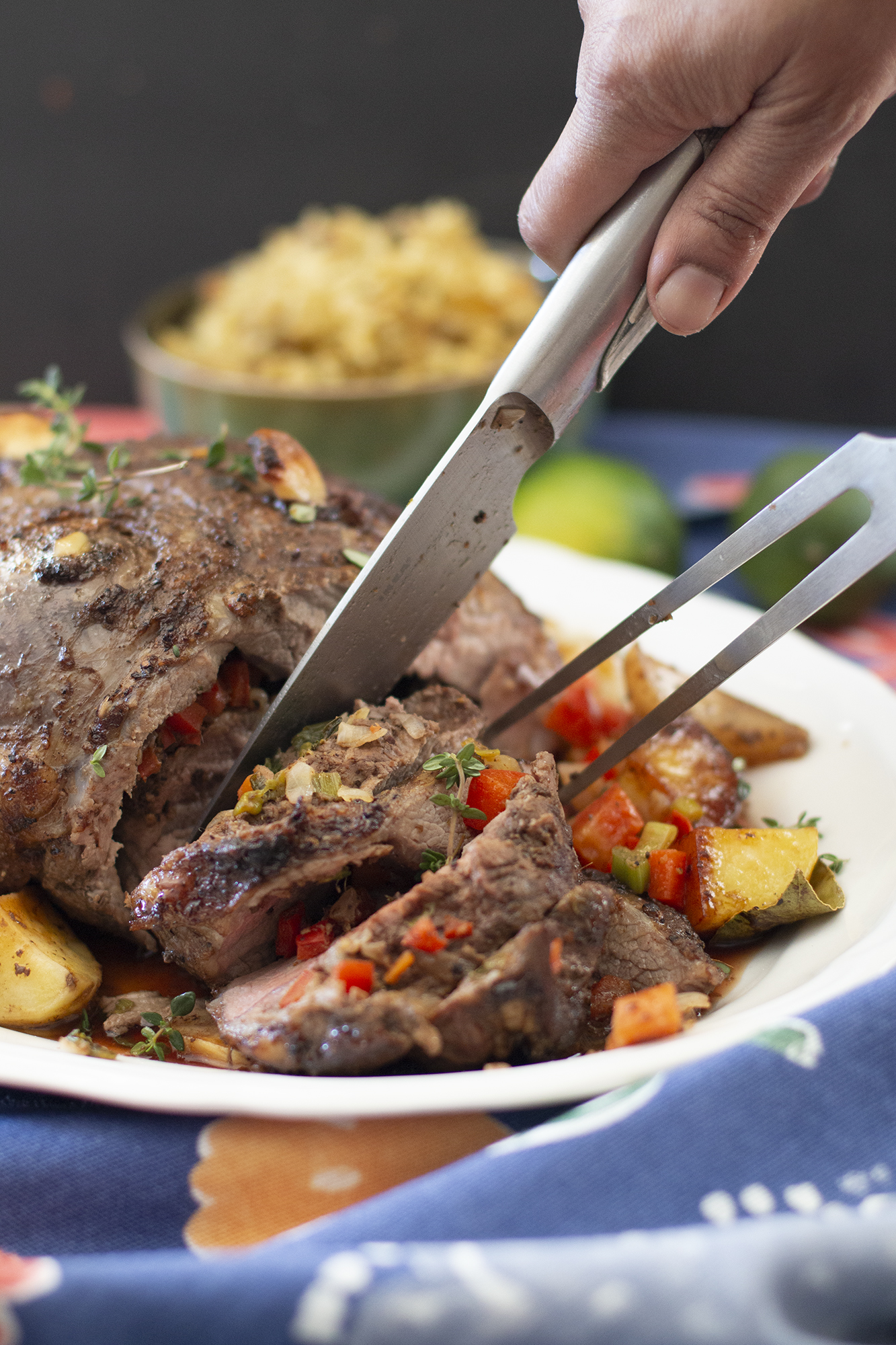 Boneless leg of Lamb is slathered in a Jerk marinade and stuffed with veggies and roasted to make a perfect intimate family lunch this Easter.
And just like that Easter is here, but sadly there's no mass, no big celebrations, no Easter Egg hunts. With the spread of COVID-19, people have gone into isolation using the internet and video calls to keep in touch with each other.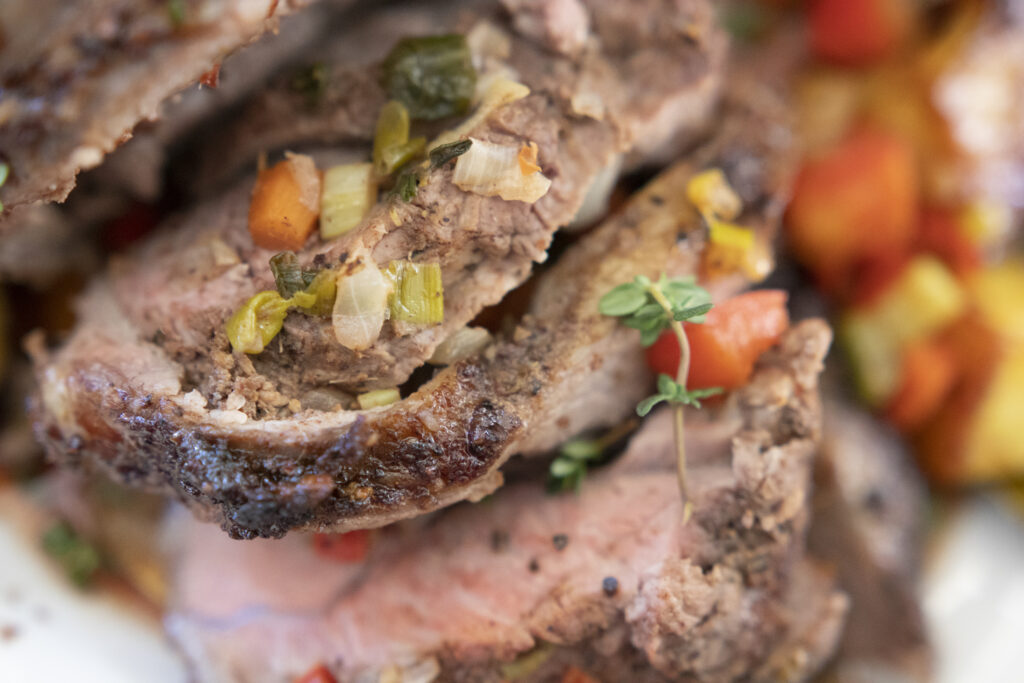 Typically at this time, I'd be planning a menu and inviting a few people over to feast with us. This time it's just the four of us inside these four walls. But because times are bleak, it doesn't mean we have to be dismal, we still have our health and the hope that better times will be here soon.
I realize that supplies at this time are bleak, I had stored a boneless lamb leg in my freezer before this pandemic hit us and I also make and freeze jerk sauce but whatever supplies you can get your hands on wherever you are, you can make it work.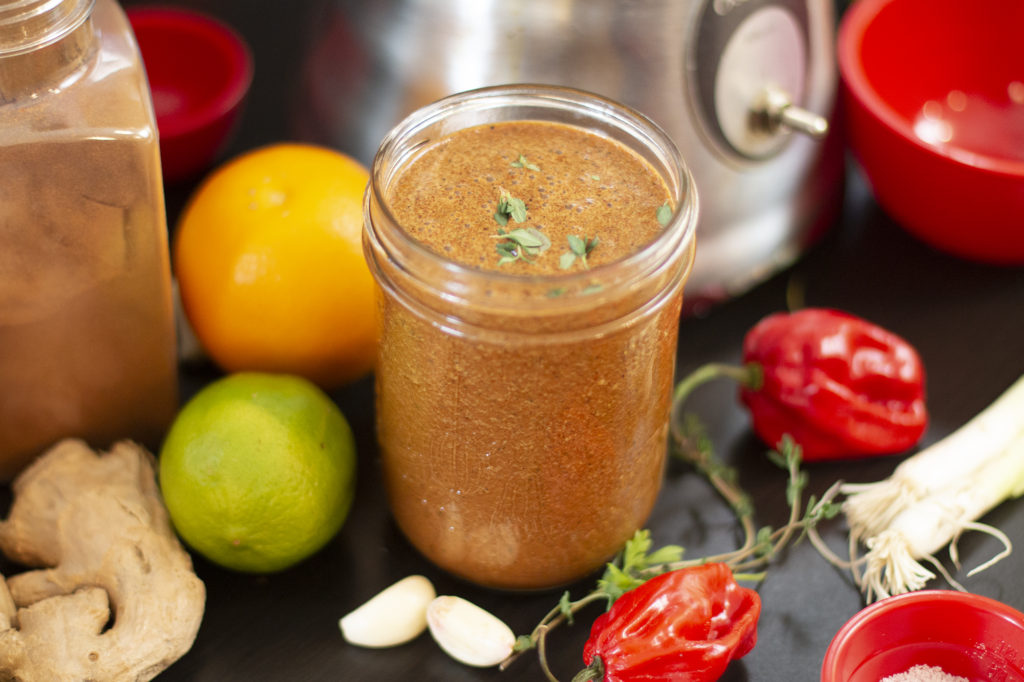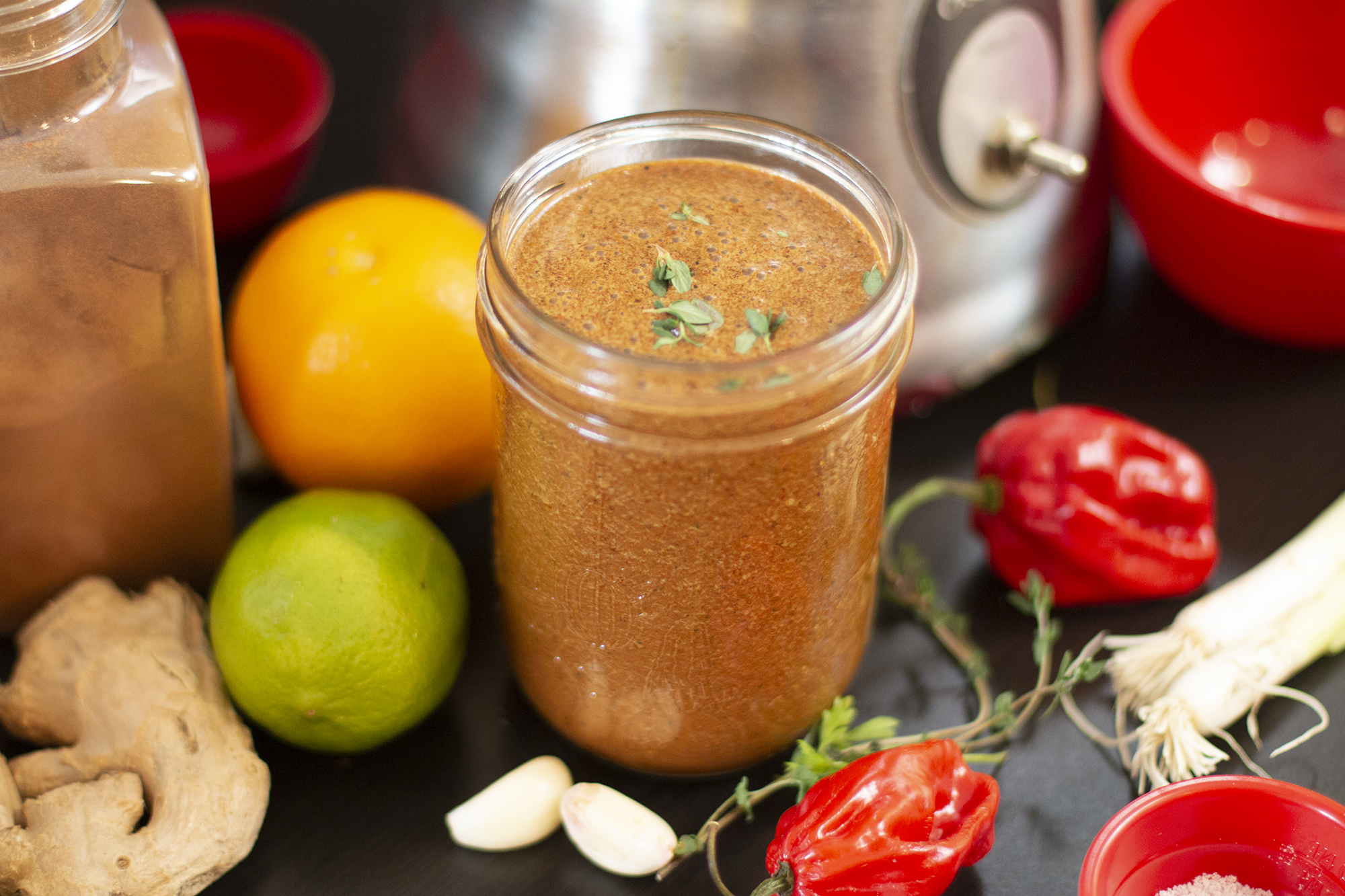 The first thing you need (besides the Lamb of course) is the Jerk sauce or marinade. The recipe to make this is here or you can use storebought but really if you can make it yourself you will achieve the most amazing flavor.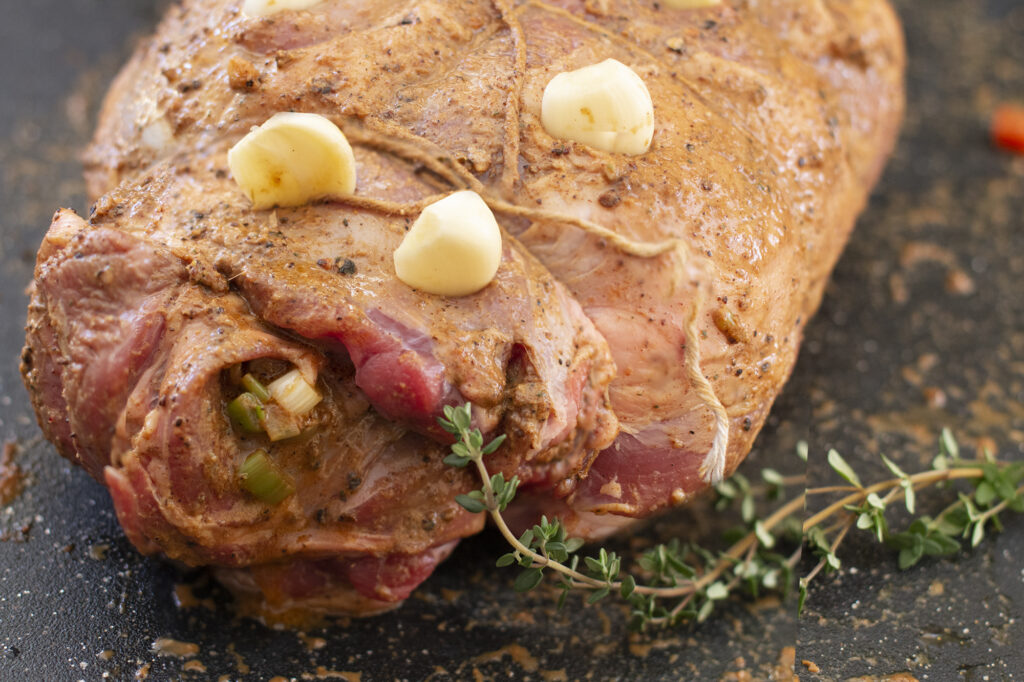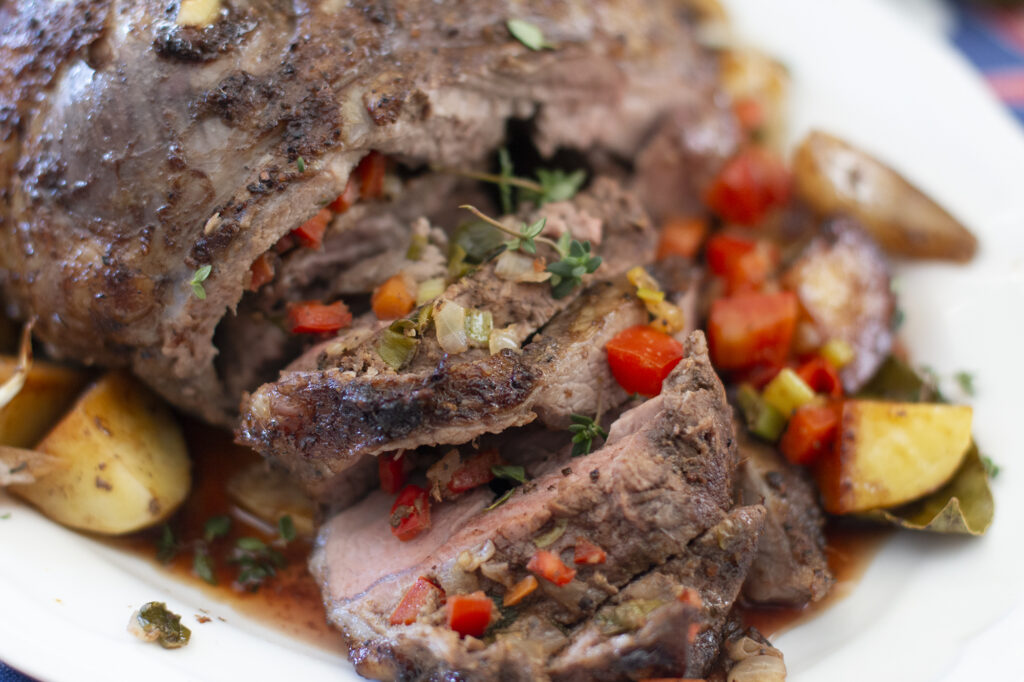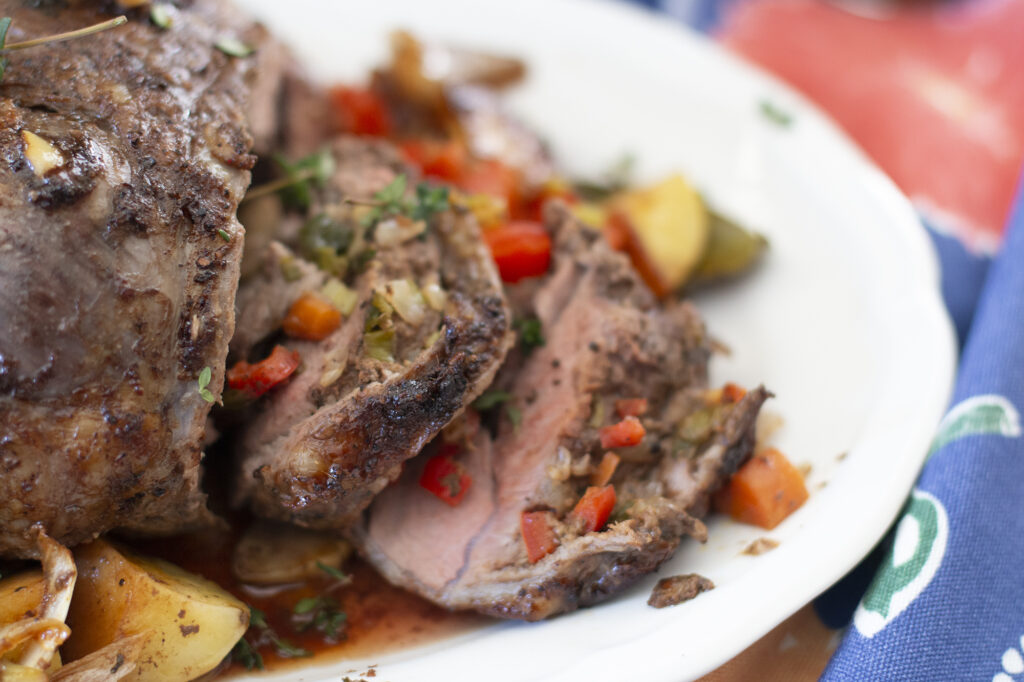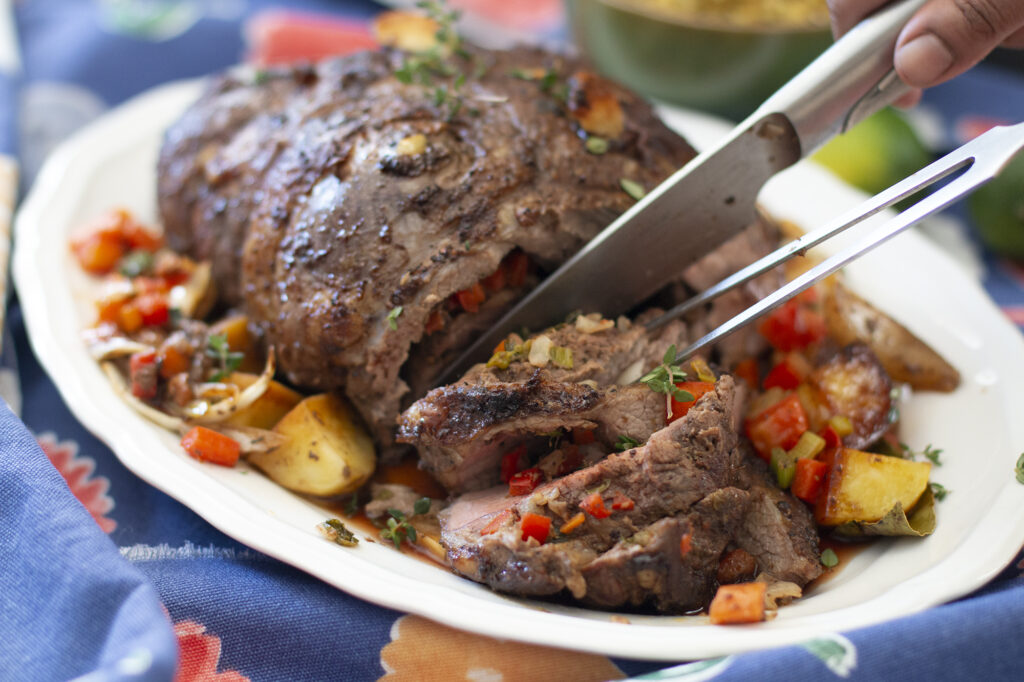 This simple roast is stuffed with veggies and is oven roasted for 45 – 60 mins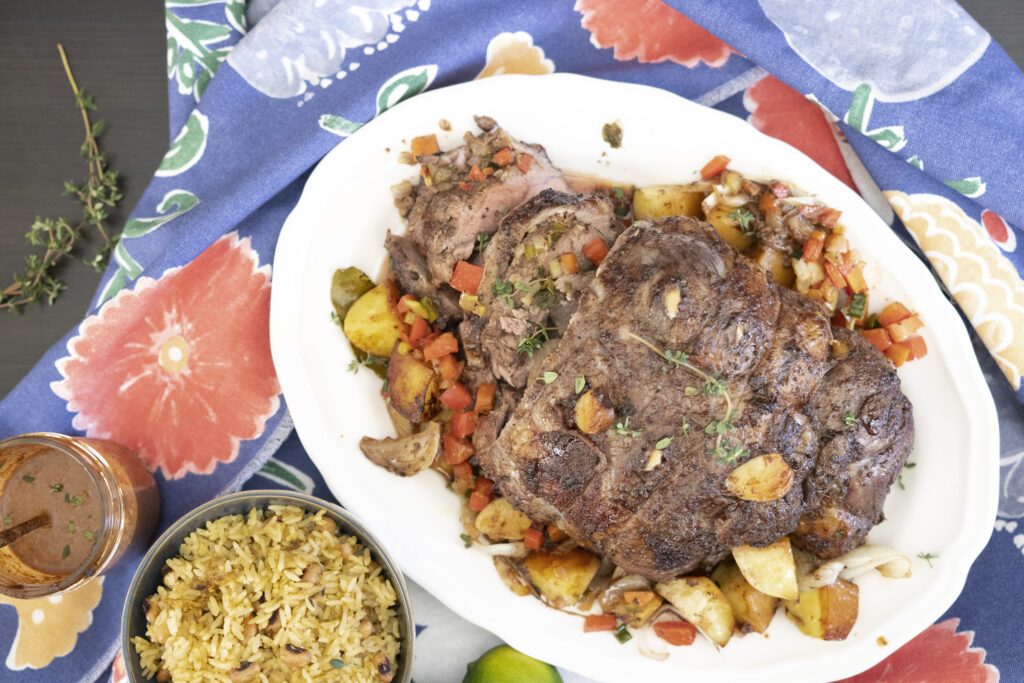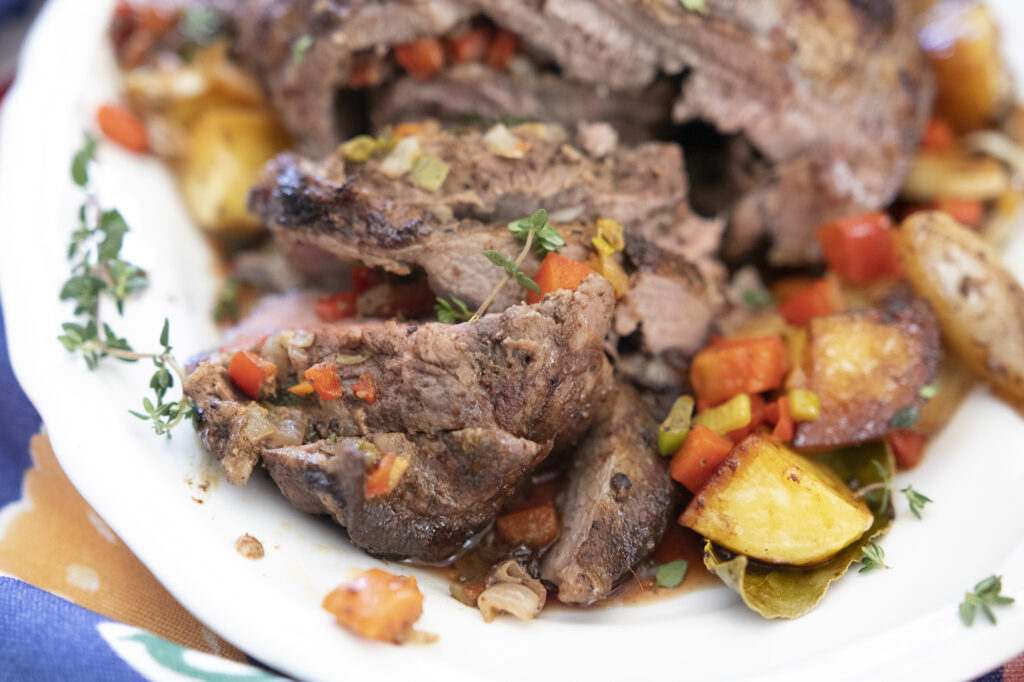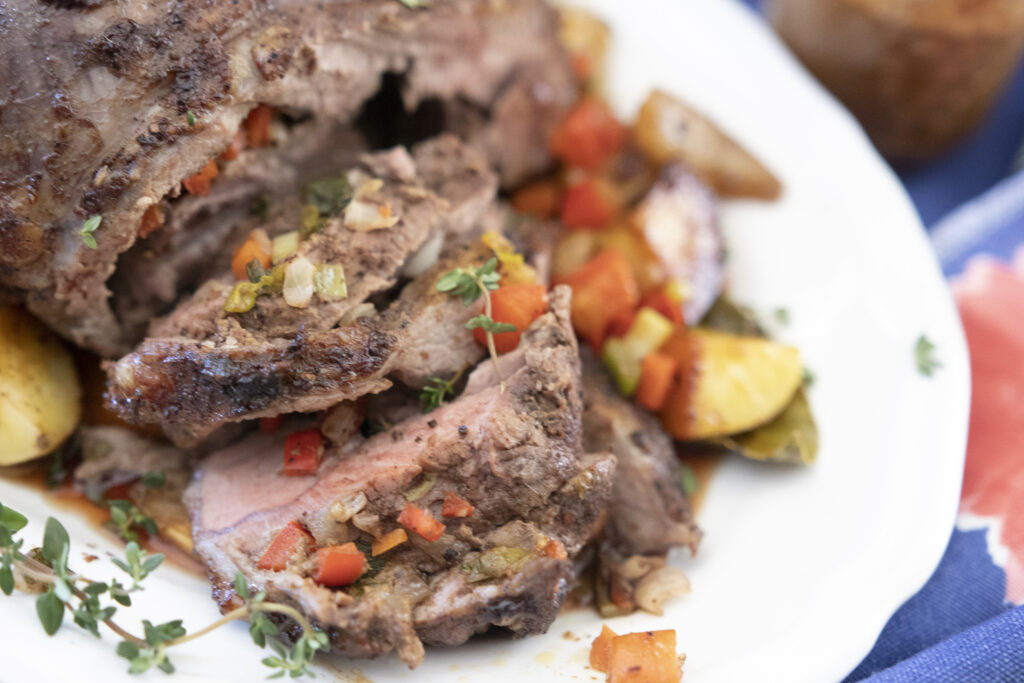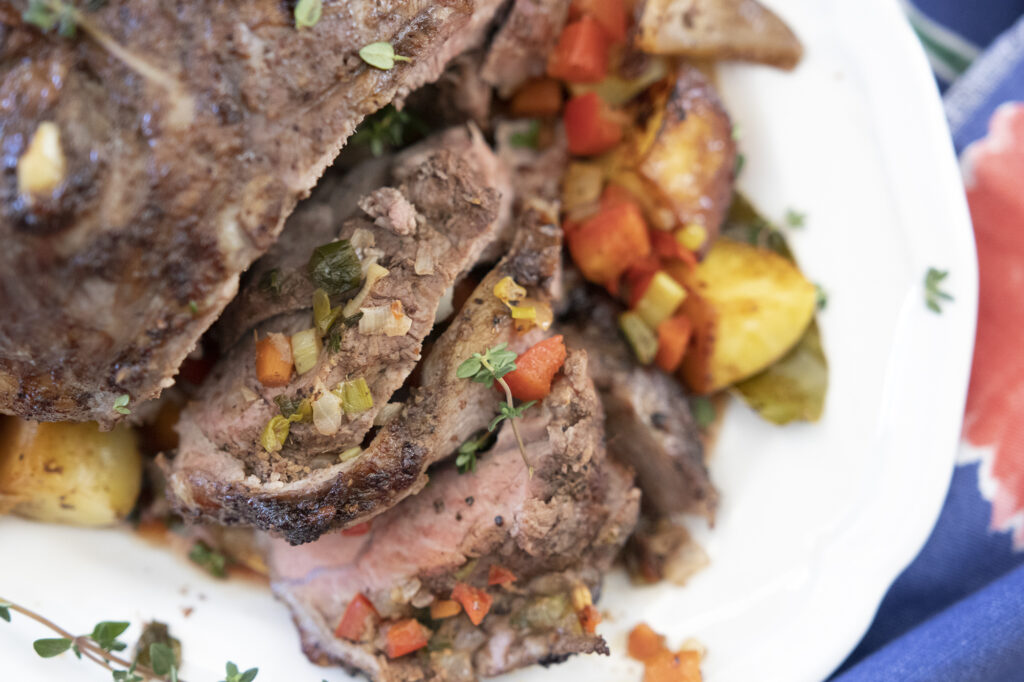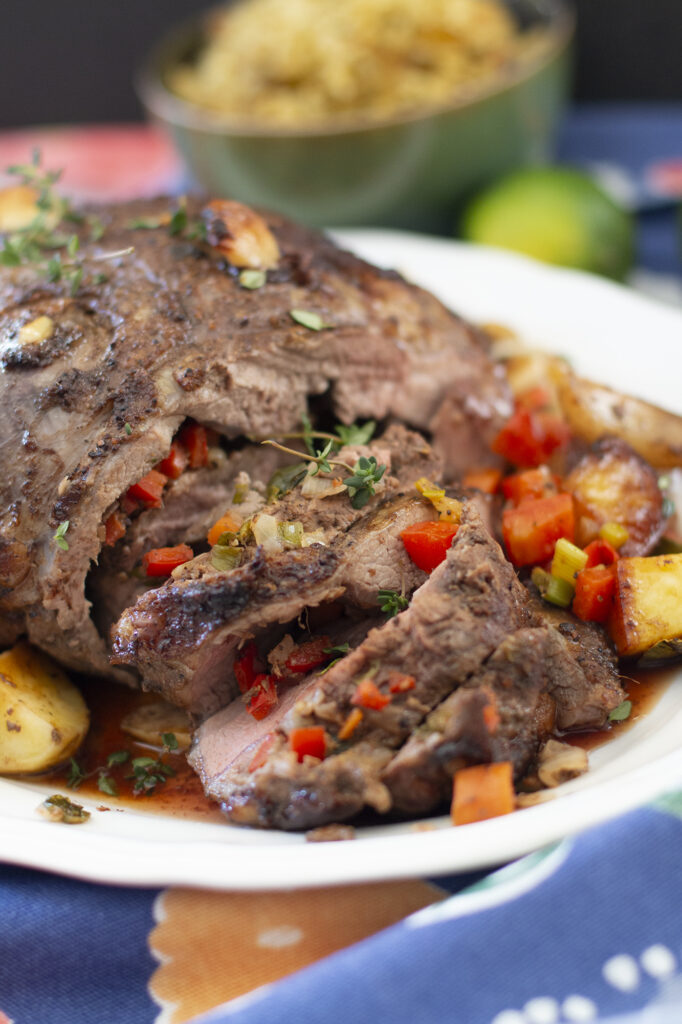 Jerk Lamb Roast
Ingredients
Jerk sauce/marinade
1/2

cup

of oil 1/3 cup of vinegar

1/3

cup

of soya sauce

dark, mushroom flavor

1/4

cup

of lime juice

1/2

cup

of a freshly squeezed orange preferable Florida oranges

3

teaspoons

of Pimento allspice

3

teaspoons

of salt

or to taste

1

tablespoon

of black pepper

1 1/2

tablespoons

of brown sugar

1 1/2

teaspoons

of cinnamon

1

teaspoon

of coriander powder

1/2

teaspoon

ground cloves

2

tablespoons

of fresh thyme leaves

or 3 teaspoons of ground thyme

3

stalks of small spring onions scallions 1/3 cup

chopped

2

tablespoons

of fresh ginger

chopped

1

cup

chopped onion

3

large cloves of garlic 1/3 cup

peeled

3

scotch bonnet peppers

substitute habanero, Jamaican pepper
Lamb
Boneless Lamb leg 1.928 kg approx 4.25 lbs

Salt

6-8

tbsps

Jerk sauce
Stuffing
1/2

cup

Onion

3

Garlic cloves sliced

1/4

cup

Spring Onion bulbs

1/4

cup

diced Carrots

1/4

cup

diced Red Peppers

2

tbsps

Spring Onion leaves

2

tsps

Jerk paste

Salt
Extras
3

cloves

Garlic sliced in half

1/2

cup

sliced Onion

2

cups

cubed Potatoes

2

sprigs Thyme

2 – 3

Bay leaves
Instructions
Prepare the marinade by processing all the ingredients together

Open up the lamb roast and use a knife to fan out the meat

Add salt and some of the jerk marinade and rub it into the meat on both sides

Prepare the filling by heating some oil and sautéing the onion and garlic

Add the spring onion bulbs, carrots, red peppers and spring onion leaves

Add some salt and the jerk sauce and mix

Take it off the heat and also the filling to cool

Once cool add some of the filling in the centre and roll the meat

Secure with butcher's twine, this is called trussing, look at the technique in my video

Stab the roast with a small knife, and add the slices of garlic in

Add this to a preheated oven and add the roast to an oven proof dish

Sear on one side and after about 20 mins flip over and sear the other side

I'm going to flip it back over and add the bay leaves, thyme, sliced onion, more oil if you need, and stick it back in the oven

Cook the Lamb in total for 45 – 60 mins depending on how much you want it cooked