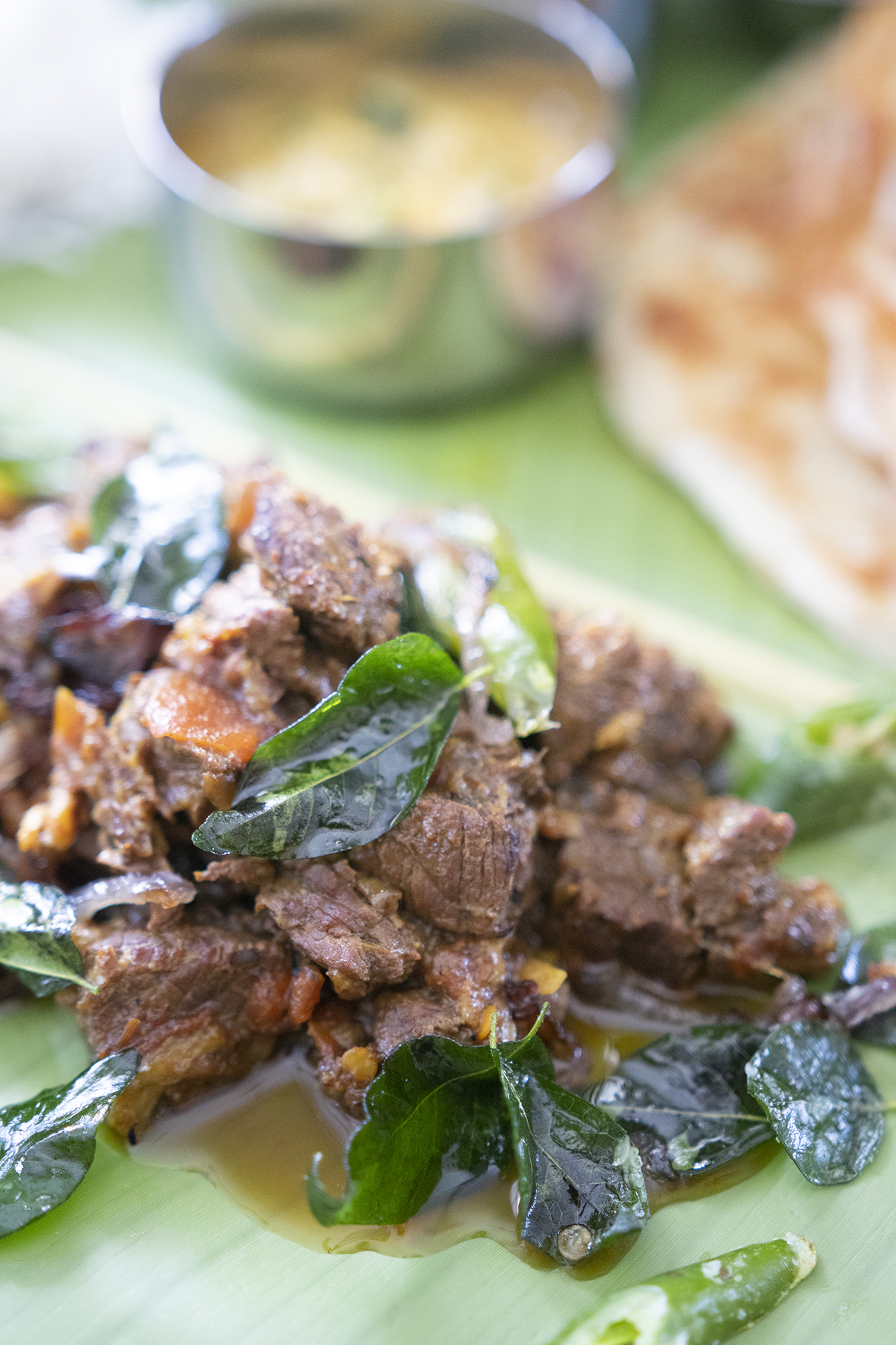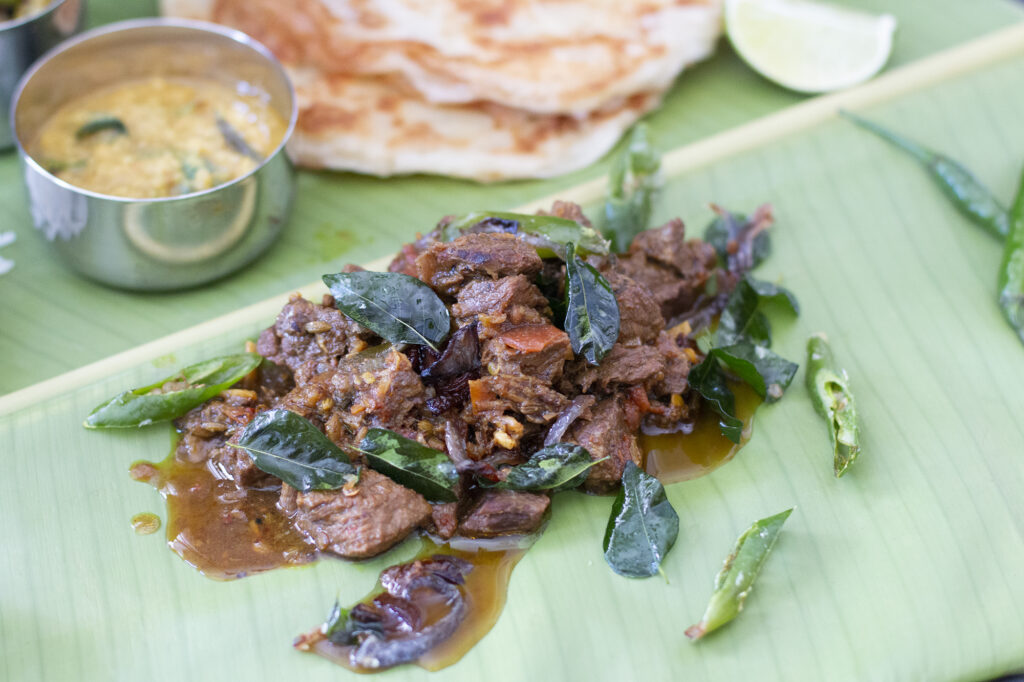 Special spices are sautéed in coconut oil, ground and then added to Beef chunks with Ginger & Garlic, curry leaves and salt. The beef is then added to an aromatic mix of onions, spices and tomatoes and cooked till the meat is tender.
I love me a good flavorful curry. This recipe is all that and more. Packed with a punch, this curry is all that and more. The best part is that this is a very inexpensive cut of Beef so perfect to serve a big family. If you don't eat Beef this can be made with Mutton or Lamb as well. It also gets it's intense flavor from the curry leaves.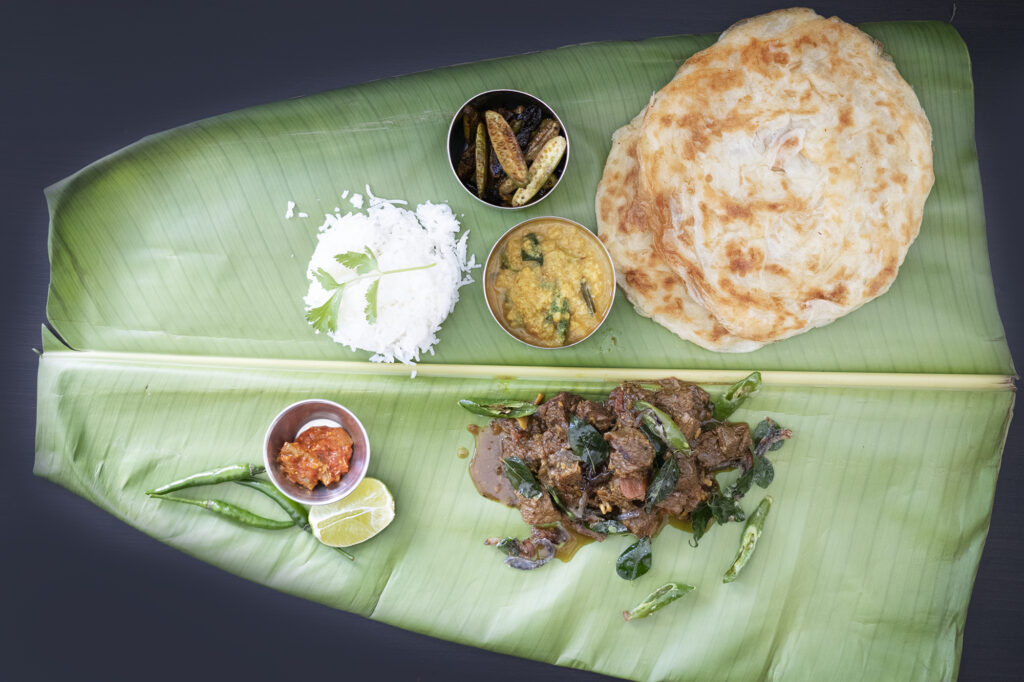 The curry leaf tree is native to the sub continent. The leaves are used in cooking, they are aromatic and have an intense aroma. It's not unsual to find these leaves in asian grocery stores in North America and are very inexpensive to buy. You can freeze or dry the curry leaf but it is always best used fresh.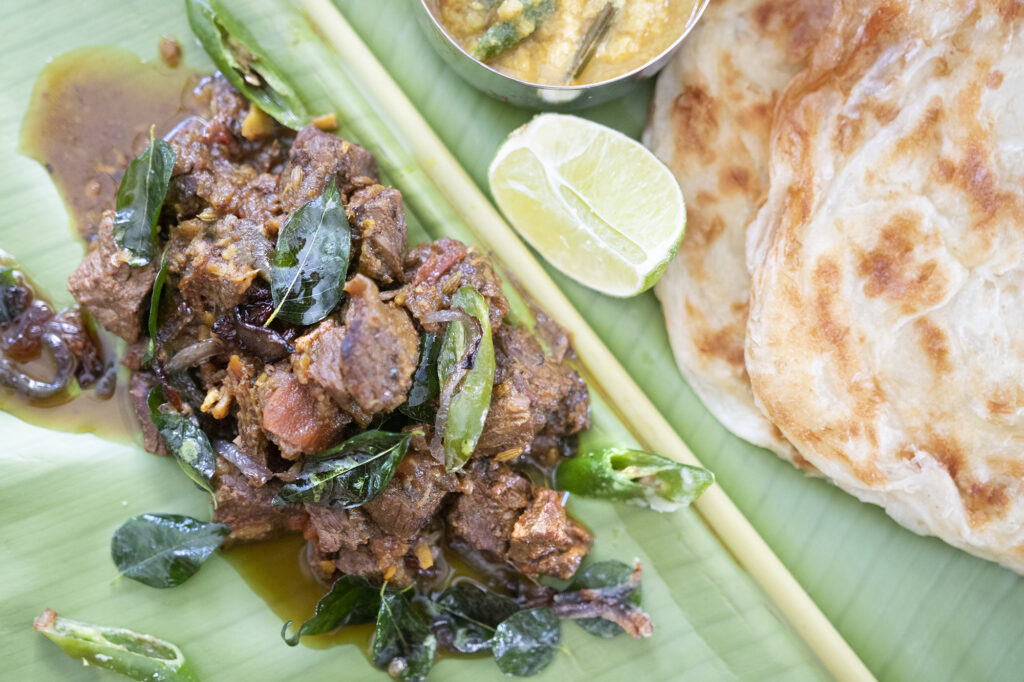 Because this recipe is pressure cooked, you can use the cheapest cut of meat like stewing or flank and still get an incredibly tender morsel!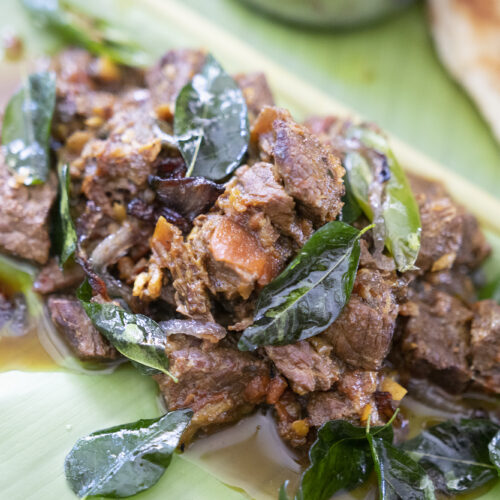 Kerala Beef Curry
Ingredients
Beef & Marinade
1

tbsp

Coconut Oil

1.5

tbsps

Coriander seeds

1/2

tbsp

Fennel seeds

6

dried Chillies

2

tbsps

crushed fresh Ginger & Garlic

1

lb

– 907 gms Beef cubes

8-10

Curry leaves

Salt to taste
Garnish
2

tbsps

Coconut Oil

1/2

cup

sliced Onions

Pinch

Salt

20

curry leaves and

2

tbsps

sliced green Chillies
Masala
1

cup

sliced Onions

1/2

tbsp

Fennel seeds

2

tbsps

of the pounded Ginger & Garlic

10

curry leaves

1

tsp

Garam Masala

1/2

tsp

Turmeric powder

2

cups

diced Tomatoes

Salt to taste

500

ml

hot Water
Instructions
To make the marinade for the beef, heat the oil and add the coriander & fennel seeds and the dried chillies

Remove, cool and grind

Add this masala to the beef cubes with the ginger and garlic and tear the curry leaves and add them

Add salt to taste and rub this into the meat

Marinate for 30 mins to overnight

To save time, brown the onions for the garnish and masala together – heat the coconut oil and all ALL the onions and brown using a pinch of salt

Remove 1 cup and leave aside and continue to brown the other half cup of onions

Add the 20 curry leaves and the green chillies and saute

Remove and keep aside

In the remaining oil in the same wok or kadai, add the onions previously removed and add the fennel seeds, ginger and garlic. Curry leaves, Garam Masala and turmeric and mix well

Add the tomatoes and a pinch of salt to help break down the tomatoes

Once the tomatoes have cooked down a bit add all the marinated beef and cook for about 5 mins to give the masala a chance to coat the meat

Add 500 ml of hot water and mix well

Add Salt to taste

You can either cook this low and slow on your stovetop for an hr or so till the gravy is thick and the beef tender OR you can cook it in your Instant Pot for 20 mins OR in a traditional stovetop pressure cooker for 6 whistles

Once the beef is tender and the gravy has reduced down, add some of the garnish onions, curry leaves and green chillies back in and reserve some to top the curry when you serve