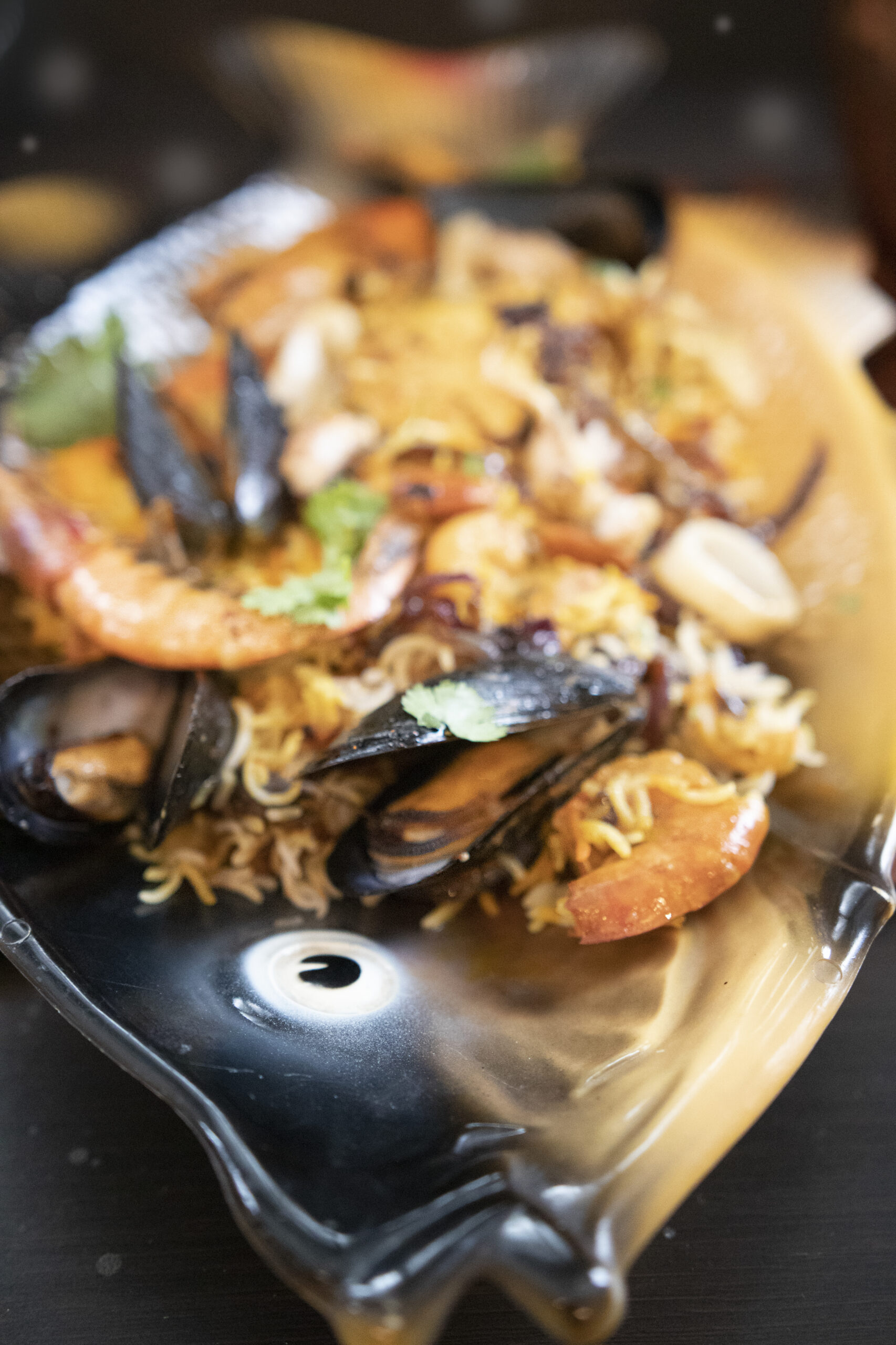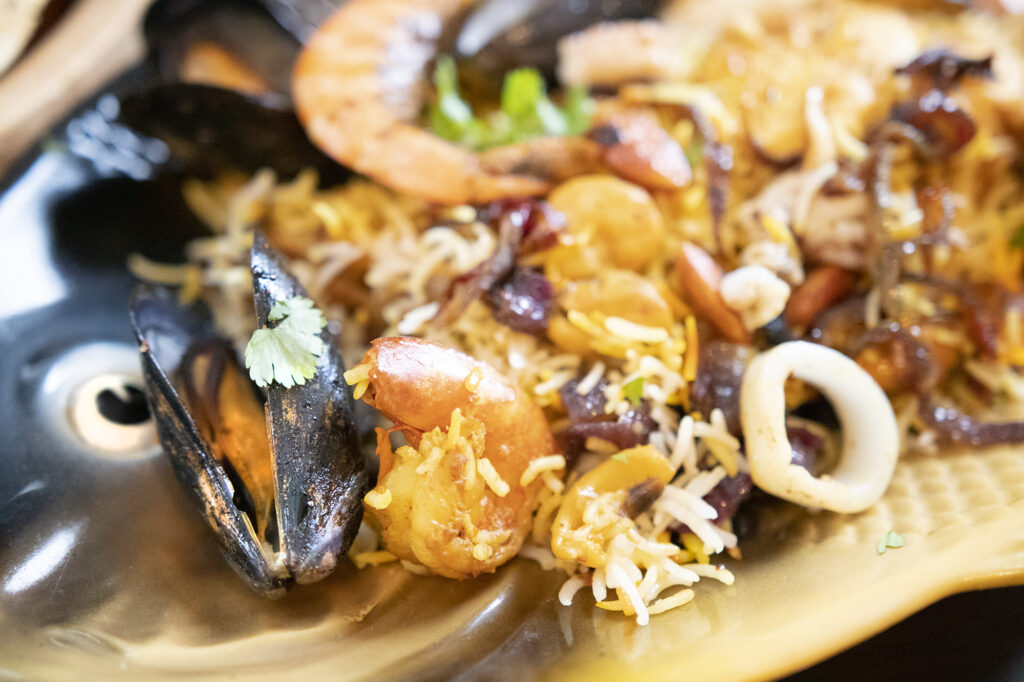 This delicious Seafood Biriyani hosts a variety of seafood like fish, shrimp, mussels, clams, cuttle fish, squid and octopus. All of these are simmered in a delicious Biriyani gravy and then layered with Basmati rice. It's sealed tight and then cooked.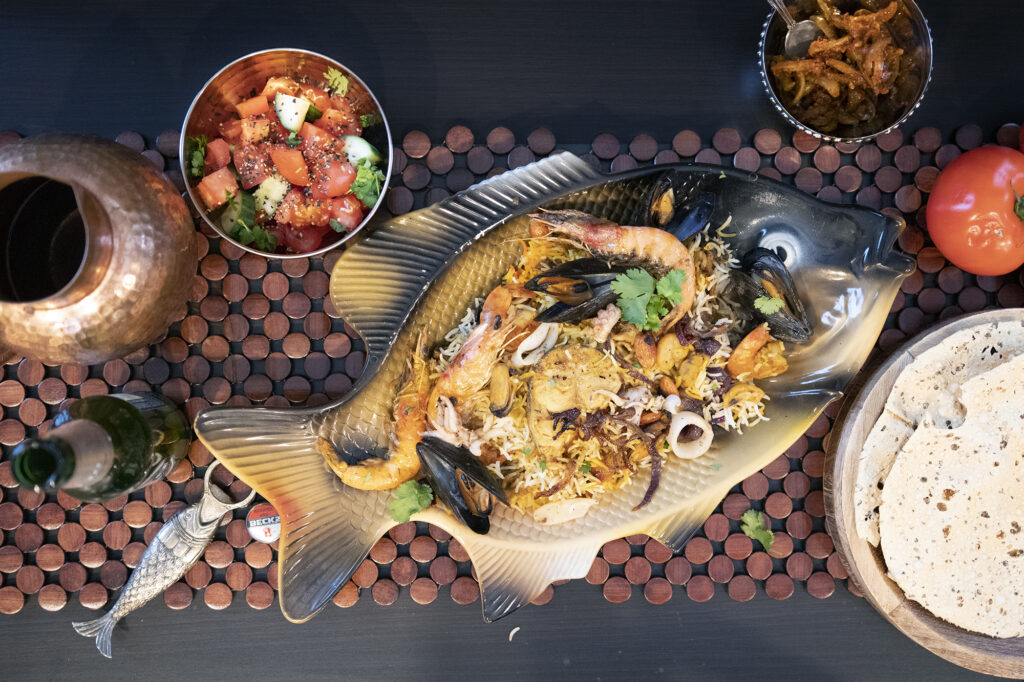 So Shrimp or Fish Biriyani is not a new concept. Neither is Seafood Biriyani. However this recipe uses a wide array of delicious creatures of the Sea. This exciting Biriyani is made with Fish, Shrimp, Mussels, Clams, Cuttlefish, Squid & Octopus and is very unique.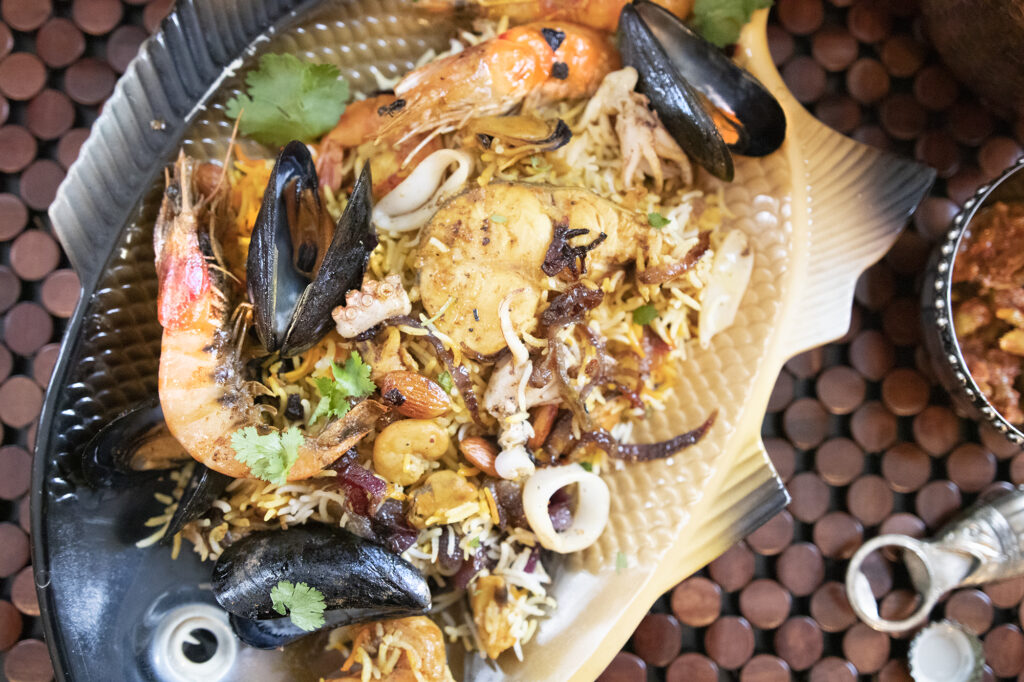 Traditional Biriyani is either made with Mutton or Chicken and Shrimp and Fish are newer additions, yet very popular in the states that have access to the sea. As most recipes evolve, I have made some other fusion type biriyanis, check them out below.
You can also check out my recipe for my homemade Biriyani Masala blend.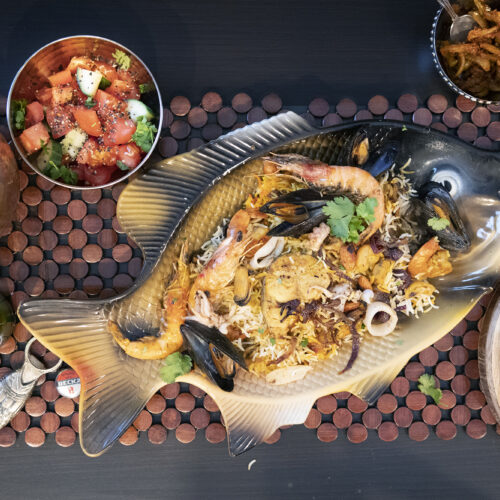 Seafood Biriyani
Ingredients
2

lbs

Seafood

I used a combination of fish, shrimp, mussels, clams, cuttle fish, squid and octopus

2

cups

sliced Onions

12

Almonds

3

head on Shrimp

6

Mussels – cleaned and immersed in hot water

1

tbsp

sliced Chillies

2

tbsps

Ginger & Garlic paste

2

cups

finely diced Tomatoes

2

tbsps

Biriyani Masala + 1 pinch

1/2

tsp

Turmeric

Salt to taste

1/2

cup

Water

Salt to taste

1/2

tsp

Chilli powder

3

cups

Basmati Rice

soaked, washed & drained

6

cups

water

Salt to taste

Pinch

saffron in 1/4 cup hot Milk

Whole spices – 2 inch stick Cinnamon

2 Bay leaves, 2 Star Anise

5

Cardamoms

2 black Cardamoms & 5 Cloves

Optional – 1/4 tsp Egg yellow powder food colouring

Coriander for garnish
Instructions
Clean all the seafood as needed and keep it aside

In a saute pot, add some oil and fry the onions

Once they are brown, remove half and reserve

Keep cooking the rest of the onions and add the almonds, then remove and keep aside

While the oil is still hot, just add the head on shrimp and the mussels with a pinch of biriyani masala, remove and keep aside

Add the onions that were removed first back into the pot together with the green chillies

Add the ginger and garlic paste and cook for a minute or so to cook off that raw ginger and garlic flavour

Add the tomatoes, cover and cook for 5 – 7 mins

Add the biriyani masala, turmeric and stir

Add salt to taste, water, cover and cook for a few minutes

Nestle in the seafood and cover to cook – stir very gently and cook, remove and keep aside

Heat the water and add salt

Add the rice into the water and cook for 10 – 15 mins till the rice is almost 3/4 done

Add a pinch of saffron to hot milk

Drain the rice

In a pot add a layer of the seafood curry – I added 3/4 of the seafood mostly the more hardy pieces, and most of the gravy

Add 3/4 of the rice, half the saffron milk and follow this with the remaining seafood and gravy

Add the remaining rice and the rest of the saffron milk

Sprinkle with food colouring

Top with fried onions and almonds

Nestle in the shrimp and mussels

Seal the pot with foil and put the lid on

Cook in a preheated oven for 30 – 40 mins

Add fresh coriander and serve