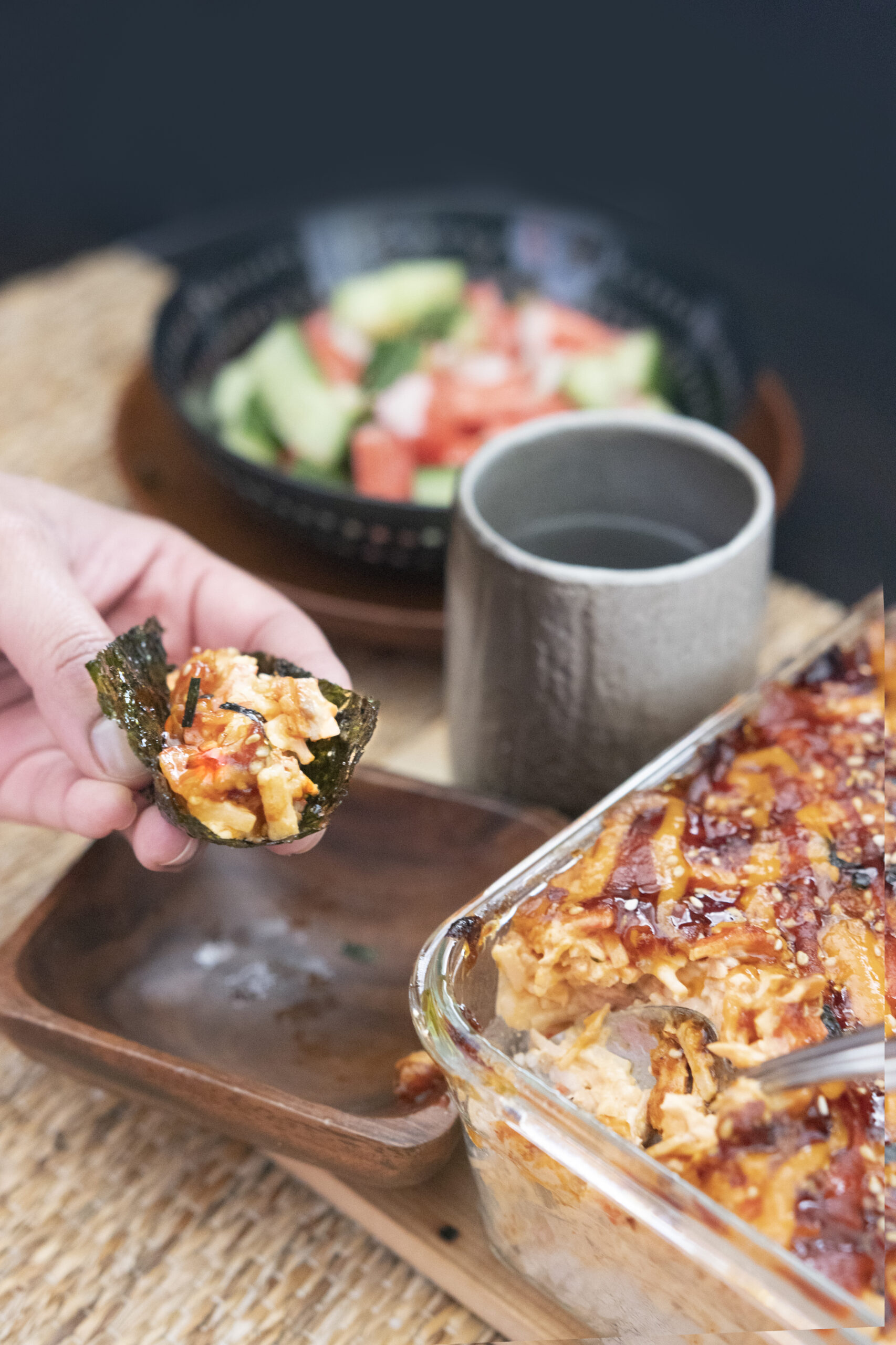 This is a twist on the classic California roll that meets a casserole. Once you try it you will be making this over and over and over. My son's girlfriend introduced me to this and graciously showed me how to make this. You do need to stock up on a few Asian ingredients but once you do, you will just need to thaw the fish fillets and crab sticks and away you go! One of my favourite ingredients is the Furikake. This means sprinkle in Japanese and is a combination of nori, sesame seeds, salt & sugar some brands also contains fish.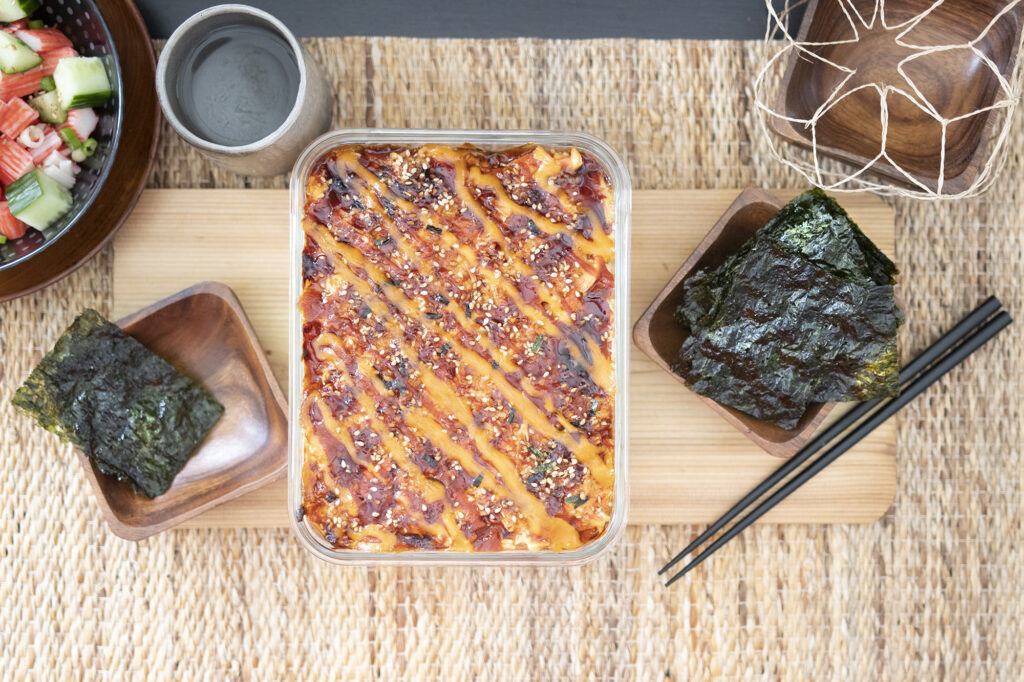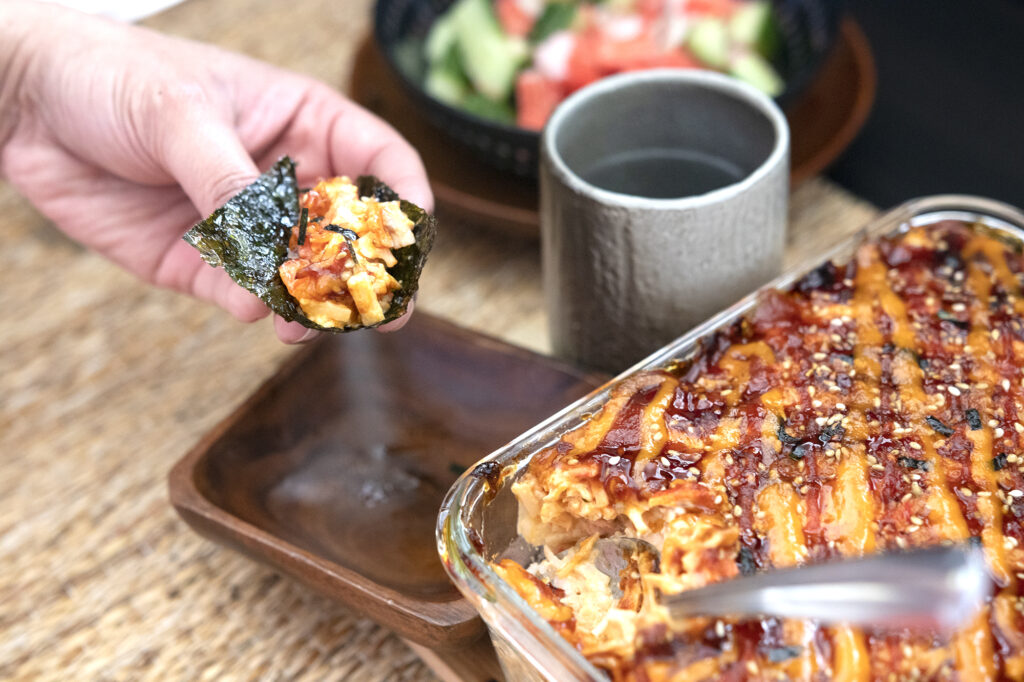 Some of the other ingredients used are
Sushi Rice – These grains are short and they are typically used in Sushi preparations.
Crab sticks — these are really imitation crab ie they are made of fish, eggs and starch – it's super tasty but not really nutritious so eat it in moderation.
Kewpie Mayonnaise – This special Japanese Mayonnaise is made with egg yolks and it's emulsified using apple cider or rice vinegar, giving the mayo a custardy and luxurious feel. The bottle is plastic and very thin making to super easy to squeeze. It also has a little star shaped opening … that's cool, but serves no real function
Sriracha Mayonnaise – it's basically a combo of sriracha and mayonnaise that this comes ready made in a convenient squeeze bottle
Sriracha sauce – this is a special blend and made of a red Jalepeno hybrid chilli pepper and this sauce is said to have originated in Thailand.
Rice Vinegar – Rice vinegar is a type of vinegar made from fermented rice.
Sesame Oil – this has incredible flavour and a wonderful aroma
Unagi Sushi Sauce – this has an incredible Umami flavour
Nori or Roasted Seaweed – These are like crackers but way thinner and is used to hold a scoop of the sushi bake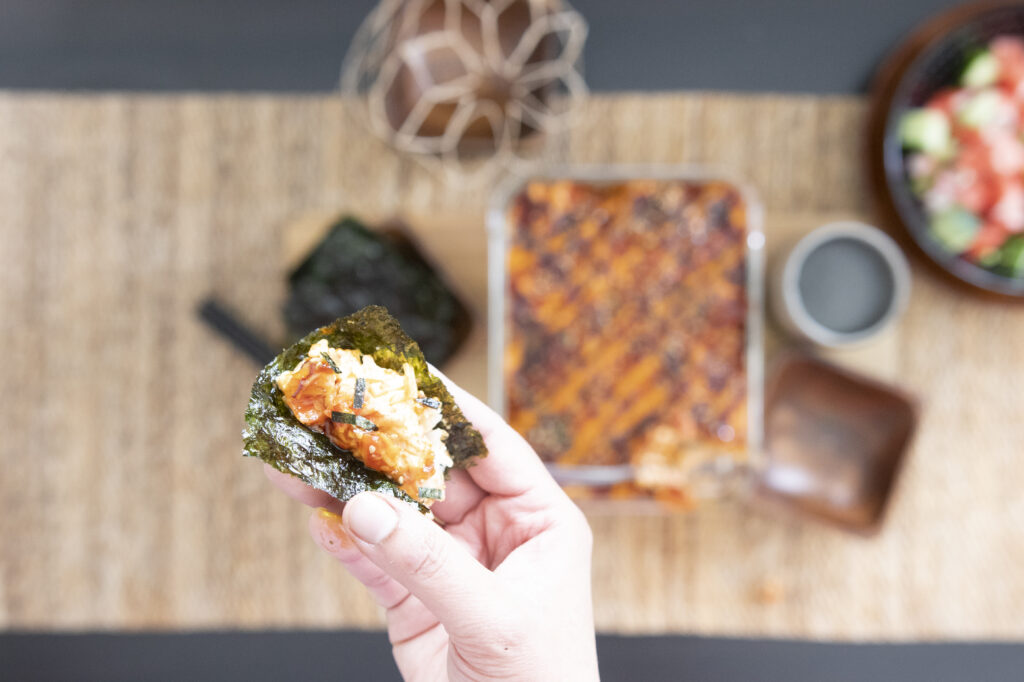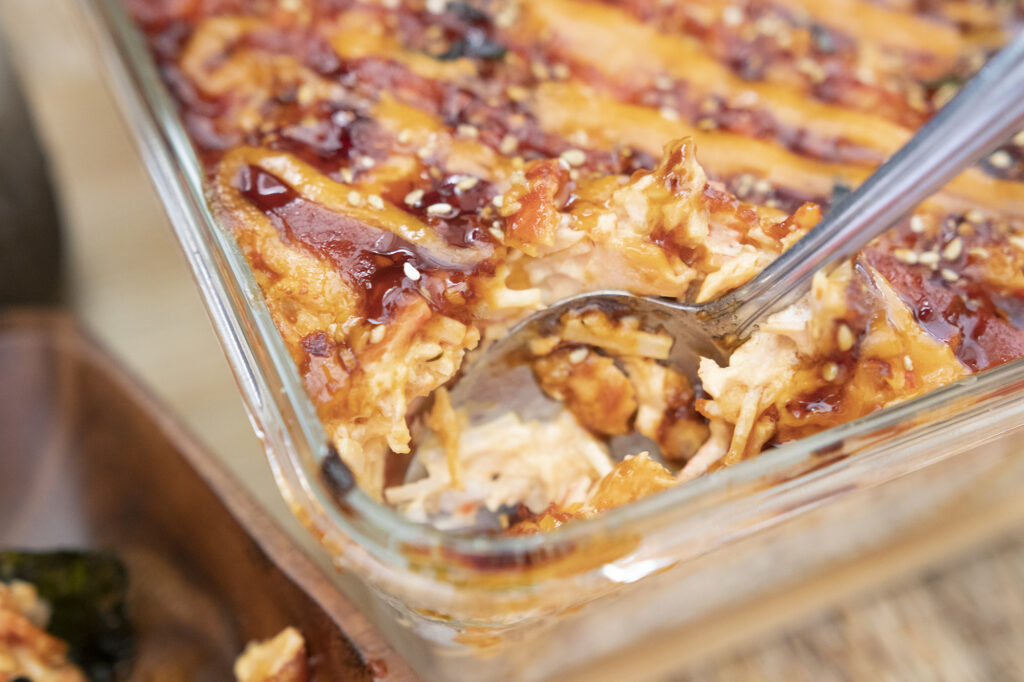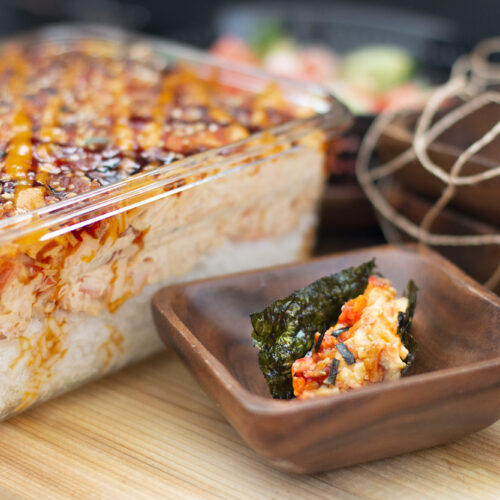 Sushi Bake
Ingredients
Rice

Salt to taste

1/2

tsp

Sugar

1

tsp

Vinegar

1

cup

Sushi Rice

Fish & marinade

3

Trout or Salmon Fillets or 250 gms

1

tbsp

Sesame Oil

1

tbsp

light Soya sauce

1/2

tsp

Furikake seasoning

Fish & Crab layer

Cooked Fish

250

grams

imitation Crab

100

gms Cream Cheese

1

tbsp

Furikake

3/4

cup

Kewpie Mayonnaise

4

tbsps

Sriracha sauce

Topping

2

tbsps

of Furikake seasoning

3 – 4

tbsps

Sriracha sauce

3 – 4

tbsps

Unagi sauce

3 – 4

tbsps

Sriracha mayonnaise

To serve with

Nori or Roasted Seaweed
Instructions
Rinse the starch off the rice a few times before cooking with salt

Once cooked, remove and add the sugar and vinegar

Marinate the fish with the sesame oil, soya and seasoning

Cook till done

Cut the crab sticks into small pieces

Crumble the cooked fish and add it to the bowl

Add the cream cheese, Furikake, mayo and sricha sauce and mix

Take an oven proof glass bowl and add the sushi rice at the bottom and pack it down

Add the fish and crab and do the same

Cover the surface with the Furikake and drizzle on the sriracha, unary and the sricha mayo

Bake in a 350 degree preheated oven for about 15 – 20 mins

To serve, spoon onto roasted seaweed or nori and enjoy