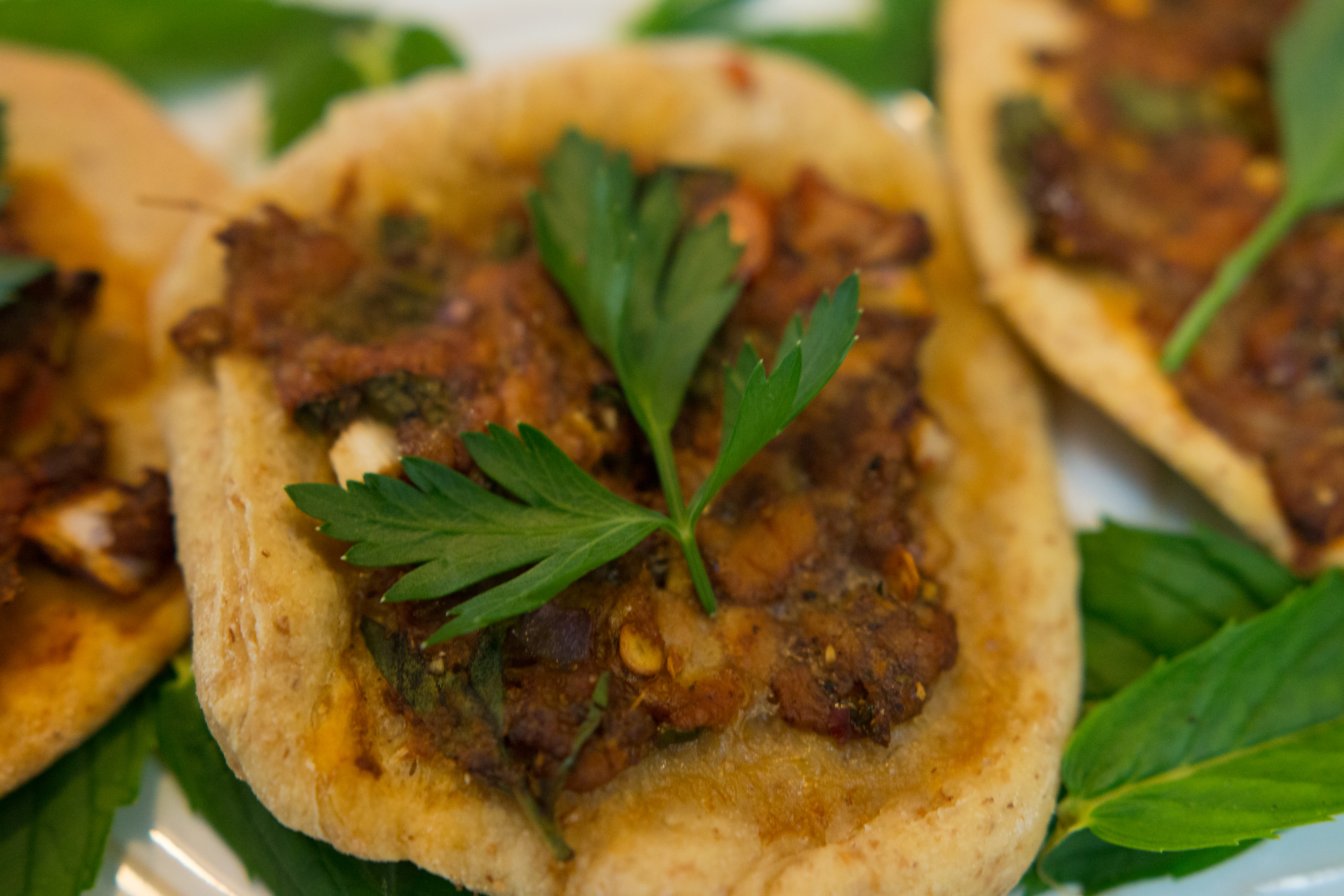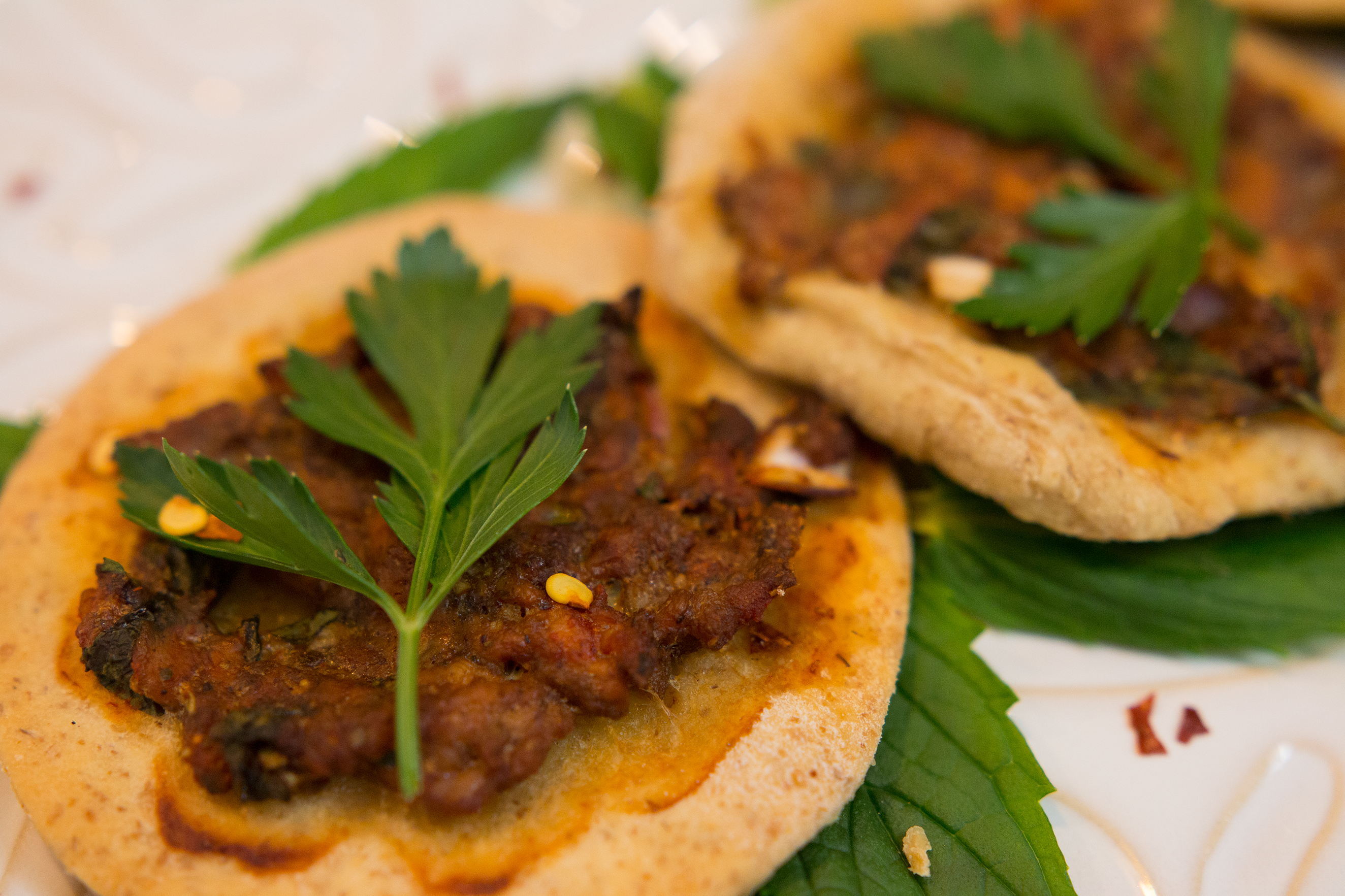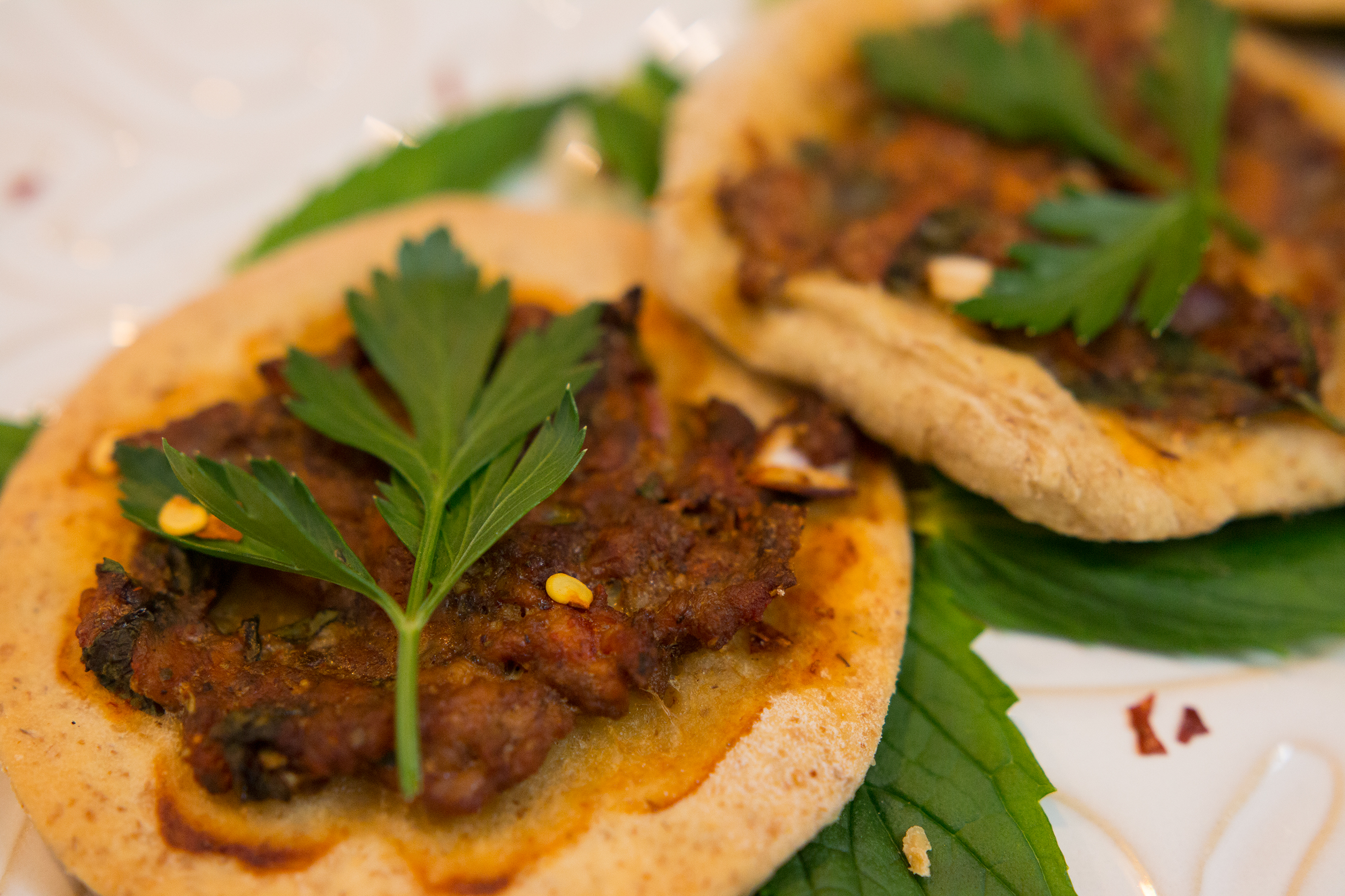 This is one of my all time favourite recipes. I developed this when I competed on the hit TV show, Come Dine With Me Canada. Since then I had lost the recipe due to a hard drive crash. Luckily for me one of my friends had saved the print out all these years and I was able to salvage this amazing recipe. You can prepare your own pizza dough or buy it ready prepared, but I have to tell you making a batch of dough is easy and so worth the effort. The topping is a chicken or turkey mixture and the whole pizza is cooked in an oven to middle eastern flavoured perfection!
Makes 4 medium pizzas and about 60 mini pizzas
[youtube-subscriber channelname=kravingsblog]
Arabic Pizza – With Chicken & Herbs
Ingredients
Pizza Dough
2 cups whole wheat flour
1 1/2 cups all purpose flour
7 tsps instant dried yeast
Pinch of sugar
Salt
Warm water
Splash of Olive Oil
Additional flour for dusting and rolling
Topping
1 pound ground chicken or turkey meat
1 tsp smoked paprika
1 tsp dried oregano
1 tsp sumac
1 tsp ground black pepper
Salt
1/2 red onion chopped fine
1/2 red tomato deseeded chopped fine
1/2 cup chopped mint
1/2 cup chopped parsley
1 1/2 tbsps pomegranate molasses
Instructions
In a bowl add the yeast and sugar and top with a half cup of warm water. Leave till frothy
In a stand mixer add the flours and salt and mix.
Add the yeast mixture and enough water in slow additions to make a soft and supple dough.
Oil a bowl, add the dough ball, rotate to coat with oil and then cover with cling film.
The dough can take anywhere from a few hours to overnight to double in size when stored in a warm, dark oven.
Mix all of the topping ingredients well together.
It's a good practice to fry a small sample of the topping to check for salt and seasonings.
When the dough is doubled in size, remove and lightly knead using extra flour
Dust with flour and roll out into a single pizza round or cut out little mini pizzas with a cookie cutter as per your preference.
Add a teaspoon of the topping to each pizza base and smear over the surface.
Bake in a 350 degree oven for 10 – 15 mins till cooked.
If using multiple sheets, rotate them to ensure all pizzas get cooked evenly.
Garnish with more fresh herbs.
https://kravingsfoodadventures.com/arabic-pizza-with-chicken-herbs/