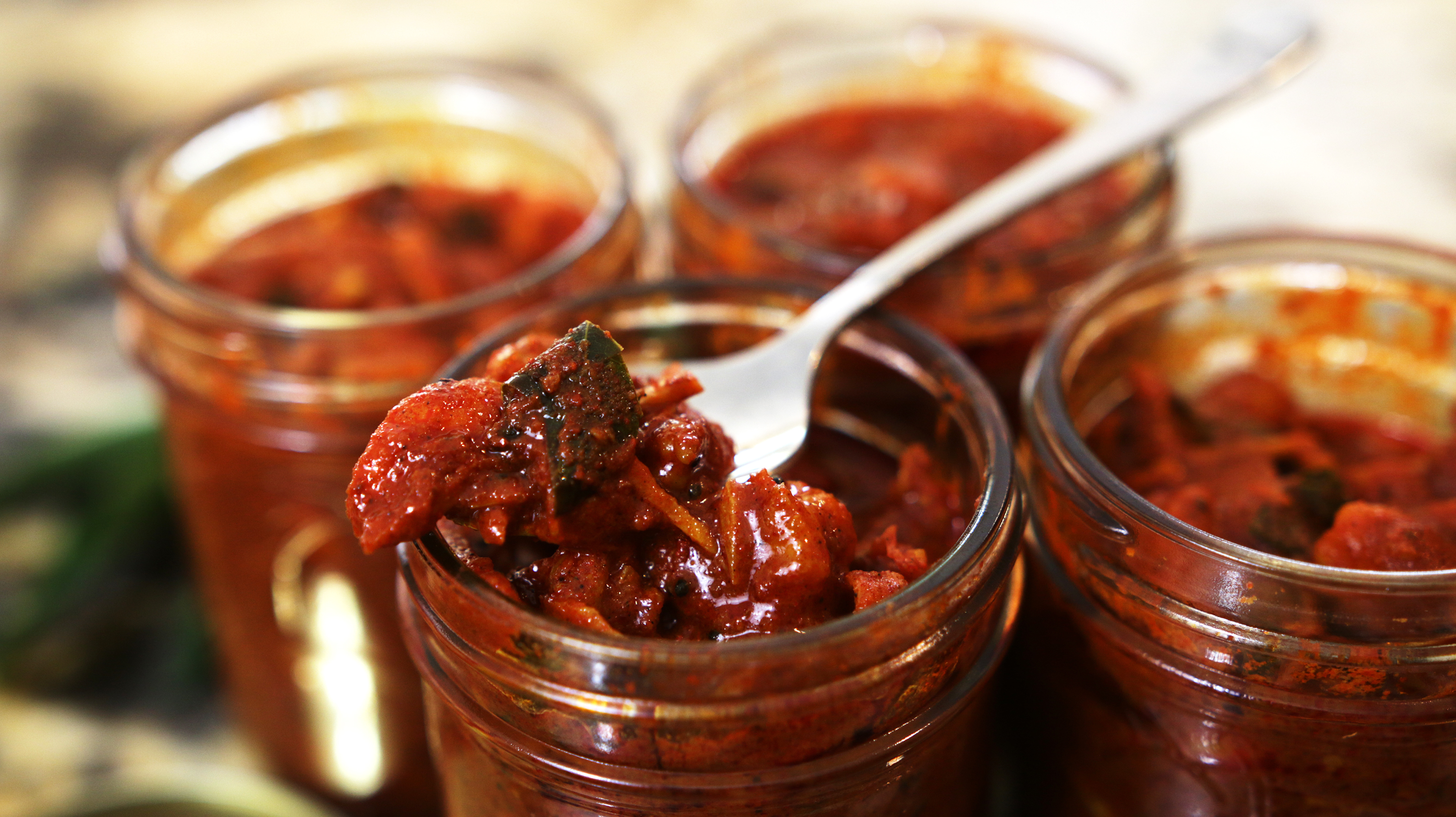 My mom passed away last year June 7, 2016. It still feels unreal to say it and it has not sunk in yet. She still had so much life in her, but God had other plans. My mom was a quiet and unassuming foodie. The one who loved collecting recipes and trying new things. She collected close to a 100 books of clippings and hand written notes. Many of them I have in my treasure trove. Her last visit to Canada was in 2014 where Kravings my video channel was underway and I was fortunate enough to get her on film. She's so shy and hates the camera(unlike me) but she put on a brave front and recorded this Shrimp pickle video with me. When I signed off, I told my viewers that she would be making many more videos, sadly that was not in the cards.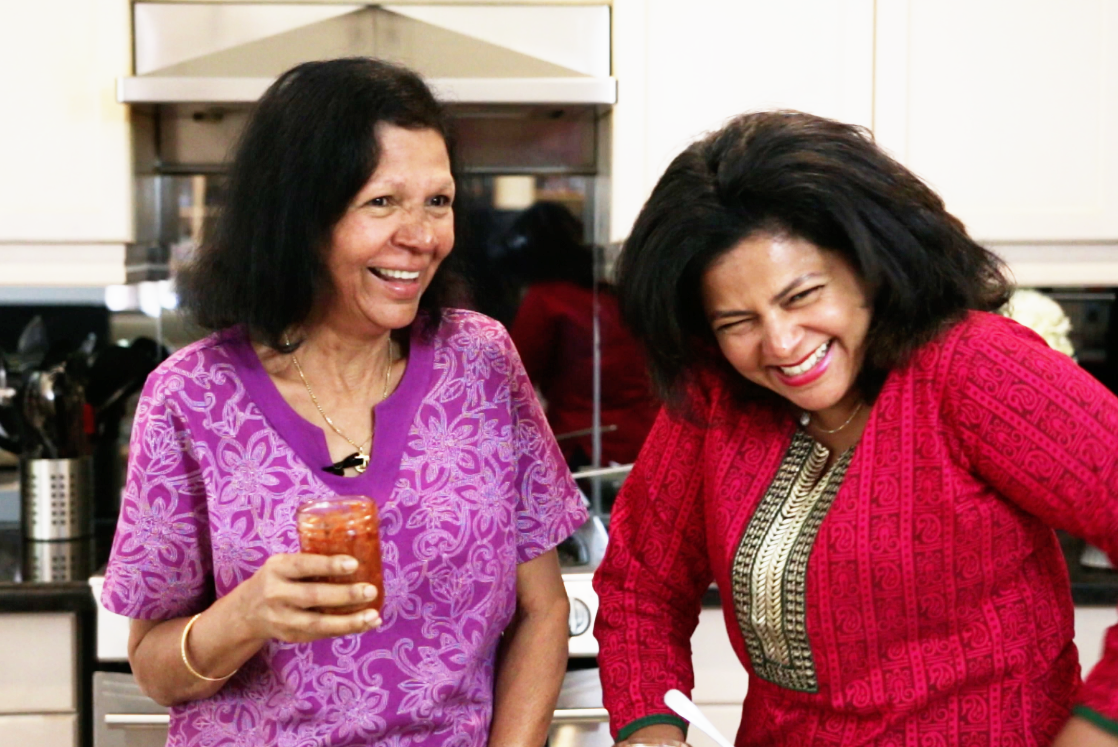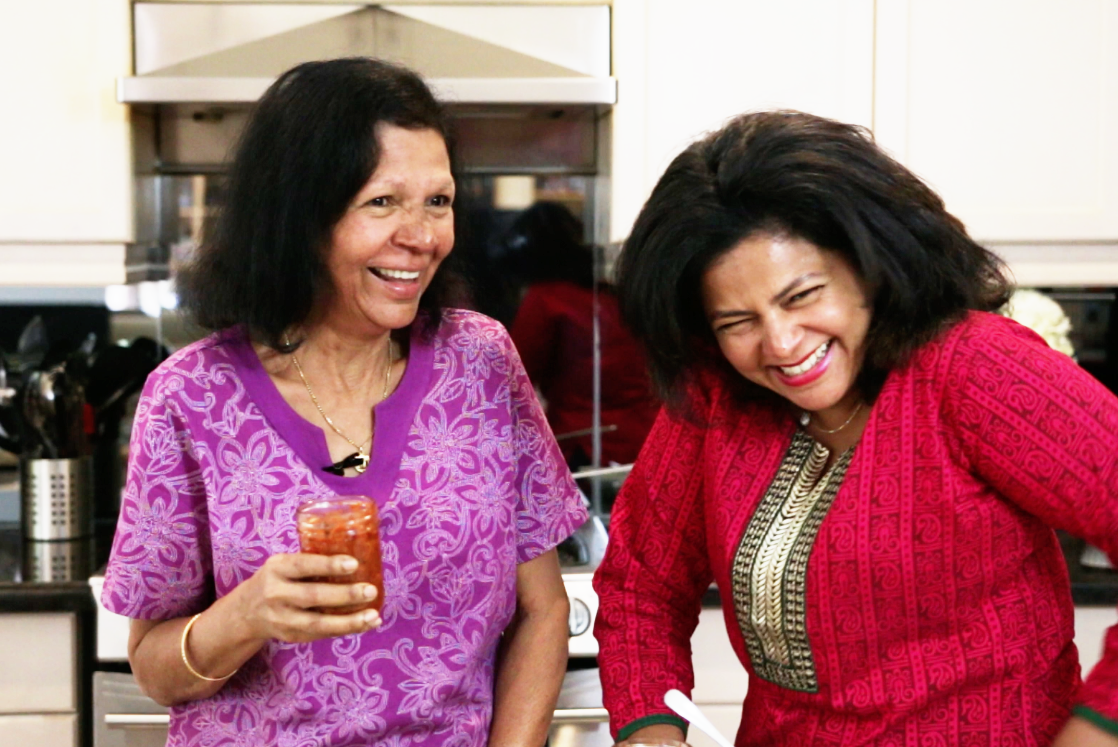 Shrimp or Prawn pickle is a delicious condiment that can be served with rice & curry. It can elevate a simple home cooked dhal. Personally, I can eat this Shrimp pickle with a spoon right out of the jar. I'm so glad this was documented as I now will have to make the next batch for myself.
This video link is updated from old footage of Mom in 2014. I used newer technology to enhance the audio so I can keep her alive as long as possible.
My mom has been making this fabulous Shrimp pickle for years and just the thought of it makes me drool. She's showed me how to make this so many times but it wasn't until today till I took the Shrimp by the horns(or by the tail) and tried this out for myself. A perfect accompaniment to a fish curry and rice or even a simple vegetarian meal, or if you're like me, you'll eat it straight out of the jar when nobody's looking!
[youtube-subscriber channelname=kravingsblog]
Ingredients
1.5 lbs defrosted frozen deveined tiger shrimp(can use fresh)
1/4 tsp turmeric
4 green chillies, slit in half with the seeds scraped
salt
1/2 cup water
Roast
1/4 tsp mustard seeds
1 tsp cumin seeds
Pinch of fenugreek seeds(methi)
10 peppercorns
6 cloves
1 inch stick of cinnamon
Spice paste
9 tsps chilli powder or 15 Kashmiri chillies
1/4 cup vinegar
6 cloves of garlic chopped
1 inch stick of ginger chopped
Tempering
1 tsp mustard seeds
10 curry leaves cut with a scissors
Julienne of 4 garlic cloves
Julienne of a 1 inch piece of ginger
2-3 tbsps oil
salt to taste
Instructions
The shrimp can be added whole or if you prefer sliced horizontally
In a saucepan or stock pot add the shrimp, turmeric and slit green chillies
Add salt and cook for a few minutes without oil
Add the water, cover and steam
Remove Shrimp and reserve stock
In a frying pan without oil, roast the mustard, cumin, fenugreek seeds, peppercorns, cloves and cinnamon
In a spice grinder, grind the roasted spices with the chilli powder with the ginger and garlic and vinegar
Continue to grind to a smoother paste using some of the reserved Shrimp stock
In a wide saute pan, add the oil, mustard seeds, curry leaves, julienne of garlic and ginger.
Add the spice paste and cook for a few minutes.
Add the Shrimp and cook for a few more minutes.
Add the remaining stock and cook till the water evaporates and you're left with a nice pickle consistency
Add salt to taste
Cool, bottle and refrigerate
Keep for a few days to properly cure before enjoying
https://kravingsfoodadventures.com/shrimp-pickle/