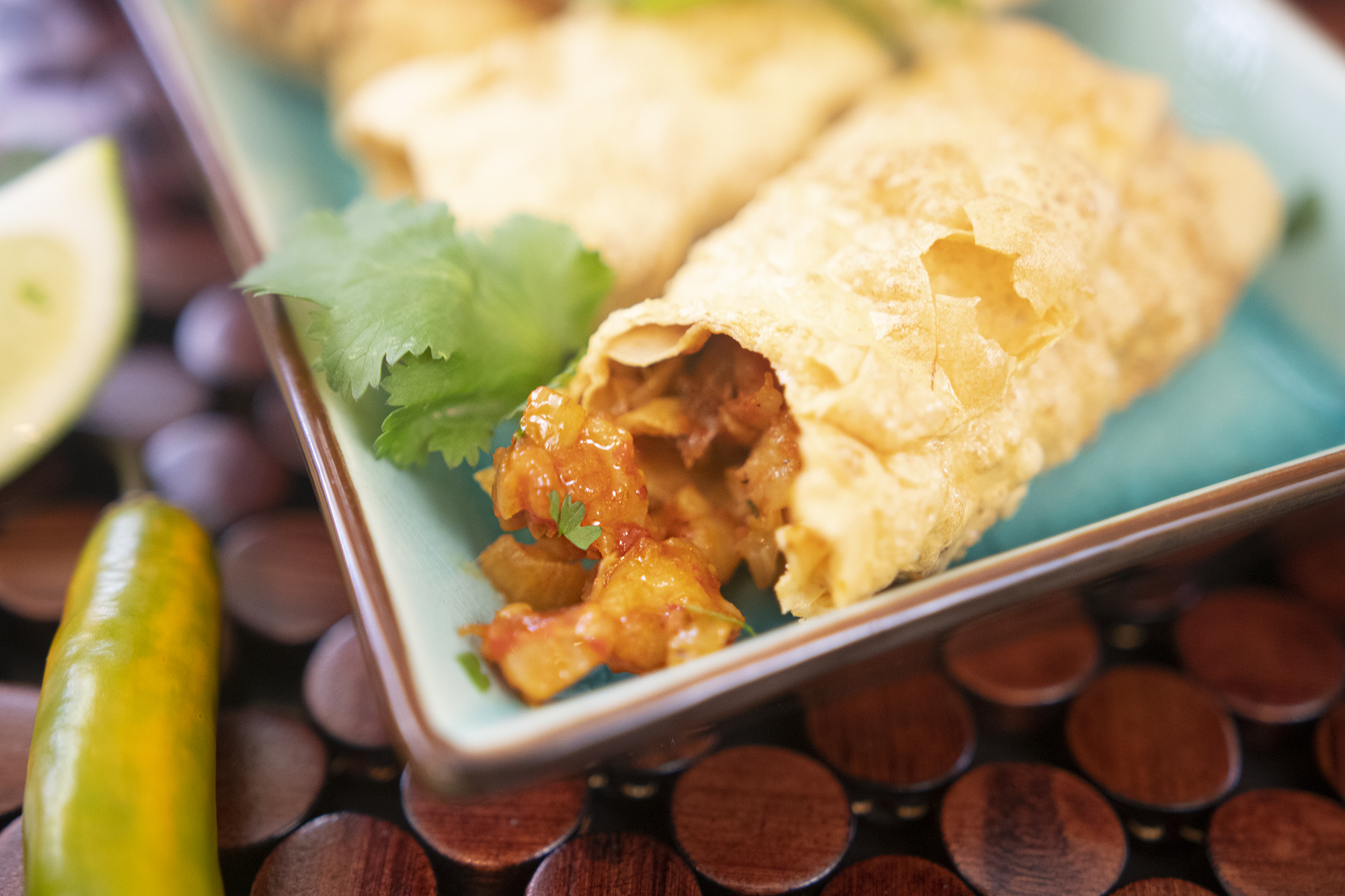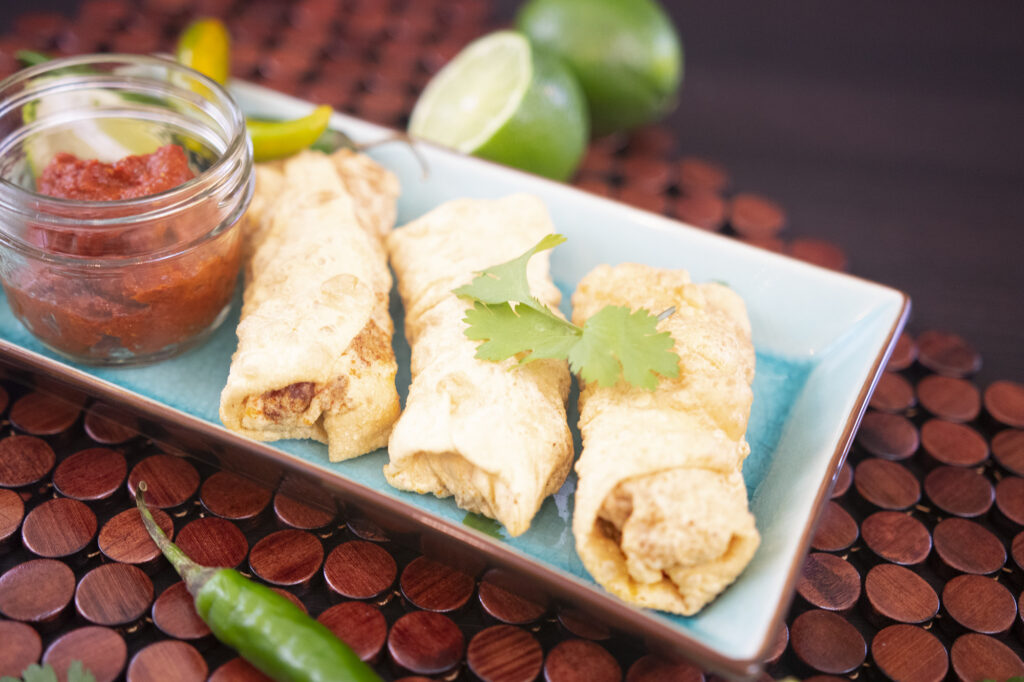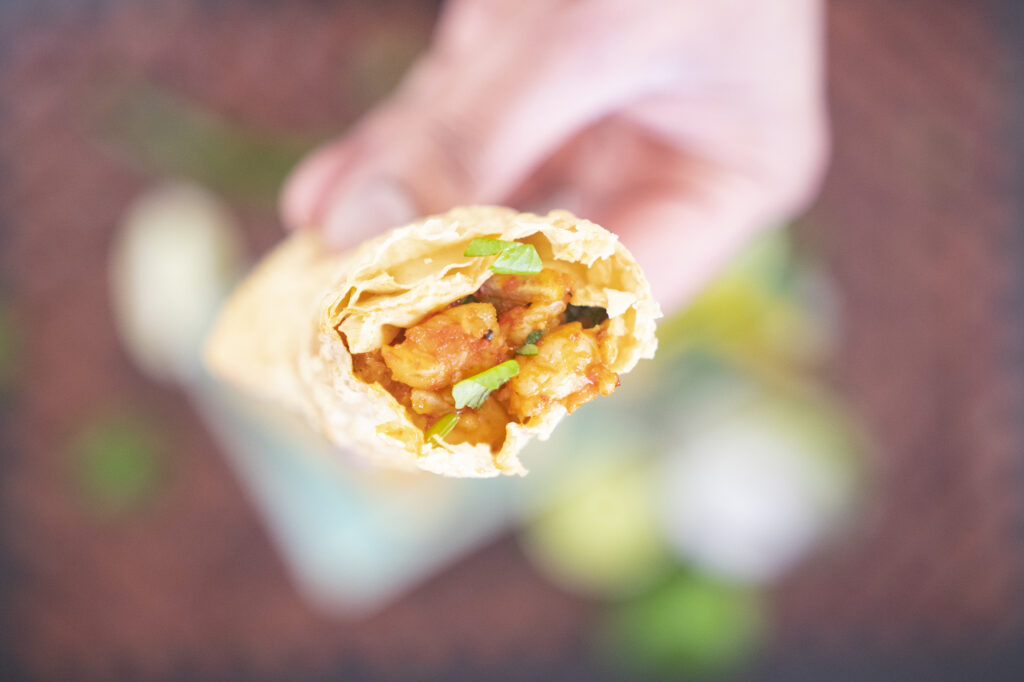 If you've ever been to Goa and eaten at a beach shack, you've definitely had this delectable snack. Crispy pappadum stuffed with a Shrimp Chilly fry filling, rolled, sealed and fried. Papads or Pappaadums are made from a lentil flour paste that was traditionally dried in the sun by the ladies of the household. Today these are available in a wide variety of flavors and sizes. The best kind for this snack is the type that does not have any holes that will let the filling out and the oil in. Although Shrimp is the most popular, you can really use anything to stuff your papads. Think of it as a desi spring roll!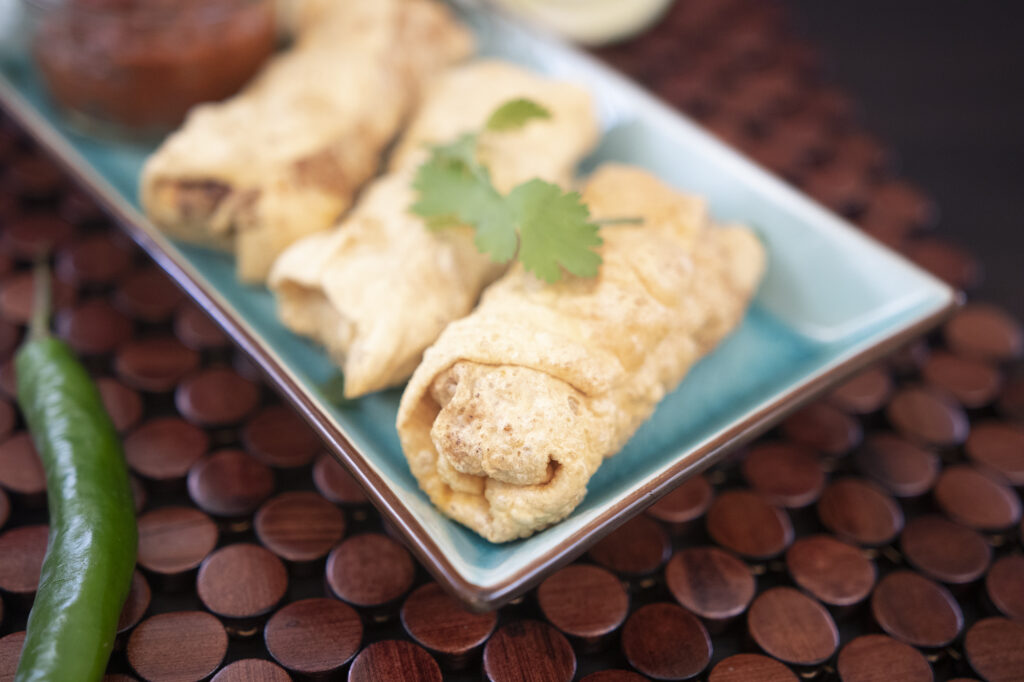 These must be prepared to order. If you must prepare them ahead, roll them, let the papad dry out and just fry it in hot oil before you serve it. You can also freeze this, although it's not the best as eating it when it was just rolled. If you decide to make ahead and refrigerate or freeze, make sure to allow the filling to come to room temp and make sure that the papad is nice and dry before hitting that hot oil.
If you're wondering how papads are made, it is a ground lentil paste that is spread out and dried in the sun. This disc is pretty brittle and must be stored carefully. Papads can be roasted on an open flame, deep fried and microwaved.
Shrimp Stuffed Papad
Ingredients
2

cups

finely diced Onion

1

tbsp

sliced green Chilli

400

gms Shrimp

2

tsps

Rechad Masala

see sub below

Salt to taste

1/2

cup

chopped Coriander/Cilantro

6

– 10 Urad Papads

see note below
Instructions
Saute the onion till golden brown and add the green chilli

Shell and devein the shrimp and cut it into small pieces

Add the shrimp to the saute pan and follow with the rechad masala – substitute this masala with 1 tsp each of chilli & cumin powder, 1/2 tsp Turmeric, 2 tbsps of ginger and garlic paste and a tiny bit of vinegar

Add salt and the coriander, mix and allow to cool

Soak each papad in warm water for 30 – 40 seconds till pliable – note that the papad must be the kind with no holes

Once soft place on a towel and dab the other side with a paper towel to remove moisture

Place some filling in the center fold over the top, sides and roll to seal (Watch video)

Deep fry in hot oil on both sides and serve immediately