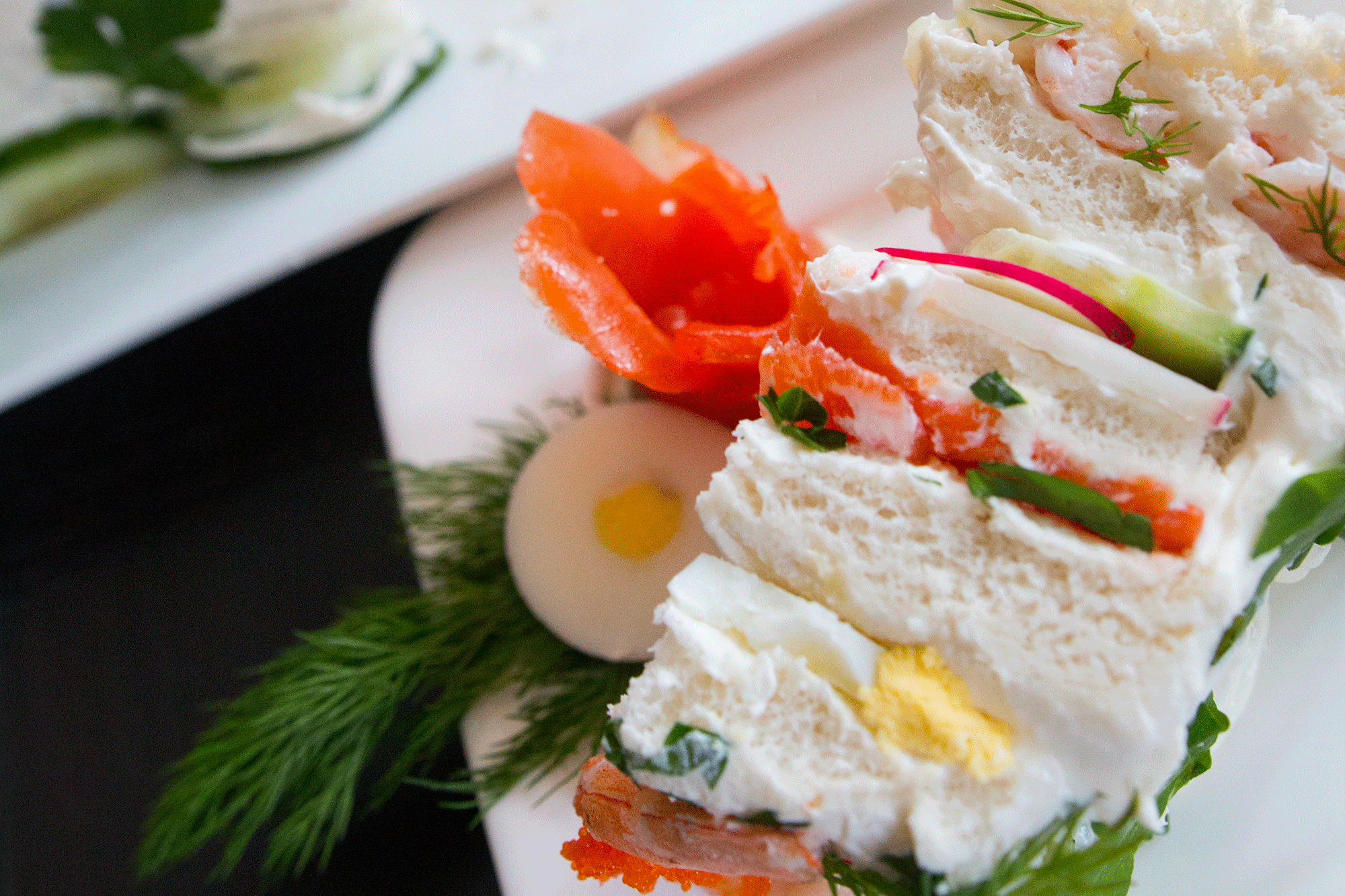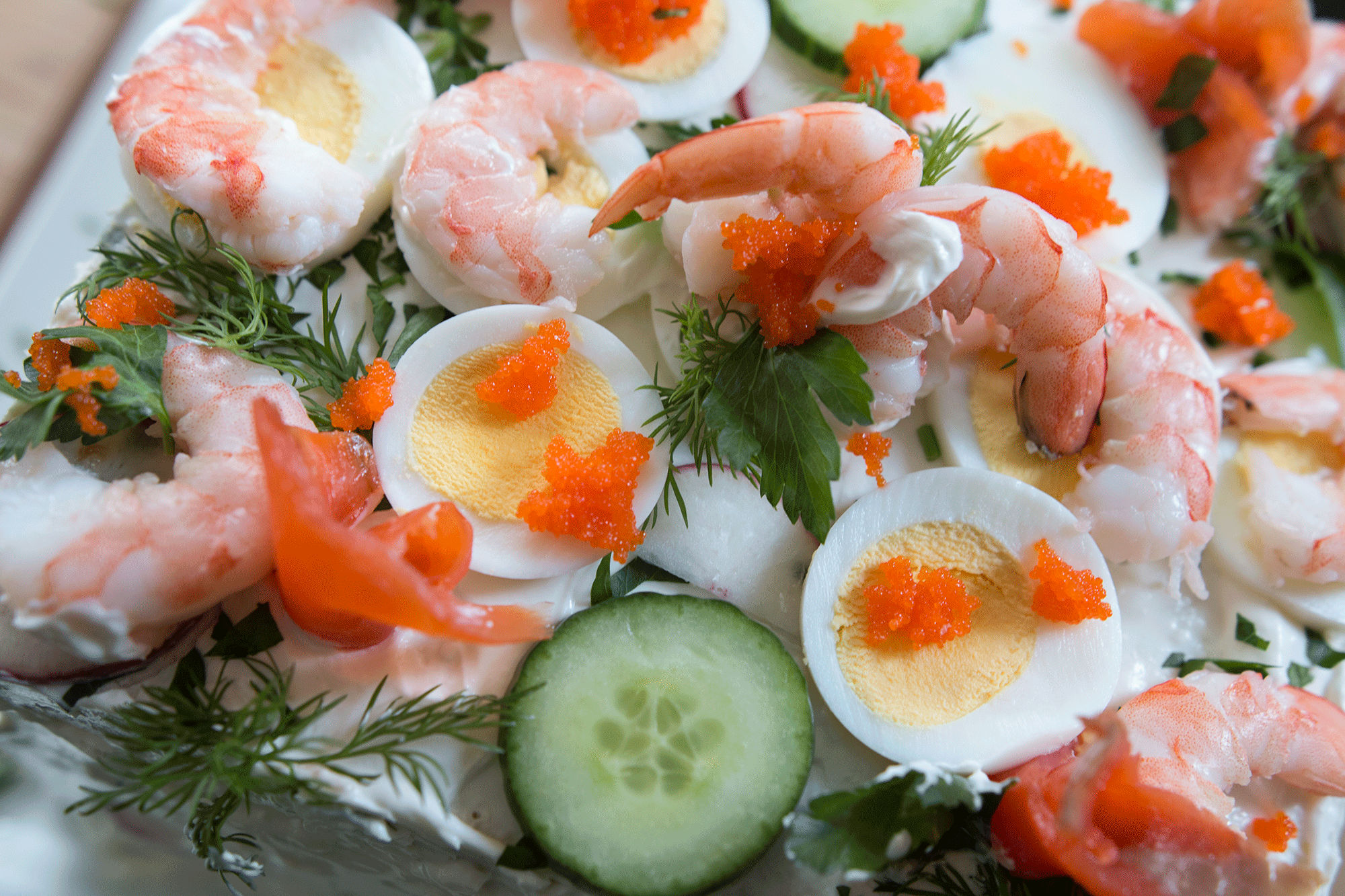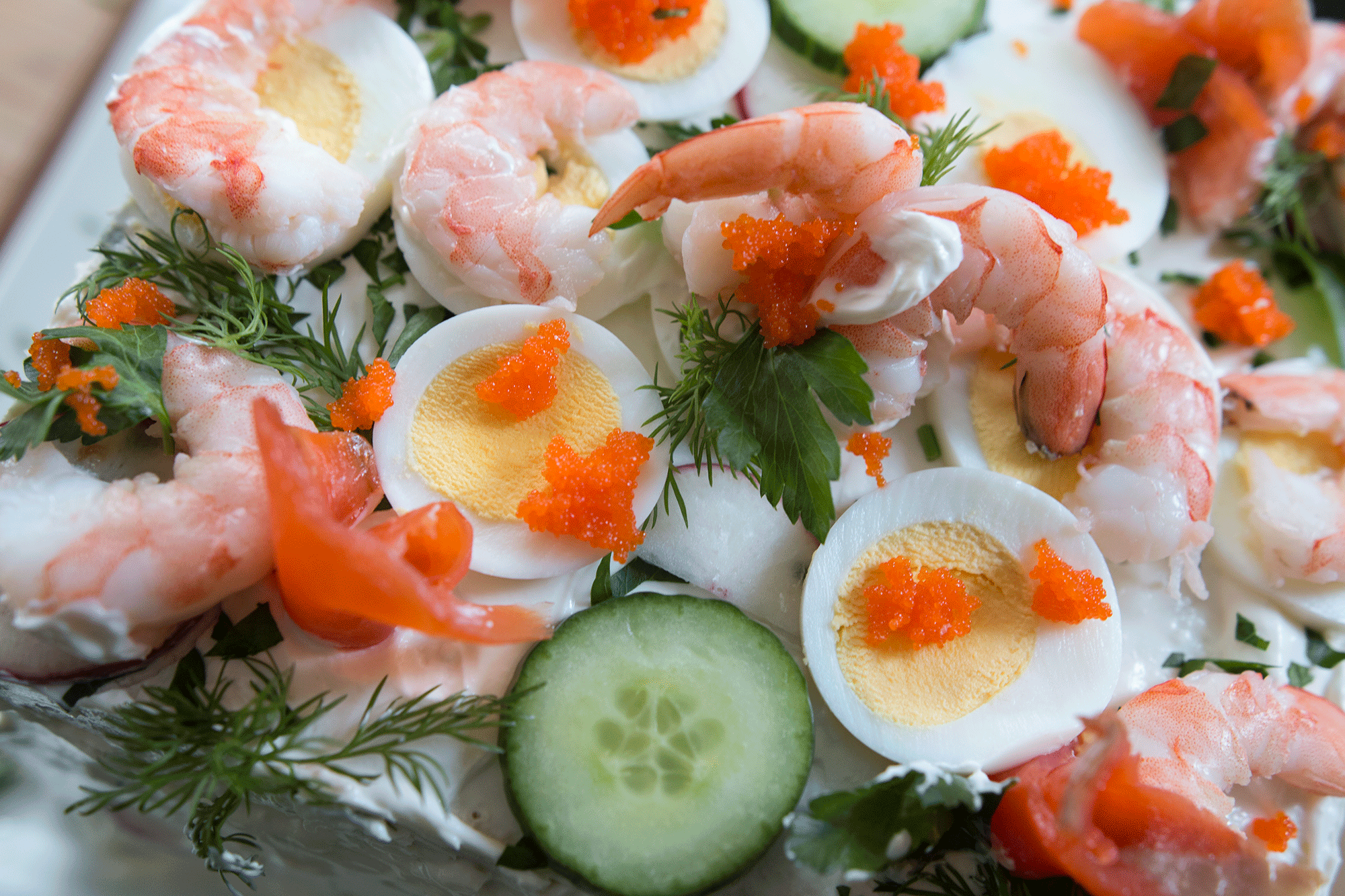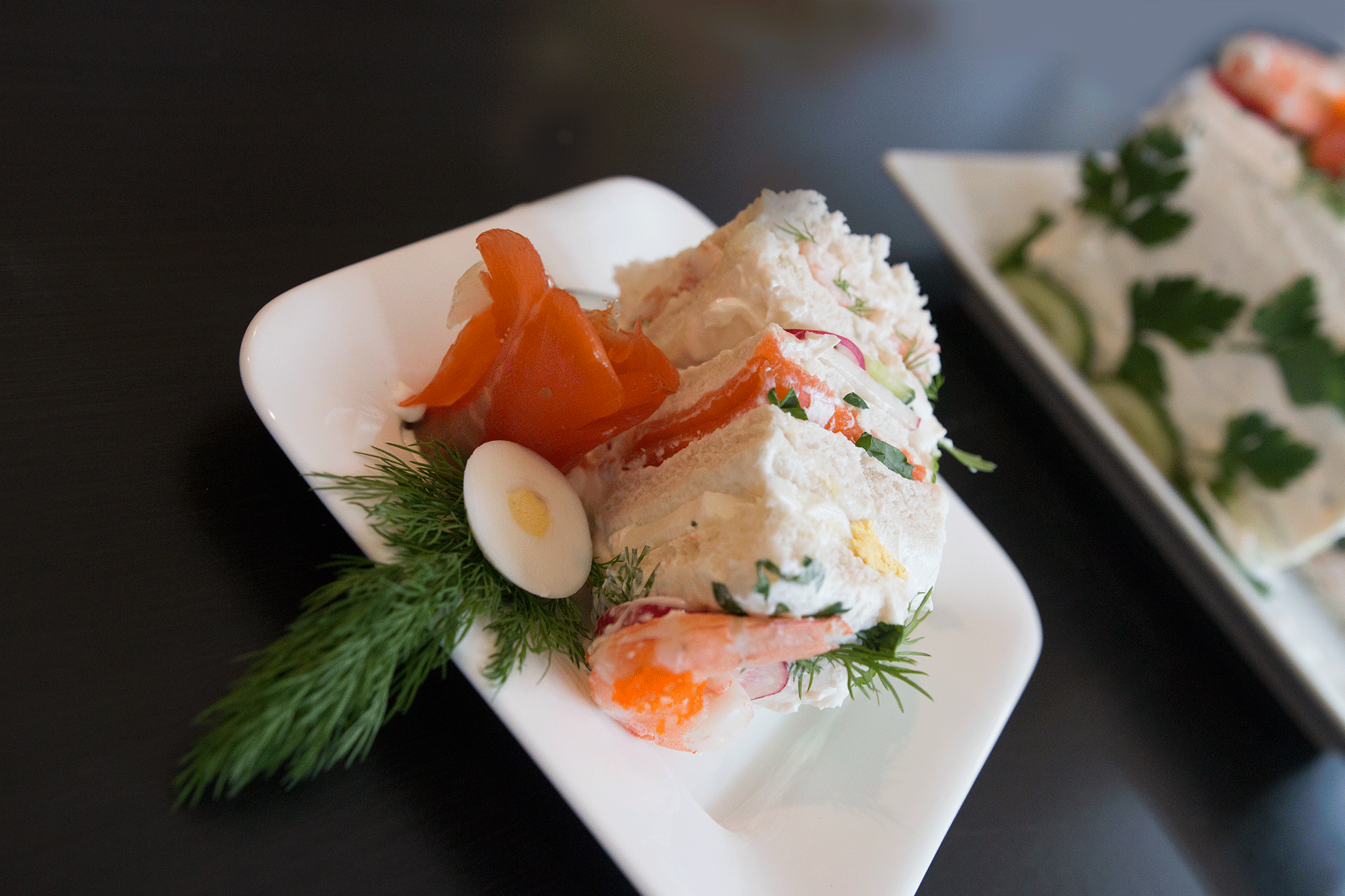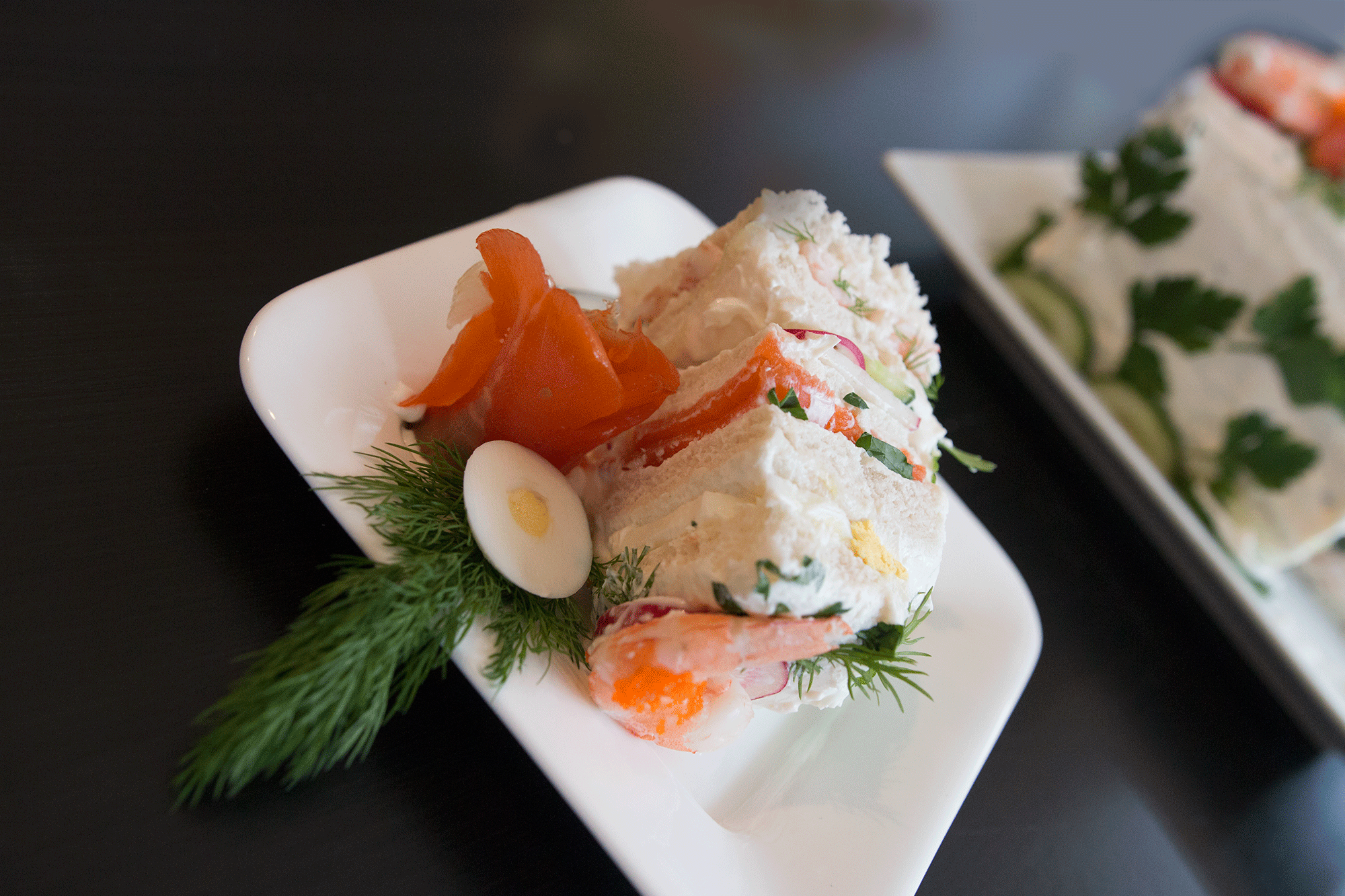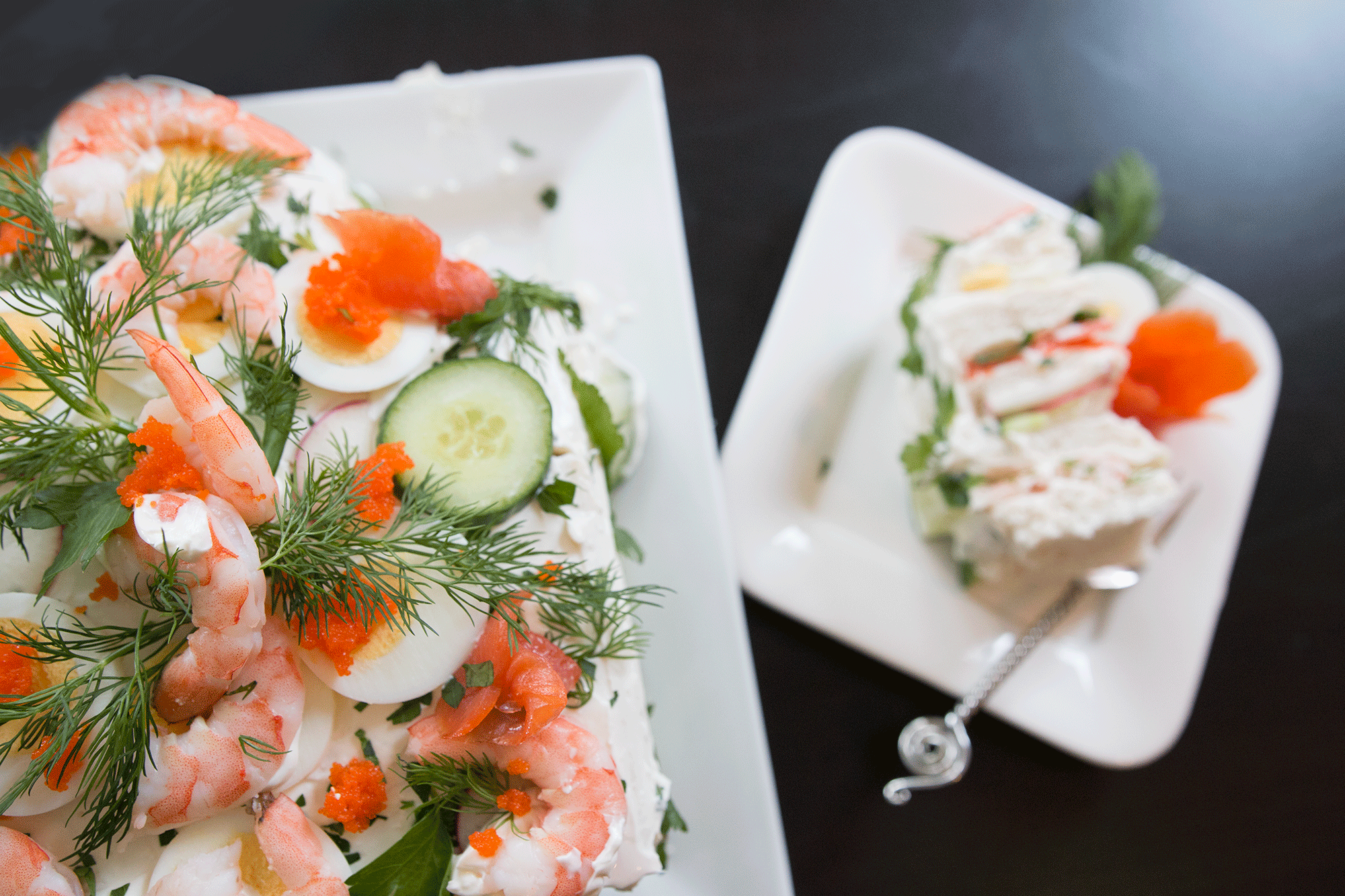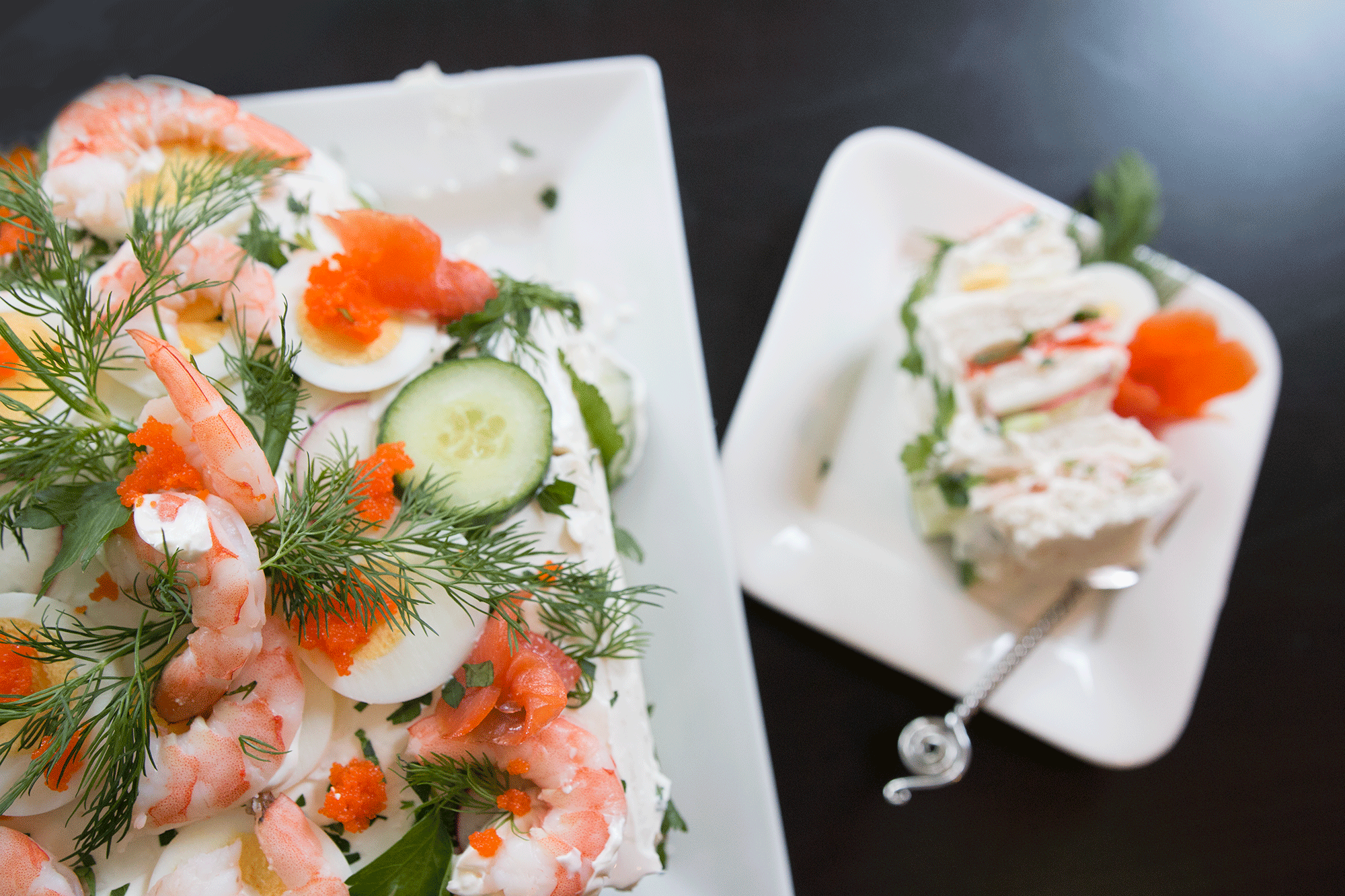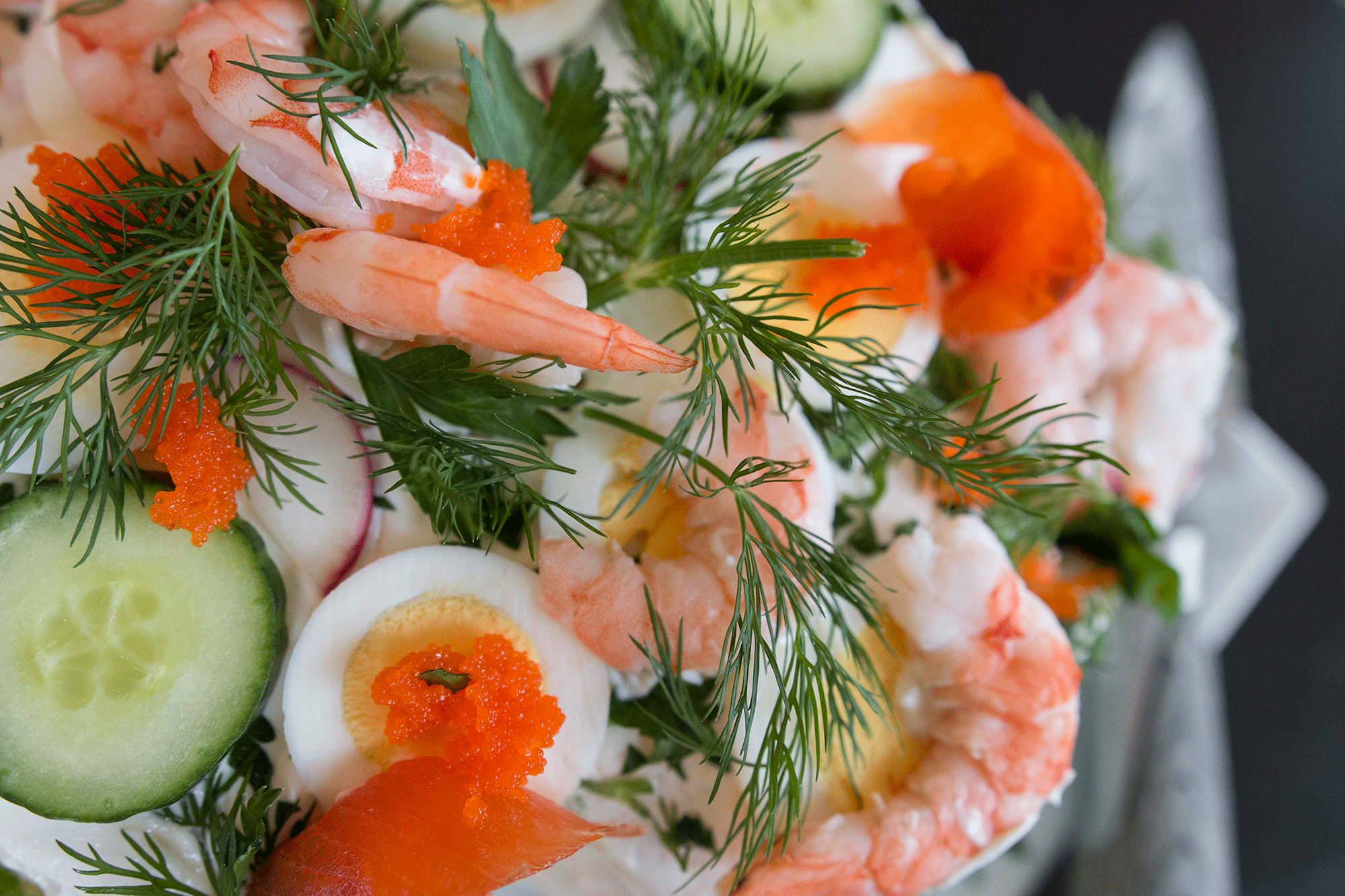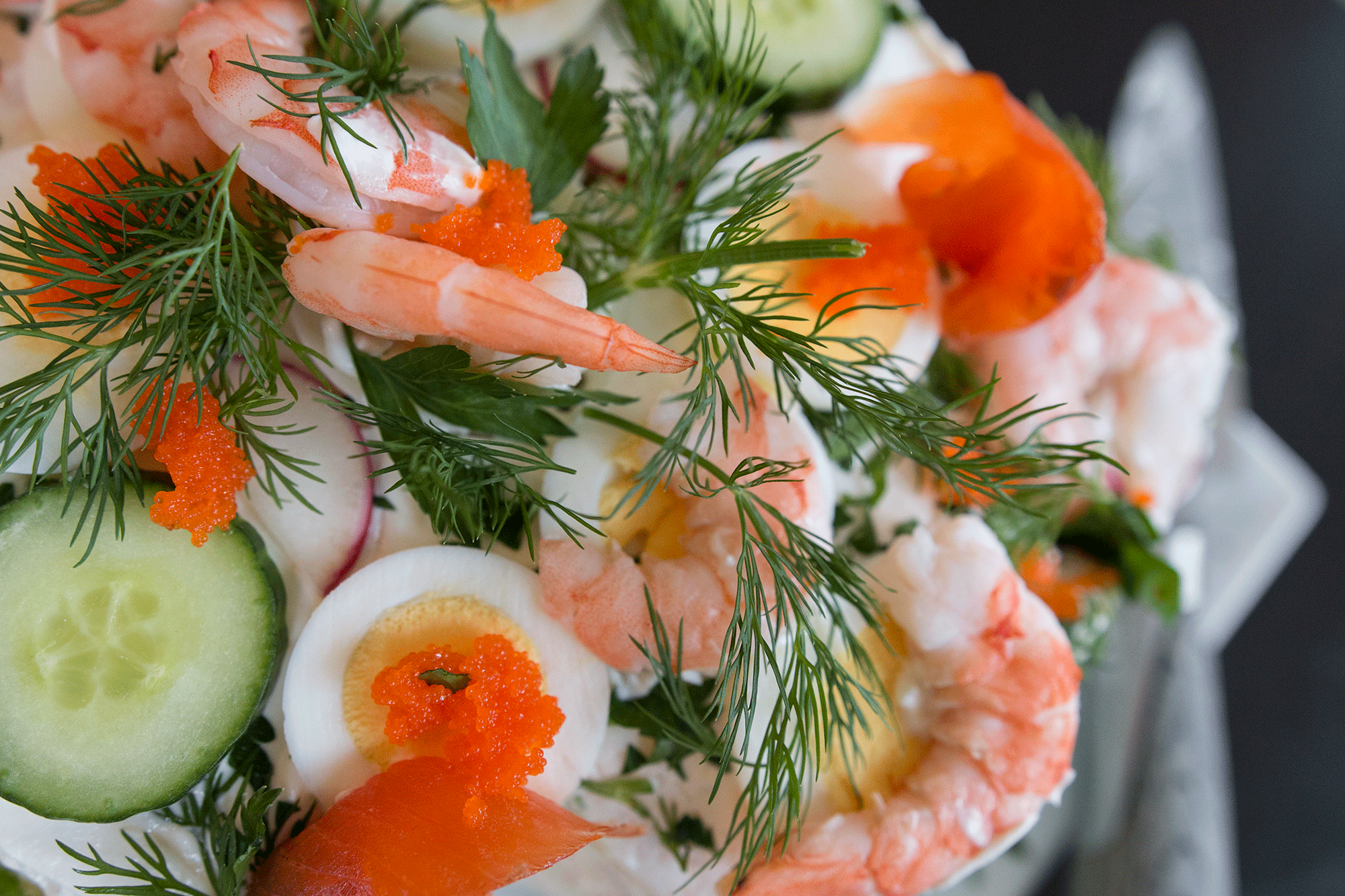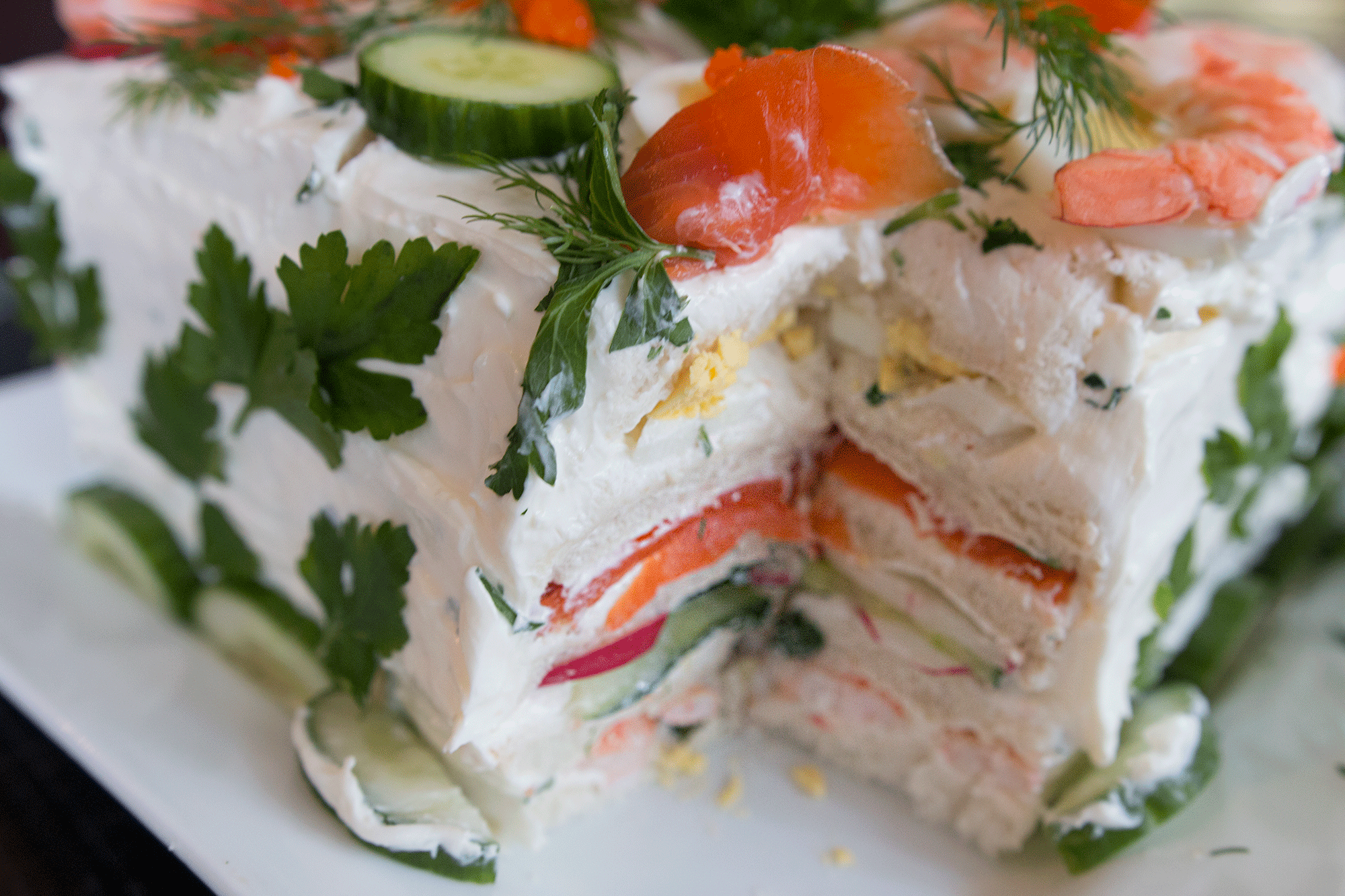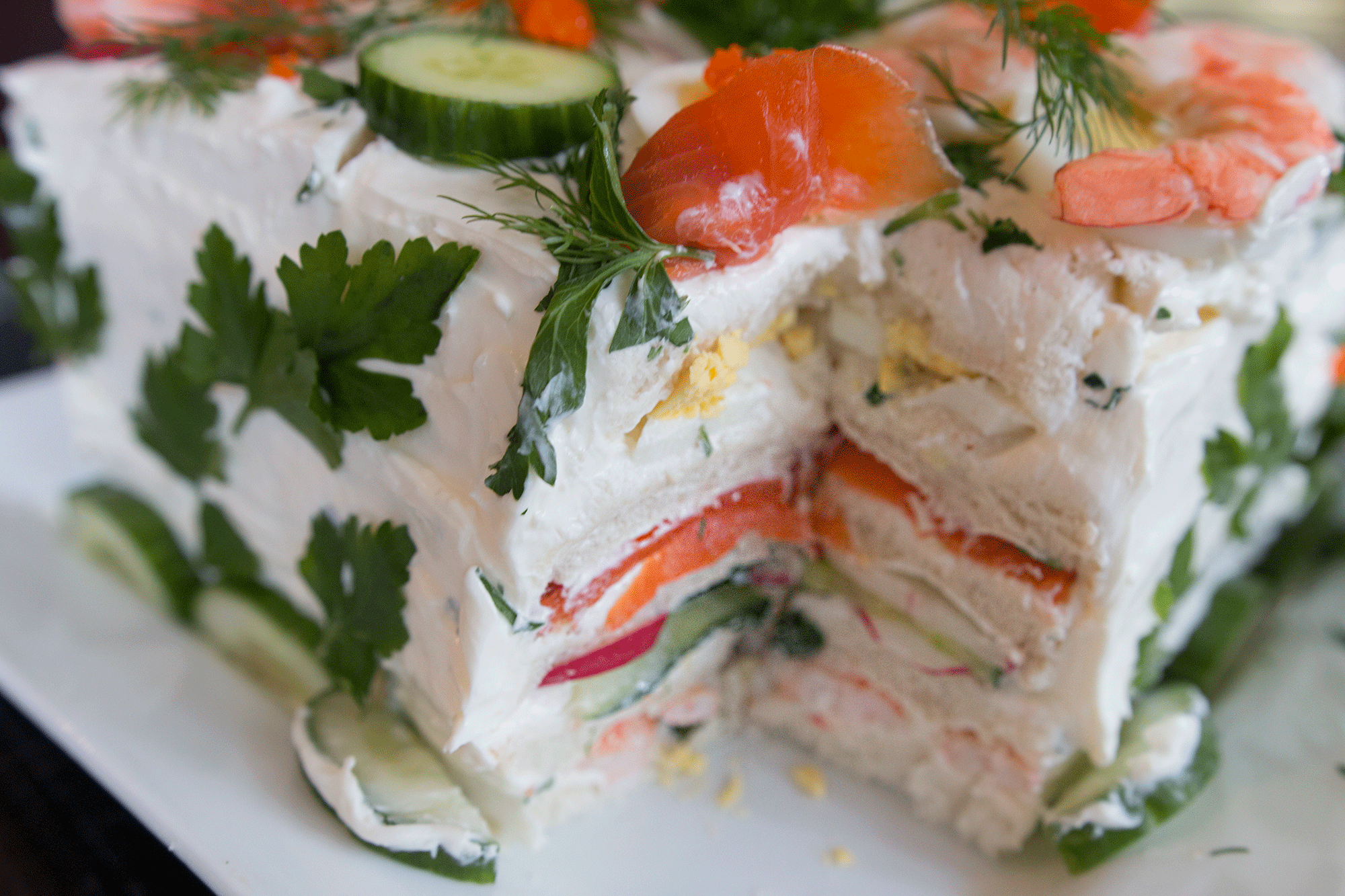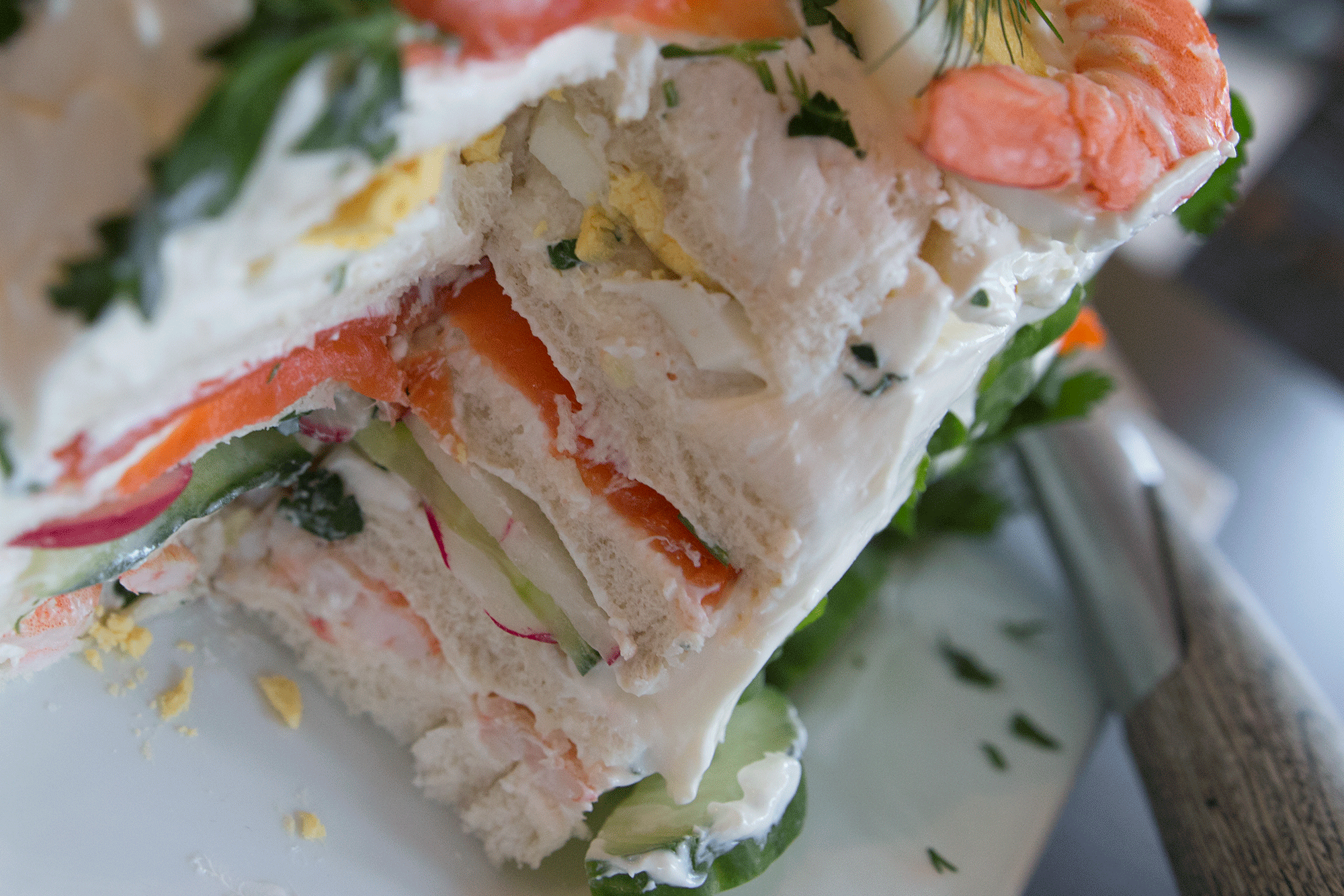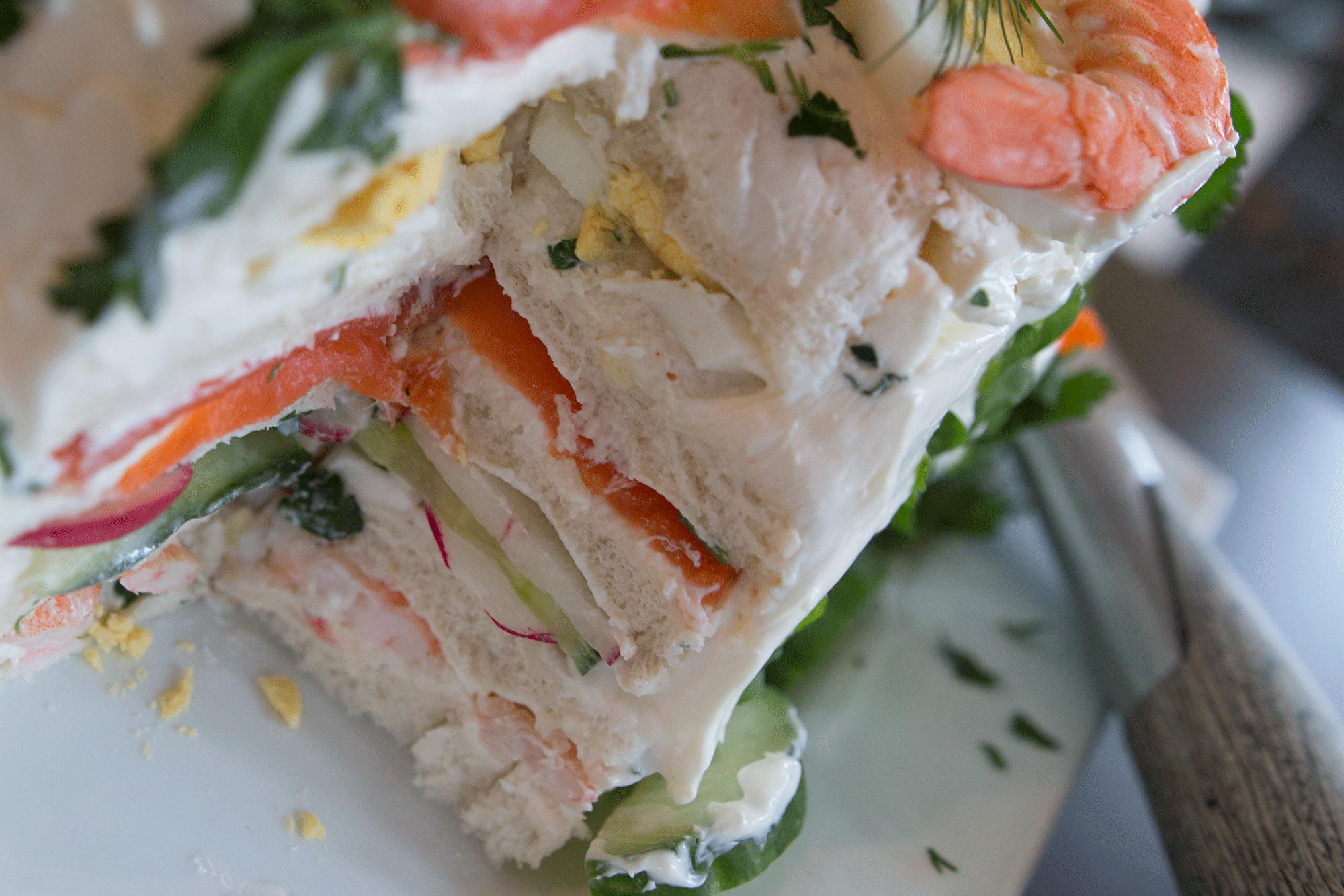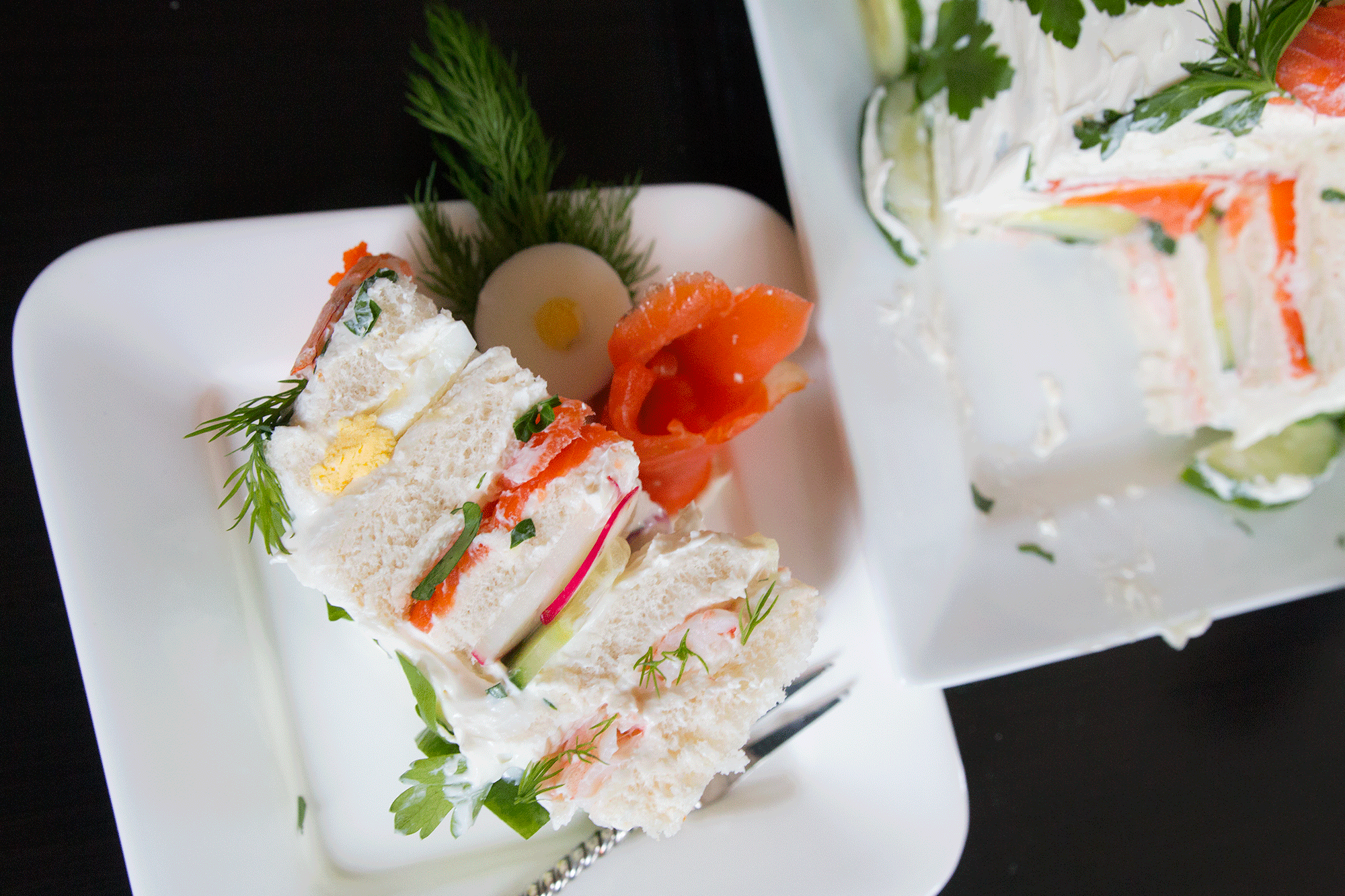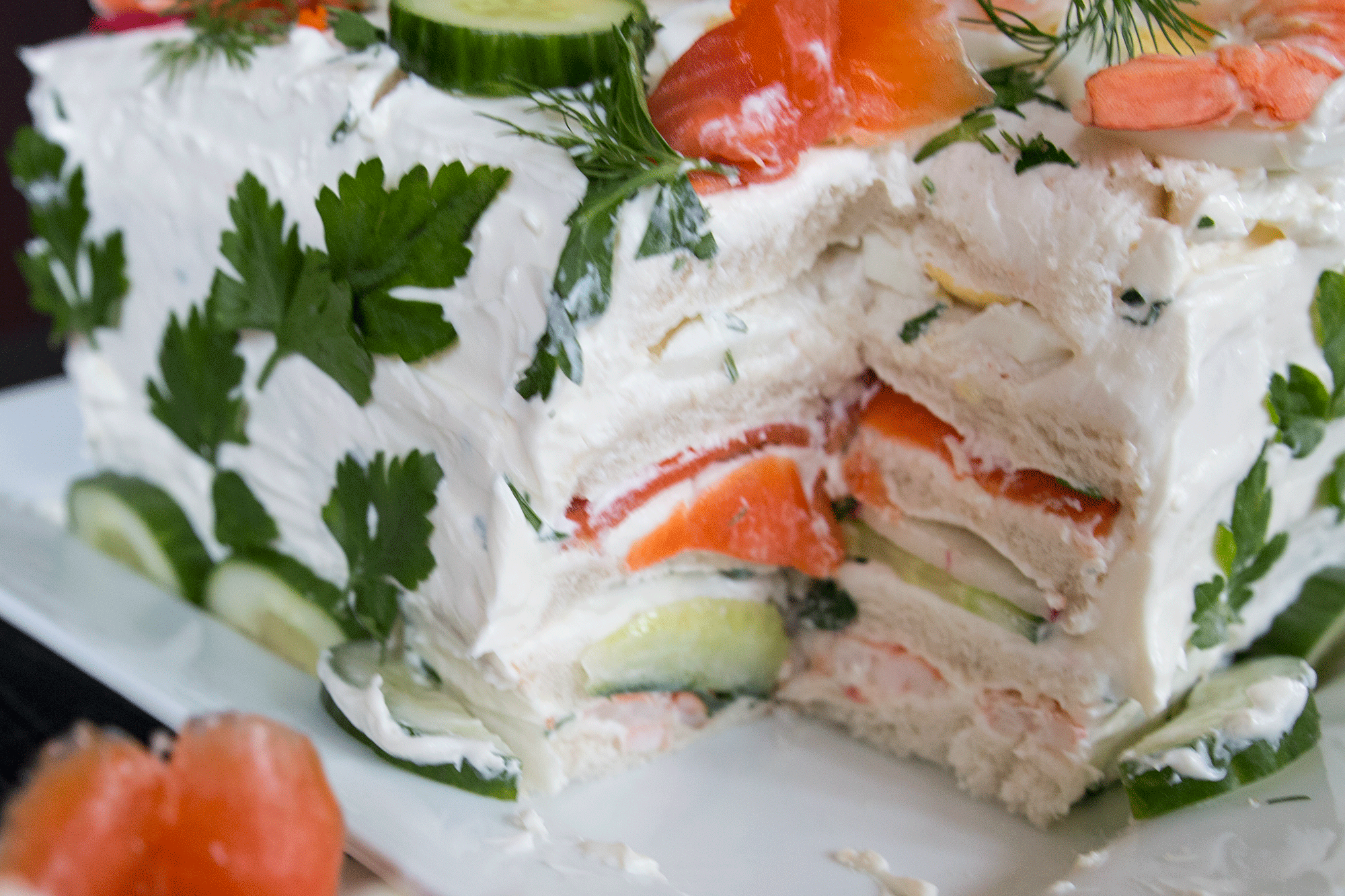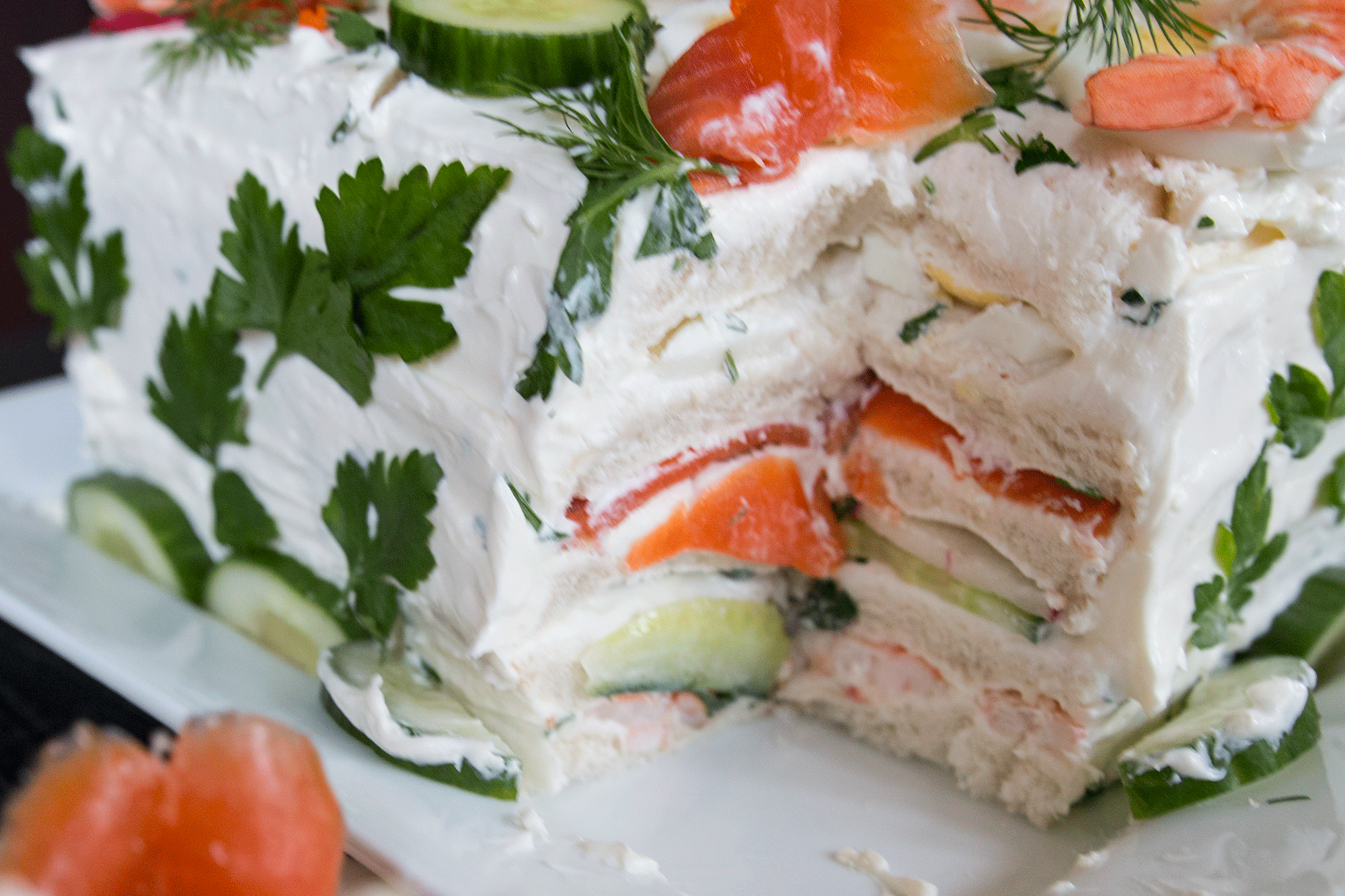 The Swedes have given us a few great things Abba, Ikea to name a few. This Swedish sandwich cake Smorgastarta or Smorgastorta is so fantastic to serve at a party or potluck and best of all is so customizable. I don't have much of a sweet tooth and find it really hard to resist this delectable savory Swedish Sandwich cake.
This may not be a 100% traditional recipe, but it's only because this recipe allows for so much creativity that it can be made so many different ways.
Typically it's a hodge podge of cold meats and cream cheese, mayo, eggs and seafood sandwiched between layers of bread. You can bake a batch in a cake pan and cut it in layers, use pre sliced sheets of bread used to make Italian sandwiches or the simplest way is to get regular square sandwich bread and cut the crusts off to build your cake. You can lay the cake out in any shape, but using just regular sandwich bread, I'm going to create a square masterpiece. My version of Smorgastorta is pretty simple, I'm going to stick to Seafood like shrimp and smoked salmon and enhance it with some eggs, cucumber, radish slices, dill & parsley. It's also going to be topped with some beautiful Masago caviar jewels as a finishing touch.
The first thing I'm going to do is stir into my light Cream cheese – this needs be just warmed up slightly in the microwave so it gets creamy and the consistency of a frosting. Only microwave this for 10 seconds at a time to avoid burning. . I'm going to fold in some light sour cream 4 tbsps per 8 oz brick. The amount of cream cheese you need will depend on the size of cake your making. My square cake took a little over 16 oz of cheese and about 10 tbsps of sour cream. A traditional Smorgastorta uses Mayonnaise, but I like to keep it light with light Cheese & Sour Cream. Just like frosting a regular cake, I will secure the first layer with a dollop of cheese.
My cake consists of 4 distinct layers and each one will be spread with the cream cheese mixture on both sides of the bread to keep the filling secure. I will start with Poached Shrimp that I just poached my deveined shell on in 4 cups of water with an Onion & herbs parsley & dill lime juice and salt. I let the poaching liquid come to a boil and then turn it off, add the let the shrimp cook in the hot liquid for 10 mins, shell on. After 10 mins, allow it to cool and then remove the shell. Ofcourse you can just buy precooked Shrimp, but the flavor in the shrimp doing it this way is way better that the bland rubbery frozen shrimp available in the grocery stores. Reserve a few Shrimp for the garnish and because my Shrimp are a good size, just slice the rest of the shrimp horizontally, with a sprinkle of dill, Cucumber & Radish, Smoked Salmon & Parsley & the final layer is sliced boiled eggs.
The most fun is decorating the, and it's a good idea to use every element in your filling on top of the cake, so guests know exactly what's in it. There's no right or wrong way to do this just make it pretty and consider that you also need to slice thorough this and serve it. Also smooth out the sides. I like to line the edge with half cucumber rounds to make it look neat and add some whole Parsley as a decoration. This recipe is just a guideline, I hope this inspires you to create your own Smorgatorta of your favorite things!
There are no weights and measurements in this recipe as it's relative to the size of cake and amount of layers you wish to create
[youtube-subscriber nickname=kravingsblog]
Smorgastorta – SWEDISH SANDWICH Cake
Ingredients
Poached Shrimp – whole for garnish and slit horizontally for filling
Smoked Salmon
Boiled Eggs sliced
Cucumber sliced
Radish slices
Parsley chopped and whole
Dill chopped and whole
Cream cheese
Sour cream
Sliced white bread
https://kravingsfoodadventures.com/smorgastorta-swedish-sandwich-cake/