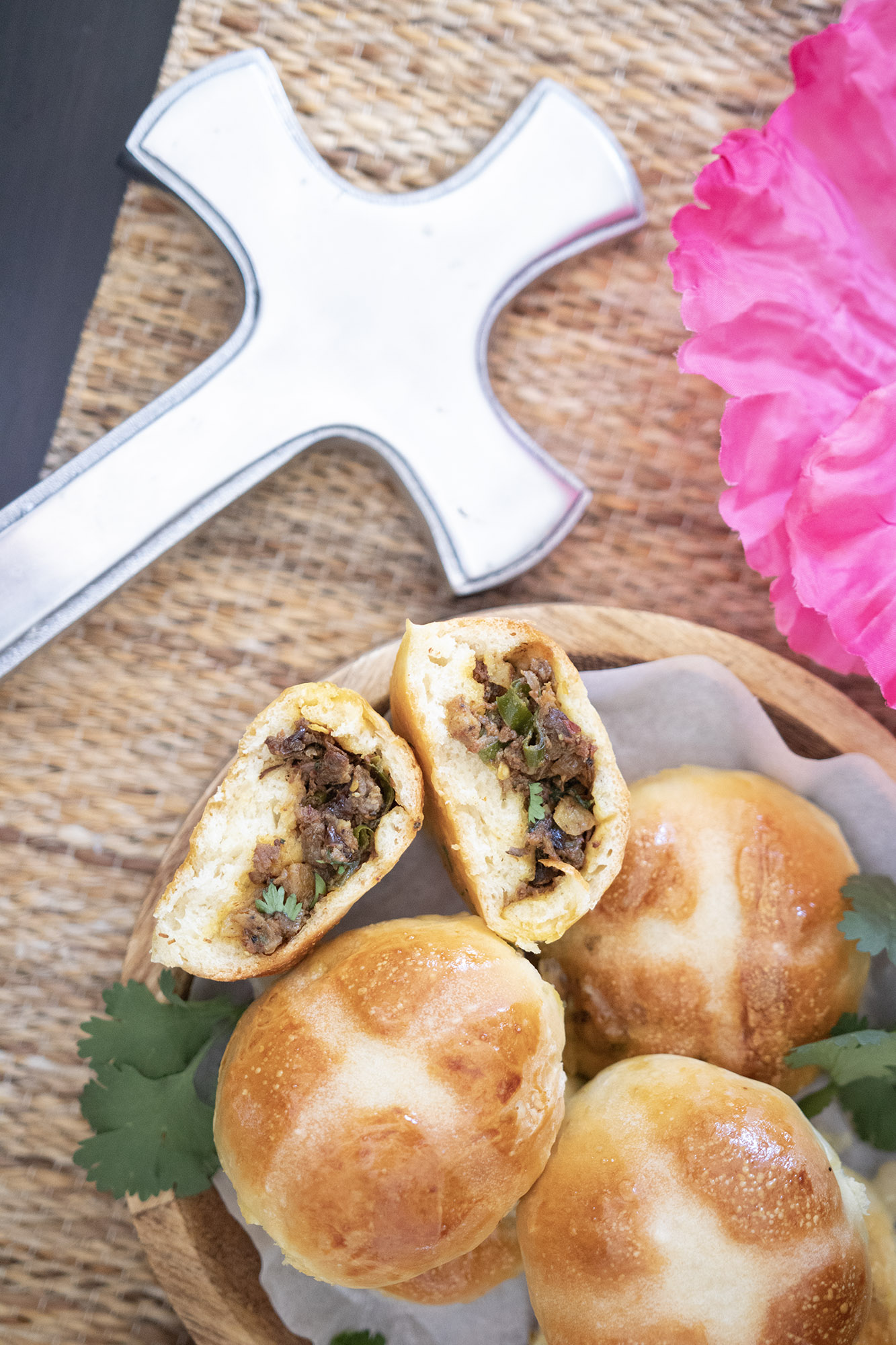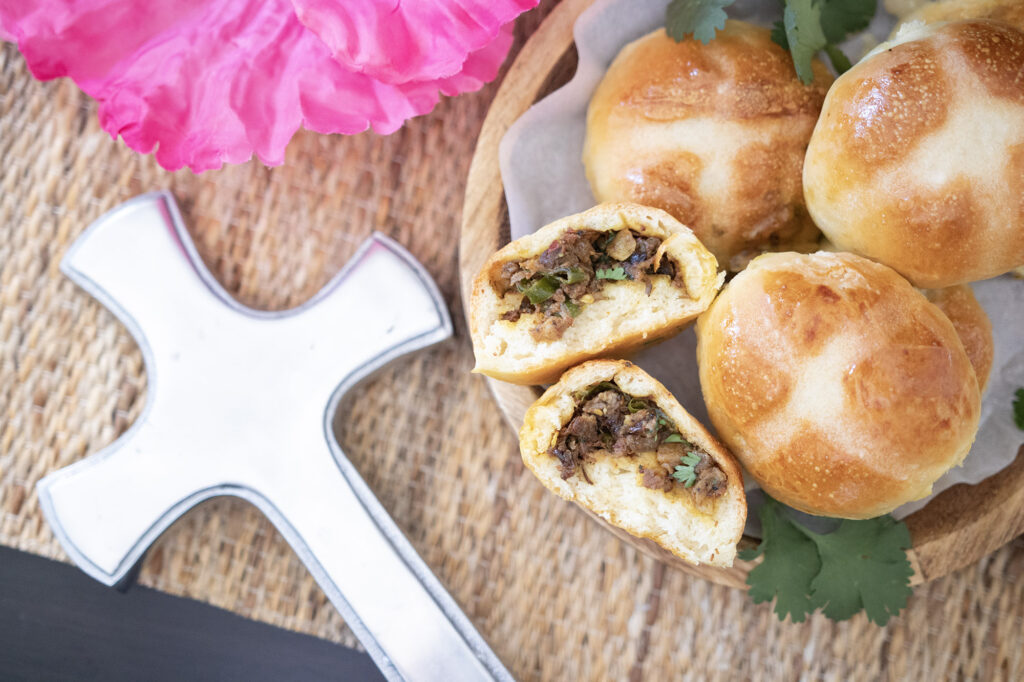 Goa sausage is made by cutting the meat into very small pieces and then dehydrating it and then applying a special spice paste to the meat. It's then stuffed into casings and smoked.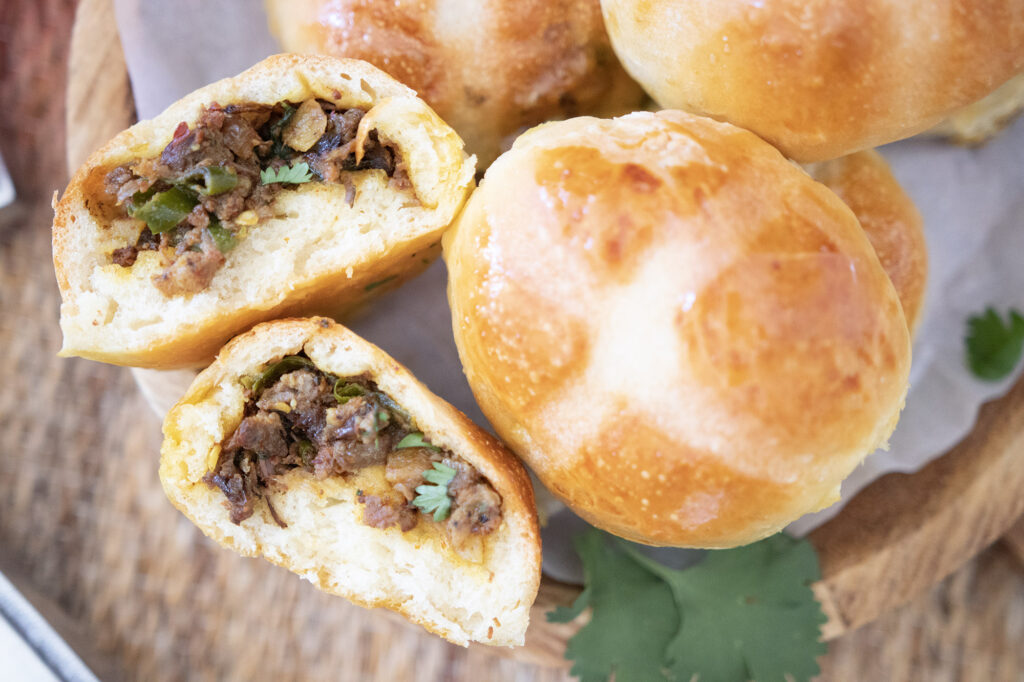 In Goa, strings of these sausages are sold everywhere, some are tied in small bundles and are called Rosary beads as they look like a rosary. They are almost a fiery red color and this color comes from the bright red paste that it is marinated in. Unfortunately Beef won't allow for the color to shine thorough like Pork will, but don't let that stop you. The final product is smoked to get that amazing aroma and flavour. In Goa, households will smoke this over an open flame, or there are even chambers set up just to smoke the sausages. I smoked mine in my Vision Grill last summer and 40 mins was enough, but some allow the smoke process to go much longer.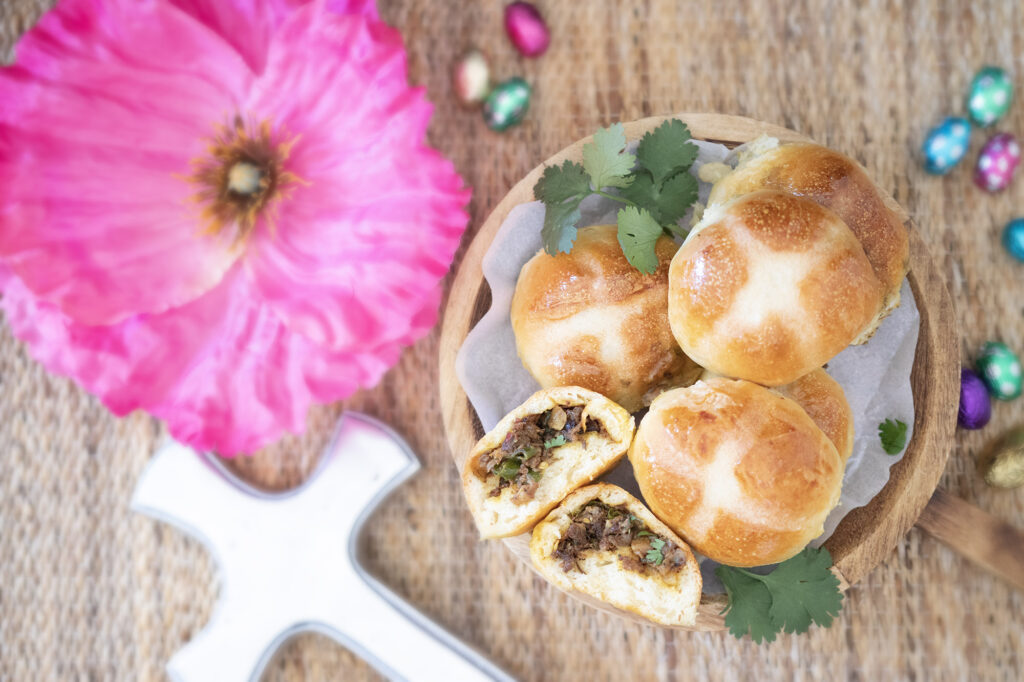 Follow that recipe here
So what are traditional Hot Cross Buns?
Hot cross buns are a type of sweet, spiced bun that are traditionally eaten on Good Friday in many countries around the world, especially in the United Kingdom, Ireland, Australia, New Zealand, and Canada. The buns are made from a dough that is flavored with spices such as cinnamon, nutmeg, and allspice, and may contain currants or raisins.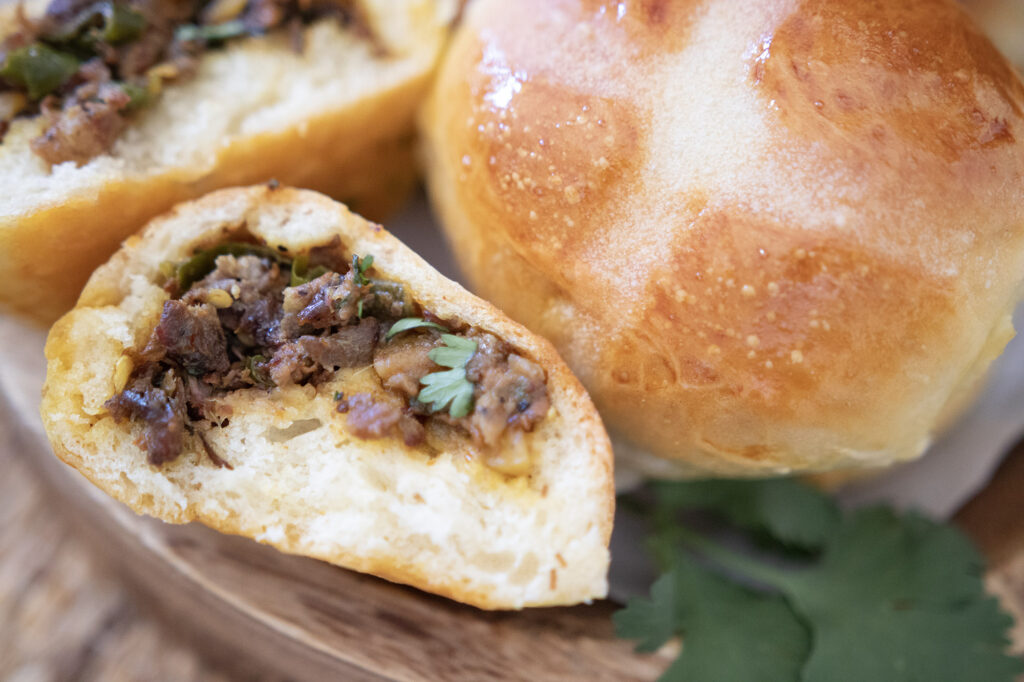 The buns are typically marked with a cross on the top, which can be made from a simple mixture of flour and water, or with icing. In some traditions, the cross represents the crucifixion of Jesus, while in others it simply denotes the bread as being a hot cross bun.
Hot cross buns have a long history and are associated with various superstitions and customs. In the past, it was believed that hot cross buns baked on Good Friday would not go stale or moldy throughout the year, and would protect against evil spirits. There is also a popular nursery rhyme about hot cross buns, which goes: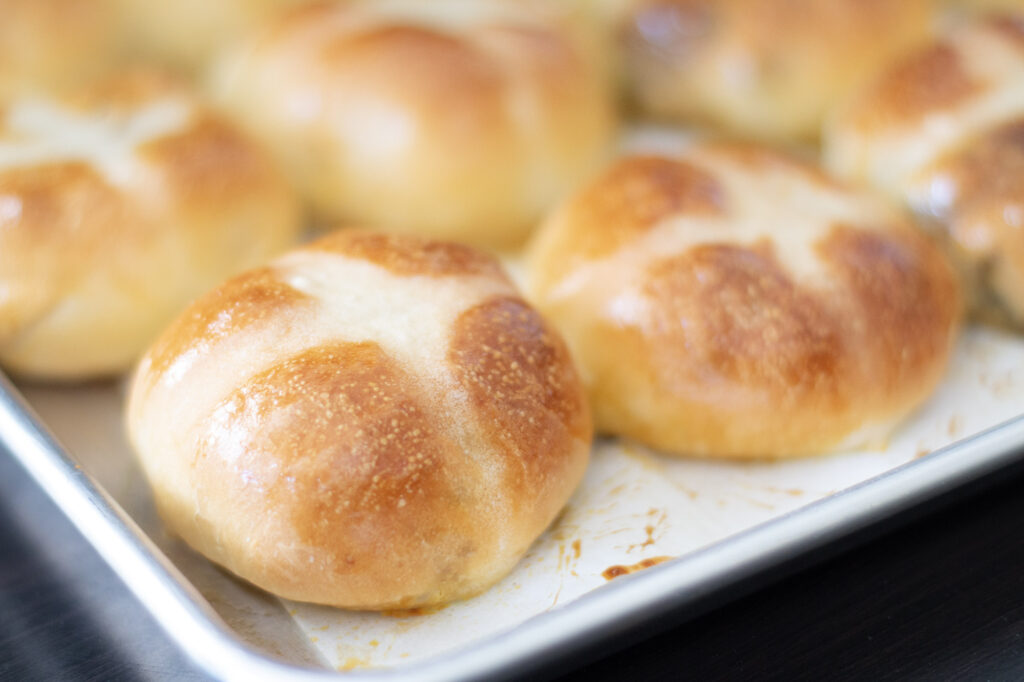 "Hot cross buns, hot cross buns, One a penny, two a penny, Hot cross buns."
You can check out the sweet version of that recipe here.
I decided to make a savory version of these buns for Easter – I hope you enjoy!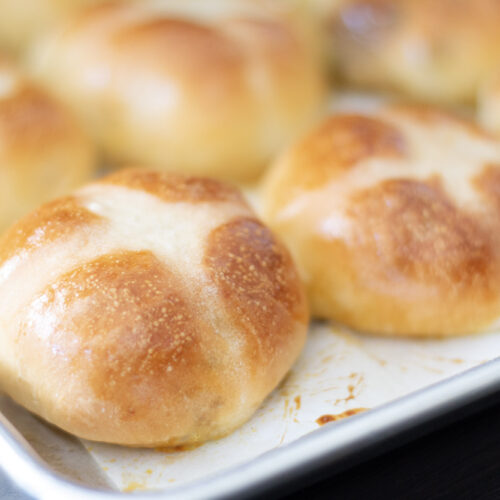 Choriz Hot Cross Buns
Ingredients
Choriz Chilly Fry
534

gms of Choriz or smoked sausage finely chopped

2

cups

300 gms cubed Potatoes

2

cups

180 gms Onion

4

tbsps

26 gms sliced green Chillies

Salt and Pepper to taste

1

cup

chopped Coriander
Dough
2

tsps

Yeast

1/2

cup

warm Water

1

tbsp

Sugar

1

tsp

baking Powder

1

tsp

Salt

1.5

cups

warm Milk

3.5

cups

sifted Flour

3

tbsps

Butter
Topping
1

beaten Egg

Flour & Water
Instructions
To make the chilly fry, start frying the potatoes and remove

Add the onion followed by the chilli

Add the sausage, salt & pepper

Add the coriander

Allow to cool

To make the dough allow the yeast to foam by adding warm water to the yeast with sugar and leave it for 30 mins

Use a paddle attachment and add the baking powder & salt

Add the butter

Alternate with the flour and milk

Switch to the dough hook

Take the dough and add it to an oiled glass dish

Cover and keep in a warm dark place for 1 – 1.5 hours

Once the dough has doubled in size, tip it out onto a board, add some flour and knead

Divide the dough in half, and each half in quarters and each quarter in half

Repeat with the other half

Roll each divided piece into a ball

Stretch each piece out and add 2 tbsps of the filling and press down

Bring the edges together and place on a sheet

Cover with cling film and allow to prod again for 15 – 30 mins

Brush the buns with a thing layer of egg wash and allow it to dry

Once it's tacky, prepare a paste with flour & water and pour it into a piping bag

Pipe a line in one direction on the buns and then in the other direction so they represent crosses

It will need 30 mins to cook, but allow it to cook for 10 – 15 mins extra so the tops brown more and there is a contrast with the crosses